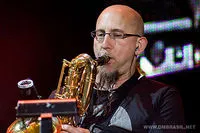 It's not often that you can see a band member from one of music's biggest box office attractions for free. However, local listeners will have precisely that opportunity when saxophonist Jeff Coffin, known for his work with the Dave Mathews Band and Bela Fleck and the Flecktones, comes to St. Louis to do a free concert and workshop at 5 p.m. next Monday, the 18th, at Saxquest
The show is the latest in an ongoing series of events put on by Saxquest, a retail store that sells and repairs saxophones and woodwind instruments. Coffin will perform with three members of his band Mu'tet - drummer Jeff Sipe, trumpeter Bill Fanning, and bassist Felix Pastorius, son of the legendary electric bassist Jaco Pastorius - and also will discuss music and saxophone technique, and answer questions from the audience.
Coffin, who joined Mathews in 2008 after the death of saxophonist LeRoi Moore, cuts a visually distinctive figure, thanks to his shaved pate, wire-rim glasses, pointy goatee and penchant for playing two saxophones at once. He has released nine CDs as a leader or co-leader, including three with Mu'tet, who play an eclectic mix of jazz, rock and funk heavily influenced by sounds from Africa, Brazil and other "world" music.
The event is free and open to the public, with no reservations required. Space is limited, so an early arrival may be warranted, but you can use any extra time to peruse the shop's saxophone museum, filled with antique and unusual instruments collected over the years by proprietor Mark Overton.