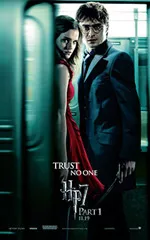 Avoid trusting R/Hr fans and matchbox twenty haters in particular.
It's Friday morning, and you are depressed. If you still have a pair of IMAX glasses on, or regular glasses made to look like omnioculars, you're depressed because you just got back from the midnight showing of Harry Potter and the Deathly Hallows: Part 2, and now you will never be able to wear your Mundungus Fletcher costume again. In my experience as a current Harry Potter fan and a former angsty youth, the combination of angst and music appreciation you appear to be feeling at this moment can be relieved in either of two ways: You could form a screamo band, or you could write a songfic, the unholy combination of fanfiction and copyright violation that has launched a thousand deeply romantic, deeply angst-ridden ships.
I can help you with one of those things. Here are four steps to writing your perfect post-Deathly Hallows Harry Potter songfic.
1. Choose a song. We want a sad songfic, so try to remember what you were listening to at the saddest moment of your life that can be directly related to your MySpace account.
It was 2005. I wasn't in a girl's top eight. Nobody understood what I was going through quite as well as--matchbox twenty. That was why I wasn't in her top eight, as it turns out, but I really wasn't crazy--only a little unwell.
2. Choose a ship. If you haven't read any Harry Potter fanfiction before, let me make two notes: First, if this end-of-the-series thing keeps bothering you you will, and you're not going to tell anybody about it. Second, the ratio of adventure to romance in the books is inversely proportional to the ratio of adventure to romance in the fanfiction. And it's not just romance about anybody--you must have an OTP, a one true pairing, and you must defend it to the death whether it's canonical or not.
If you ask 100 Harry Potter fans in your life about their OTP, 75 will have one, and at least 10 are excited to talk about it outside of FictionAlley for the first time ever. (That's how I learned last year that a colleague is a devoted fan of "Snarry," which is exactly what it sounds like and somehow not a hit on any FBI watchlists.)
For today, you can borrow mine: Our songfic will be about poor, star-crossed Harry and Hermione, who were so perfect for each other but never figured it out because of stupid Ron and stupid Ginny. This is called, depending on who you talk to and how anonymous they are, "Harmony," "the HMS Pumpkin Pie," or "H/Hr."
2a. My full name is listed here, so it's called "H/Hr."
3. Pick some deeply meaningful song lyrics and a scenario to go with them. Harry is disturbed after the death of his godfather, Sirius Black. You could say he's a little--unwell. He's worried that his best friend, dear Hermione Granger, injured in the battle, will not understand his pain. (But of course she will! Unlike stupid Ginny!)
4. Write the summary, and put it all together. I've cheated a little here, cooking-show-style, and have one fresh out of the oven. Here's our summary, to attract our readers:
"Unwell" by RFT_harmony_4eva -- Rated PG Harry worries whether Hermione thinks he's crazy............. or just a little "Unwell"................ songfic h/hr plz read and review!!!! story is way better than the summary lol
I don't know what else people are supposed to do on fanfiction.net, but it's important to tell them to read and review anyway. We've got a song, we've got a scene, we've got our deep, movie-related angst--the 500 word songfic writes itself, especially since most of the words were written by Rob Thomas 10 years ago! A sample, written as best as possible in my circa-Unwell manner:
"Harry looked at her in the hospital bed. She was in the hospital bed with a huge scar from Dolohov's curse and it was all his fault. He wondered if she thought it was all his fault.
Hold on I'm feeling like I'm headed for a Breakdown I don't know why
Why was Hermione so important to him all of a sudden? He wondered. Suddenly she looked very beautiful like she wasn't just a bookworm after all but was a very beautiful girl with her bushy hair. He hated stupid Ron and stupid Ginny for taking up all that screentime and now he couldn't even watch Half Blood Prince without fast-forwarding all those times.
Hermione looked like she was about to wake up. She was probably going to hate him forever, because she would think he was crazy for running to save Sirius when he wasn't in trouble.
I'm not crazy I'm just a little unwell I know right now you can't tell But stay awhile and maybe then you'll see A different side of me
I wasn't sure where to go from here until my unwitting co-author included a lyric about "dodging glances on the train." That's right: It's time for a declaration of love in a private compartment on the Hogwarts Express.
Of course, the thing you have to realize about most really great fanfiction--as well as most really bad songfic--is that the author abandons it right as it's getting to the good part.