It's been almost a month since The Voice judge Adam Levine has been promising to show us his moves like Jagger in a song subtly named "Moves Like Jagger" (currently #31 on the iTunes singles chart). Frankly, we're not buying his claims. Although, in the song, he says that his Jagger-esque moves don't start until it's naughty tongue-sucking time, it's hard to imagine such a stiff-legged, still performer really cutting loose.
He couldn't even manage one good chicken-strut when he debuted the song with Christina Aguilera.
If she can't make a him move like Jagger, even a little bit, he's probably not going to move like Jagger without some digital manipulation.
What Levine lacks is an overall sense of sexual bravado that says, "Yeah, I might be a scrawny, rather hen-like fellow with unfortunate facial proportions, but I feel good about me. So much so that, even when I'm an old man, pop stars will reference my movements as sexual innuendo."
It's not like Mick had a bunch of fancy-pants dance lessons, either. He's self-styled, which makes him all the hotter.
Whether it's his early 1980s Jazzercise-inspired stretches.
Or exaggerated expressions with the occasional crotch-rub.
Then there's the slithering, on a song that doesn't have a dance beat, no less. Slithering that says man, he can feel it. Can't help himself.
Even when he was a young lad, still a little shy, but rattling those maracas with a hint of the pelvis-wiggling that would someday be his trademark.
Keep strutting like that, and you better believe we'll spend the night together.
Not that Adam totally lacks in the sexuality department. He's pretty, and he doesn't like clothes. But until he's fully willing to walk the walk he's crooning about, all the girls know they'll be the ones doing all the work.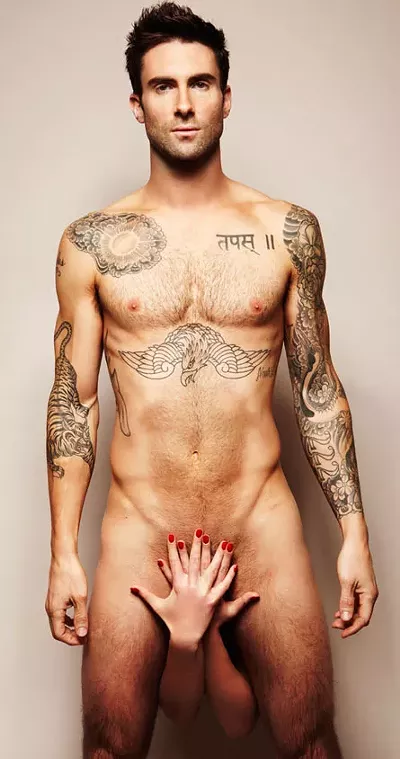 Cosmopolitan UK
Adam Levine, just standing there.