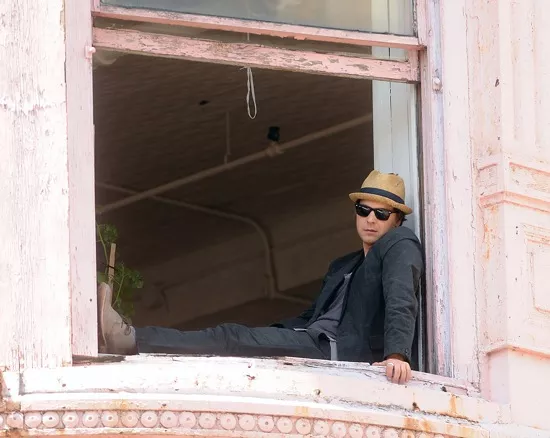 Playing at Soldiers Memorial Park this Saturday as a part of Fair St. Louis' Celebrate St. Louis, series, soft-rocker Gavin DeGraw has built a massive base by appealing to a wide variety of music fans. His most financially successful album to date, 2008's self-titled effort, peaked at number four on the Billboard 200 and spawned string hits that appeared everywhere from the charts to One Tree Hill.
We talked to DeGraw about his upcoming album, Sweeter, which will be released on September 6, and what it feels like to play songs no one has heard before while sitting in infamous L.A. traffic.
Dani Kinnison: You co-wrote "Not Over You" with Ryan Tedder of One Republic. How did that change the songwriting process that you would normally pursue?
Gavin DeGraw: The biggest shift for me artistically was being in the room with somebody and trying that process out. I thought it was a good idea to get with Ryan; I really like his stuff. He and I met a few years ago backstage when we did a show together. He's someone that I wanted to work with for a long time.
The process went so smoothly because his head was really in the game and we both had respect for each other. You can definitely hear his influence on the song and at the same time I don't feel like I was lost in it, either. I think we both kind of brought what we do to the table and I think we made something that we're both really happy with.
Your upcoming album, Sweeter, definitely has some different sounds and a different feel than some of your other work. Tell me about how this all came about.
It definitely sort of just happened, you know, and I think something that helped get it there was co-writing. I wrote maybe four songs on this album versus just writing them on my own, and the other ones I wrote alone. Having been in a room with another writer for a couple days kind of opened my writing process up and allowed me to just be more deliberate, less self-editing and really give more perspective as a writer and a person. Sometimes, as a writer you get involved too much in your own image when you're writing songs.
So, by co-writing with people it allowed me to be more effective even when I was writing alone and to tap into more of those more vulnerable moments. To really give a full spectrum of me as a person, it was important for me to do songs where there was romance but there also is the absolute opposite of romance, but that's the nature of just being a man and the nature of just being a person. We can't all be perfect. You want people to see the parts of you that sometimes you would want to hide.
What was one of the most challenging aspects of writing and recording Sweeter?
As an artist, the last thing you want to do is to just keep making the same album over and over again. You want to include your style that you already have, but also take it to the next level in every way, not just sonically but also with subject matter and the way that you're delivering it, and that was really important to me to find the songs that did that.
I wrote loads and loads of songs, but they didn't all make the album. Some I just felt either they didn't satisfy me in the way these songs did or they didn't fit the overall picture of the album, just stylistically. You want to have the right amount of variety but at the same time there has to be some kind of cohesion there, too, where everything kind of works together. It's a hard process weeding out the other stuff, but you also want to have that body of work that feels like an album, too.
How has the reception been from fans when you perform some of your new material on tour?
So far it's been going so well, honestly. We did a show a few nights ago in Napa, in this vineyard, and we're playing for fans and also playing for strangers. We of course wanted to expose some new material and it was amazing watching the reaction that the audience was having to songs they've never heard before, the songs that are going to be on this album.
It's really exciting for me and my whole camp because I think that this album is going to make for a really exciting tour. This record's got a lot of peaks and valleys so I think it's going to make for a really exciting show.
Do you have any pre-show rituals?
I wouldn't say I get nervous. I get anxious and I get excited about performing. I love to sing for people and I want to make people react. It's how I satisfy myself by making people react and I like to be able to see what the reaction is, so it's really exciting for me. I don't have much of a crazy ritual backstage or anything like that, I don't do any weird stretches or too much warming up.