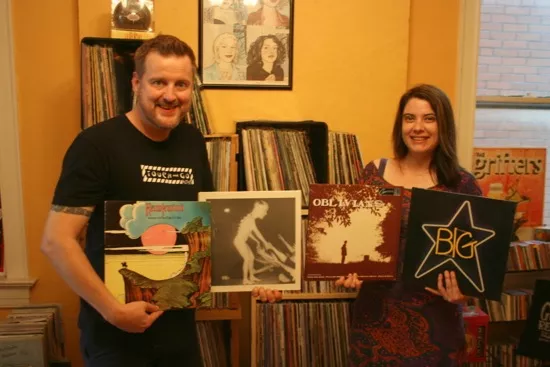 Often, the most sincere record collectors have no professional associations with the music industry. Their collections stem from nothing but a love of music. We met this week's Last Collector Standing through Anna Zachritz of Euclid Records, who suggested two of the store's most dedicated regulars.
Don Perry grew up in Southern California during the inception of punk before moving to St. Peters, Missouri, in the mid '80s. Bonnie Spinola grew up in Memphis, Tennessee, and found her identity as a teenager by shopping at Shangri-La Records. Later in life, they met in St. Louis and became a couple, in large part because of their mutual love of records. We met with Perry and Spinola (an occasional RFT contributor) at their south-city home to discuss how they bonded over vinyl and the significance of Love's Forever Changes.
Last Collector Standing: What's your favorite experience shopping for records as a couple?
Don Perry: When we go to another town, we tend to try to find where the record stores are. That sets the stage for really exploring towns. You usually find cool parts of town.
Bonnie Spinola: Asheville, North Carolina, was a real find. We found several really great record stores.
Perry: That might have been one of the best experiences. Harvest Records in Asheville was a really great record store. It focused more on avant grade, psychedelic, Krautrock, obscure indie. It really had a little bit of everything. It was in this older part of Asheville that seemed to be coming up a little bit. It had a great neighborhood feel to it.
It wasn't even so much what we found, just...glad that we found that record store. We know we can always go back there if we're ever in [Asheville].
Spinola: When we started dating, the first time I took him to Memphis and was able to introduce him to Goner Records and Shangri-La, which had been there even longer. Shangri-La was so instrumental to me when I first got my license as a teenager and was able to leave my suburb and go to the city. Just going in there and whatever the guy would be playing over the turntable, "What is that? Let me see if I have enough money for that." For [Don] to experience that with me was really special.
Perry: Part of it is Bonnie can rifle through records pretty fast. She'll usually hold them up, "Hey, Don, what about this one?" I'll do the same for her. So we're sort of just throwing it out in the air, but that's the way we have to make our decision. It depends on what the budget is. You're always trying to think, "OK, what should I spend?" It's usually more than you should.
Spinola: If you're spending money in other towns, it's not really money, right? [Laughs]
How did you both start collecting records?
Perry: I was talking about this earlier with Bonnie. The first things I might have had were cassette tapes. I finally got a stereo. They use to have stereos that had eight-track, cassette, record player and AM/FM. The eight-track immediately didn't work on it. So it was either going to be record or cassette. My logic was that I could always record the record onto cassette. So [records] automatically had a higher significance to me.
I think what got me more interested in records was starting to listen to more new wave and punk rock when [I] lived in California the late '70s, early '80s. It just seemed like it was more readily available. There were a lot of bands putting out records: Black Flag, the Circle Jerks, the Adolescents. A lot of the lesser-known bands at the time were putting out seven-inches. It was always my favorite format from that time on.
Spinola: Also, when you were a young teenager in LA, you had Rodney Bingenheimer.
Perry: That was one thing that was huge about discovering music in California. There are a lot of documentaries these days with Rodney Bingenheimer. The radio station he was on was actually pretty good. It was called KROQ. Rodney's show really introduced a lot of good bands all over the world, with a focus on a lot of stuff coming out of the West Coast.
Spinola: We have a couple of his records.
Perry: The Rodney On the ROQ compilations. Even though I have most the music...I eventually bought all the albums. It's nice to have those compilations because it brings you back to when you were a kid.
Spinola: ...and you were able to play me some of the songs that you were telling me about that you don't really find anywhere. The band might have had one song because they might not have ever gone anywhere besides LA.
Perry: There was one in particular that I always told her about. It was called Unit 3 with Venus. It was a family, and the singer was their daughter. She was like twelve years old.
Spinola: They're like the proto-Trachtenburg Family. [Laughs]
Perry: Just funny songs. One song was about how Scott Baio wouldn't give her his autograph. Something really cheesy.
My dad worked for General Motors and he got transferred to Wentzville, Missouri. We lived in St. Peters. There wasn't a whole lot out there in the early '80s when we moved there. There weren't many kindred spirits as far as people listening to underground music or punk.
I went to mail order for a while. I didn't have a car. You couldn't really ride a bike around St. Charles because there usually was the road, then a ditch right next to the road. People would honk at you if you were on your ten-speed just to be rude. It was kind of dangerous.
I saw in the back of Rolling Stone or Trouser Press magazine, it said Toxic Shock mail-order catalog. They sold a lot of different labels from all over the U.S. and the UK. For a while, when I could save up enough allowance, I would order the latest hardcore.
I had the catalog on the school bus and this girl came up to me and said, "You know, we all think you made this all up." I just thought that was amazing. First off, I would have had to been a master of type-setting and printing at fourteen. [Laughs] I would have had to have a hell of an imagination to create my own subculture with bands from London, New York, LA, San Francisco. I'm not that devious.
Spinola: But that's what you were up against at that time. There was no Internet to go to.
I grew up in a suburb of Memphis. My parents were really into music. They were a lot cooler than your average parents. They were always seeking out new stuff. They were really into the Memphis soul and R&B. They were constantly playing records.
I didn't start out buying records, either. I started out buying cassettes. That was the dominant format when I was a kid. I was eleven or twelve years old when the hair-metal bands were huge. Just like everybody else of that age, I was really into Bon Jovi and Poison and Motley Crue. There was always something in the back of my mind -- maybe because of my parents' influence -- I had the beginnings of a more discerning music person. Even though I liked that stuff, it was almost more because at that age you're just trying to fit in with everybody.
Memphis has a community radio station called WEVL FM 90. It's very similar to KDHX. I was flipping around...and it just happened to be this show called Dr. Zodiak's Modern Musical Mayhem. This was probably '89. It was underground college rock, like Camper Van Beethoven. It was the first time I heard Siouxsie and the Banshees. Then also the jangly college stuff like the Feelies. It was just a great show.
I remember almost overnight just sitting down and throwing out all my Poison cassette singles and was like, "This is my music." Later that year, I entered high school and had nothing in common with my old friends. I'm discovering all this new stuff and was like, "Where are my people? I can't be the only person who knows this stuff exists." Since I'm a little bit younger than [Don] it wasn't quite as bad as it was in the early '80s to find like-minded people in the suburbs. I finally found my band of outcasts. There were the new-wave people and then there were the more punk people. Then the goth people. We just all banded together with the metal heads because everybody else at the school hated us.
Perry: Freaks unite!
Spinola: I remember Big Star for instance. I was fourteen and I was listening to WEVL and I just heard the tail end of a Big Star song. I was just like, "Oh, my God, what is that?" It was too late to call and the [DJ] never said who it was. I went for years not knowing who it was but I never forgot that song. Years later I heard it at a bar and was like, "What is that?" It was their cover of "Motel Blues" by Loudon Wainwright.
That's how it was. It's not like today where if you didn't catch what it was you can just go type in the lyrics and, boom, there it is. You both just talked about the hard-won battles of discovering music before the digital age and how it is simpler now. I actually have an app on my iPhone called Shazam where if I hear a song and I don't know what it is I just tap the phone, put it up to the speaker, and it takes 30 seconds and it will tell me the name of the song, the artist and the album. Do you think there is anything that is lost in the easy accessibility of digital music?
Perry: I think there will always be music fans who really love music. I don't think that will change, but maybe there is a certain appreciation level that might change because there is so much accessible. There is a Motorhead song, I think it's called "The Chase Is Better Than the Kill." [Ed: "The Chase Is Better Than the Catch"] Maybe sometimes the fun is in the chase, and when the chase becomes easier, the catch isn't quite as fulfilling in the end.
Spinola: I've noticed one of the good things is if you look up certain things on YouTube. You'll see people posting, "I'm Thirteen." They're already discovering what might have taken us years to find out. So they don't have to go through the long phase of hair metal the way that I did to realize there are better things out there.
Perry: Somebody wrote an article about Kurt Cobain and Nirvana. He said that was a band that took a record collection to make. They were influenced by all these years of record collecting, doing it while they were pursuing music. They were saying that now there are a lot of bands that, because of the accessibility [of music], they don't quite have that same firm grounding in it. They didn't have to work as hard to find these jewels.
Spinola: I think there are a lot of bands out right now that probably look things up on the Internet and say, "This sounds cool. We're going to make our band sound like this." As opposed to when things weren't as accessible you had to come up with more of your own sound, because you didn't have as much to go on.
I think a little bit of the creativity is lost. Like that the Pains of Being Pure at Heart. I just can't really get in to them. He likes them.
Perry: That was a sore spot for us. [Laughs]
Spinola: I think they are so derivative it takes away from my enjoyment of it. I don't hear anything new in that music. They sound exactly like they came out in 1988.
Perry: One of my friends made the comment one time -- and I like the band Cut Copy -- but he made the comment, "What are they, in their twenties? I find it kind of disturbing that they're making music that sounds like it came right out of 1985."
You were saying that you both had a little disagreement over the Pains of Being Pure at Heart.
Perry: Yeah, that was one of our funny ones. [Laughs]

I'd like to turn that around and ask if there is one record that you both bonded over as a couple?
Spinola: I would say Love's Forever Changes. Love was actually a band that I'd been reading about in Mojo for years and always been, "This is something I need to get at one point," but I had never gotten around to it. On one of our first dates, Don played it for me. I think that's when I really started to fall for you. That record was perfect for that time.
Perry: Attention young men out there: Get Love's Forever Changes. [Both laugh]
Spinola: He was excited to introduce me to that. That was during our early courtship and even now we've been together for five years and it's still, "You've got to hear this." That was huge when we first started dating.
Do you think mutual collecting can build a relationship?
Spinola: I know a lot of my friends...their boyfriends or husbands aren't into that, or, for my male friends, their wives won't get music at all. I'm really grateful that we are both so passionate about not only record collecting, but [also] going to see live music and even traveling to see it, having that be a big part of our lives.
We've both dated people in the past who were not into music or had terrible taste. [I dated a guy] who was like, "Look at my mp3s." He had no records. I was just like, "I can't be with this guy long-term. That's not impressive to me. So what, I can click through on your computer?" But when I went to [Don's] apartment for the first time [there was a] wall of records...
Perry: We all have our guilty pleasures, but I had the same experience. I was dating a girl...she was a good looking woman, a nice woman, but I remember the first time I went to her place she had all these Celine Dion albums. In my mind I was like, "What the hell? You've got to be kidding me. You're a young woman!" [Laughs]
If media continues to transition further into the digital format will couples be able to bond over collections in the future?
Perry: I think people will always bond over music, but it will be different.
Spinola: If we have kids I don't know if they'll care about our records, but they'll know they were important to us. Hopefully it will mean something to them because of that. My dad passed away a couple of years ago, and I have some of his records. Those are very important to me. That's a part of him that I can play, and he still lives on in that way. I associate certain music with him and I have a physical thing that belongs to him that has that music that reminds me of him on it. You can't do that with an mp3.