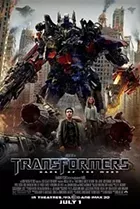 These are the facts on the ground, as I see them: First, if a fourteen-year-old boy has ever loved a TV or movie franchise, there will be an AMV (from "Anime Music Video") about it. Second, if there's an AMV about something, half of the fourteen-year-old boys in the universe have synched the really intense parts to songs from the first three Linkin Park albums. Third, intense scenes from the Transformers movies are hilarious, and can get only more hilarious when Shia LeBeouf is yelling "Bumblebee!!!" to intense fourteen-year-old songs.
Fourth: Somehow Michael Bay realized this, so Linkin Park is already all over these soundtracks, and has made a video for its new pseudo-Radiohead single featuring some Autobots, so far as I can tell. In honor of that synergy, which proves that Michael Bay knows his audience like no other filmmaker this side of Woody Allen, here are your three favorite Linkin Park/Transformers AMVs. Be ready to pump your fist, when, like, he needs to transform, and then he does, just in time, whoa!
Alas, Linkin Park has gotten too cool for a straight-up Transformers AMV video in their dotage; for the third movie, after two that were legitimately just pro-shot AMVs, we have black and white, some Bono poses, a geodesic sphere, and only the artsiest of Transformers shots. It's a far cry from the music videos of their first two Transformers singles, which were like Matthew Sweet videos in their straight-ahead devotion to the art-form.
I think littlekelay speaks for all of us in the YouTube comments when she says, "Ironhide, good friend, good autobot, good transformer. May you rest in peace."
This one "may contain stuff that will ruin the [first] movie," so if you haven't yet prepared yourself an hour of surprising interest and then seven hours of bruising disappointment you might want to wait. Of course, if you wait you'll never learn just what I've done!!!!
One of the most intense things you can possibly do in an AMV is to synchronize the action on-screen with part of the song, and in this case the composer has managed to synchronize: Transformation, creepy scenes where Michael Boy is ogling Megan Fox, what appears to be a meteorite striking a baseball stadium, and Shia LeBeouf falling out of things. I don't think any other list of AMV synch-ups is so descriptive of the movie itself as that.
Of course, "What I've Done" was already the theme song of Transformers 2: Revenge of The Vaudevillian Racial Stereotypes. if you weren't a fan of the songs that were chosen to be in the actual Transformers movies, don't worry! Just type any other Linkin Park song into the YouTube search box. When I was fourteen my favorite intense Linkin Park track was "Somewhere I Belong." Can you help me out, internet?
Yes--but I'll have to decide which of the 161 results I want to click first. Let's pick this one, which is dedicated personally to Mandy.
In the third part of this video Mandy compares QuickSilver121581 to a nazi and is removed abruptly from the series. But now's not the time to think about that; now's the time to think about how weirdly the internet can reveal our collective musical desires. For the last eight years fourteen-year-olds have apparently clamored to experience Linkin Park at the same time toys are fighting each other; now that YouTube exists, we can see just how strong, how shared that need for AMV was.
If YouTube had been around when I was fourteen I wouldn't have needed to make that You've Got Mail/Weezer mashup. But what's past is past.