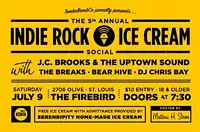 The fifth Indie Rock Ice Cream Social is upon us: Tomorrow night at the Firebird, $10 gets you the brand new Bear Hive, the Breaks (one of our favorite up-and-coming St. Louis bands), the gold soundz of DJ Chris Bay and Chicago's J.C. Brooks & the Uptown Sound. And ice cream, of course, courtesy of Serendipity. Party!
We happen to have a couple pairs of tickets to the festivities, and we'd like to share them. To win, tell us your perfect sundae recipe. Bonus points if it is demonstrably indie-rock inspired.
A few notes:
Please include the name you would like to appear on the guest list if you win and an email so we can contact you.
If you need inspiration, here's what was available, sundae-wise, at least year's Social. "There are usually 3-4 flavors and a plethora of toppings and last year we had Vanilla, Chocolate and Black Cherry," says IRICS impresario Mike Tomko via press release. "Along with sprinkles, whipped cream, fudge, carmel sauce, strawberry sauce, marshmallow fluff, etc. etc. etc. This is the real deal."
Contest closes at 5 p.m. today.