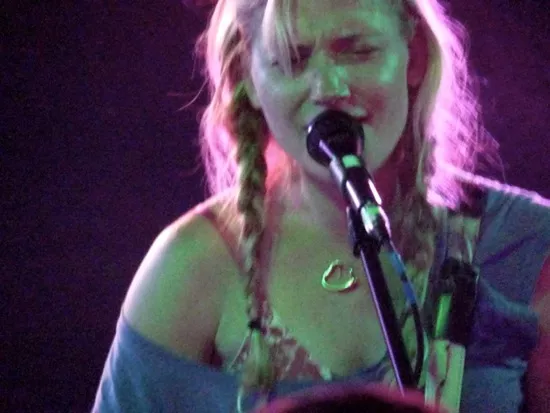 Marnie Stern. Photo by Kiernan Maletsky
Marnie Stern | Gnarwhal | Yowie | Britches The Firebird July 6, 2011
There were more notes played last night at the Firebird than in every other venue in St. Louis in the past week combined. It was a lot to take over the course of four bands (really three -- Britches played a fairly standard number of notes), and there were a few towels thrown in before the thing ended a bit before midnight -- after Marnie Stern's shaky start, it's hard to blame the few who left. But oh for those who stayed: Blaze of glory seems like the only way to describe the final third of her set.
Playing very quickly and precisely in challenging and unexpected patterns (oh all right: math rock) must have the worst ratio among any genre of musician effort to payoff in terms of fans. And talent+effort=success in lots of other things. Sports, for example, where if you are extremely good at hitting a baseball and you spend countless hours hitting baseballs, you have demonstrably better odds of becoming a huge baseball icon, regardless of your at-bat demeanor or off-the-field competence.
Not so in music. Marnie Stern may or may not be a shredder but is definitely someone who spends eight hours at a time playing guitar and also values effort above most other things when it comes to making music. She is revered for her ability and still she must eat ramen. That said, she was in St. Louis between opening gigs for the Flaming Lips, staring down a summer/fall of nonstop, international touring. So things could be much worse, fan-wise.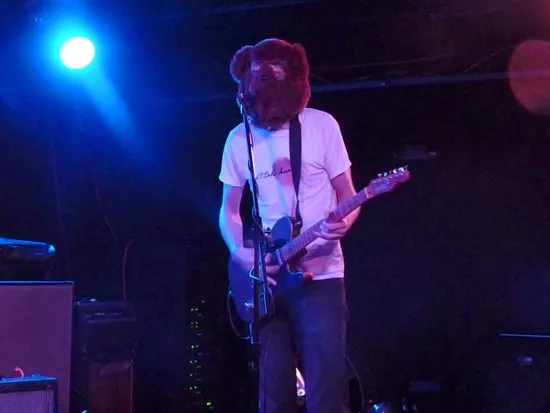 Britches. Photo by Kiernan Maletsky
Britches brought friends and admirers. Given its status as the opener on a four-band bill and the clear odd band out, sonically, the crowd that gathered was impressively large. The mumurs are audible: Britches is gaining steam in St. Louis. The three piece put on furry animal mascot masks and played leering songs spelled by tense noise and then joined by it, Bottle Opener's demon-doubled vocals adding to the funhouse of horrors feel.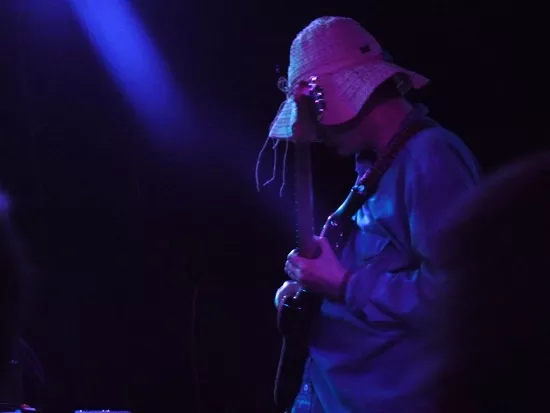 Yowie. Photo by Kiernan Maletsky
This was your last chance to see Yowie before it heads to Michigan in late July to record long-awaited album number two, and it's going to be a good one. The trio played only one old song at this show; the new stuff is more focused, less chaotic. It barrels forward. This stuff still sounds a bit like four or five well-coordinated songs being played all at once, but what before made me slightly nauseous now feels like an adrenaline high.
This was at one point a Cranky Yellow show with Nashville's Gnarwhal and our own Britches and Spelling Bee. But when the Firebird snagged a date with Marnie, the Cranky folks saw their target audience head immediately north to Olive and offered to act as openers. Spelling Bee, which opened for Lightning Bolt at the Luminary, offered its spot to Yowie in order to spread whatever wealth is available to the experimental music community. This, just to be clear, was an exceedingly cool thing to do.
Gnarwhal. Photo by Kiernan Maletsky
Gnarwhal found itself going from a four-piece to a two-piece just before its current tour. So the half that remained wrote new songs. It would take me infinity days to write even one minute of music as elaborate as anything the guitar-and-drum-duo played and about as long to actually be able to play it. The continuing lesson here is that Nashville is an endless fount of musical talent, and its high-quality (relative) unknowns are constantly playing St. Louis. And visa versa.
What a charming mess is a Marnie Stern show, at least both times I've seen one this year. Last night: Her guitar strap fell off two songs in, and we learned she's had it since she was fifteen. Apparently drummer Vince Rogers decided to use it as a belt and it couldn't take the abuse. A tour manager/tech/honorary fourth member taped it in place halfway through a mostly-for-naught "This American Life." A couple songs later, Stern made a crack about feeling strapped into her guitar, and bassist Ninith Kalvakota made the first of his two uncomfortable innuendos: "That isn't the first time you've been strapped in." It's sort of his thing. Amidst all that: Some minor tweaks to the mix, which was amazingly good all night considering the abuse this sort of music exacts on PAs.
But don't mistake Stern's haphazard demeanor -- she still throws herself into the songs, many of which must be brutal to play both emotionally and physically. Even in the top half of the show, there were moments of total blinding brilliance. "Cinco De Mayo," which started the set, was perfect. "The Crippled Jazzer" has been a consistent highlight since it started showing up on set lists -- it remains so.
Rogers opened a beer with his drum stick, much to the amazement of Stern (Kalvakota: "You can do lots of things with a drum stick, Marnie."), and before the moment could sink in or even really register she asked us to clap. We did and she spoke the opening to "Prime." Defenders get on to your knees/defenders get on to your knees. The line comes back, once the instruments have started blasting away, and it was fist-pumping and frenzied dancing from there on in. Nothing but killers: "Transparencey Is The New Mystery," "Risky Biz," "Building A Body," and out on the beautiful heartbreak of "For Ash." Music nerds have feelings too.
Critic's Notebook
Personal Bias: Many people have asked me in the past few months what kind of music I like. My answer has always involved Marnie Stern, which is actually not very helpful because it's not really about genre. I'm not in it for the technical aspect at all: Marnie Stern was my favorite album of 2010 because at no point when I listen to it do I think about notes and rhythms. "Transparency Is The New Mystery" crushes me; "The Things You Notice" lifts me off the ground.
Overheard: Several oddly agressive commands from audience members: "Hurry up!" someone shouted during what I would say was a completely normal pause between songs.
Setlist:
1. Cinco De Mayo 2. Transformer 3. This American Life 4. Vibrational 5. Nothing Left 6. The Crippled Jazzer 7. Shea Stadium 8. Prime 9. Transparency Is The New Mystery 10. Risky Biz 11. Building A Body 12. For Ash