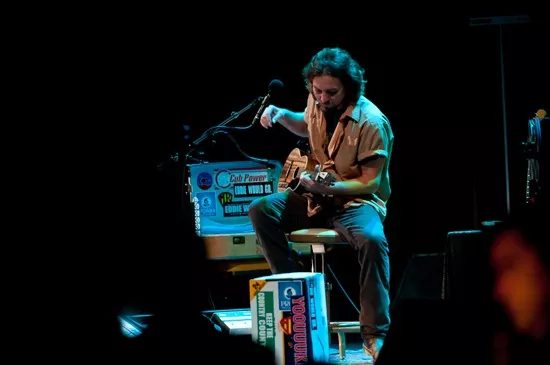 ​Eddie Vedder | Glen Hansard Fox Theatre July 1, 2011
Nobody tell Nic Cage, but Eddie Vedder's voice is basically a national treasure at this point. It's the voice that launched a thousand alt-rock vocalists, those of Creed and Fuel least notable on the list. And when it comes to shows with the level of intimacy created last night at the Fox, it's the only instrument that actually matters, a guttural, still-jarring yaw that is as dramatic as it is dynamic. Vedder can -- and did, frequently -- take that voice from Bolton to Jackson to Jagger in one note. Sometimes, it's almost alarming.
"I'd like to start with something I don't say very often," Vedder said by way of introduction. "Hello, St. Louis."
In the past four years, Vedder has released two solo albums, the Into the Wild soundtrack and Ukulele Songs, the reason for his current tour and the tiny instrument he played for about 80 percent of the show. His fans are generally divided into camps: Some worry that his Dad-rock focus will kill out his stadium-rock beginnings, and others rock equally hard to both and don't really give a shit. The night held a sizable share of each inside the almost uncomfortably personal experience that is a predominantly acoustic show at the Fox. Vedder himself, wearing, at alternating times, a T-shirt, a lazy button-up and a lab coat, falls cleanly into the second camp.
What would quickly become a dramatic, all-out marathon of passionate interaction between the audience and the 46-year-old Pearl Jam frontman began with one of his most famous project's songs, a ukulele version of Pearl Jam's "Can't Keep" that leads his latest album. Although the generous selection of Pearl Jam tracks found overwhelmingly positive reception as the show continued, it was to the crowd's credit that fan-friendly knockouts such as a toned-down, tender "Better Man" received the same appreciation as the rowdy renditions of Into the Wild tracks "Society" and "Hard Sun."
The man behind the ukulele -- and both acoustic and electric guitars, a harmonica, an ocean-sounds machine and looping equipment -- was a charming but almost clumsy entertainer between songs. Constantly pushing his telltale rowdy locks to the back of his head, Vedder looks like a bear but comes with an awkward charm that could rival even the smooth Sinatra in its power to enthrall. Simply put, Vedder knows his fan base. Signs of the ease with which he relates to his audience were apparent throughout the jokes and stories he shared during a set as tight-knit as a VH1 Storytellers session. At one point, the oversized voice dedicated "I Am Mine" to a fan in Joplin, while later anecdotes found him rehashing time spent doing drugs with Keith Richards and recounting the birth of his daughter. One eccentric but endearing story ended in the line, "Now even goddamn Snoopy is a terrorist."
Vedder began his set with a simple black background, but that changed rapidly depending on the mood and instrumentation of each song. A cover of Cat Stevens' "Trouble" found him seated in a brick alley setting, while later songs such as "Hard Sun" saw the singer rooted in a beach scene and sporting a white lab coat. His awkward but arresting stage presence didn't mesh with the forced backdrops, but he found comfort again when bantering with audience members and teasing one of the show's sign language translators.
While he spent long, expansive musical runs augmenting his songs with the ukulele he bought in a dive shop devoted to fishing equipment, the real instrument, as always, was that voice. In a single song, such as "Society," Vedder can trace the lineage of his almost notorious vocal chords through yodels, falsetto and painful, frantic shouts before returning to a surprisingly gentle faded outro. Although the show's three encores varied as much in theme as the different parts of their host's career, it seemed pretty clear that the show would end after "Hard Sun." Vedder, his lab coat akimbo, waved to the audience while drinking wine out of the bottle. This is the Vedder we know.
There were both literal and figurative gasps, then, when Vedder returned for a fourth round, now in only a T-shirt, his beginning bars almost drowned out by the sound of so many hands clapping. Vedder pushed his hair back from his face, sat on his stool, picked up the ukulele and sang, with the deepest and softest variant of his trademark roar, "Dream a Little Dream." It turns out we know this Vedder, too.
Critic's Notebook: It must be really tough to be the sign-language translator at an Eddie Vedder show. The man's voice is confusing at best and dramatically muffled at worst. That being said, the interaction between Vedder and one of the translators was a highlight of the night. After showing appreciation for her work and offering her wine, Vedder faked both her and the audience out by singing the lines, "The singer is a fucking asshole. The singer is a prick." While both laughed and she signed, he continued with, "Somebody was signing to me the other day. I thought maybe that's what they were saying. Now I've confirmed it."
Overheard: "Man, I really want to see Pearl Jam now," a man in a T-shirt with a fake license plate reading ED VEDR said outside after the show. Don't we all? In general, the post-show elation was met with much unjustified surprise that he "still has it." Did he ever lose it? Better question: What is it? I need to get some.
Eddie Vedder Setlist: Can't Keep Sleeping By Myself Without You Goodbye You're True Light Today Trouble Sometimes I Am Mine Thumbing My Way Drifting Better Man Far Behind Long Nights (with Glen Hansard) Guaranteed Rise Just Breathe Small Town Unthought Known
Encore one: Wishlist Immortality Sleepless Nights (with Glen Hansard) Society (with Glen Hansard) Falling Slowly (with Glen Hansard) Last Kiss So You Wanna Be a Rock & Roll Star Lukin Porch
Encore two: Hard Sun (with Glen Hansard)
Encore three: Dream a Little Dream of Me