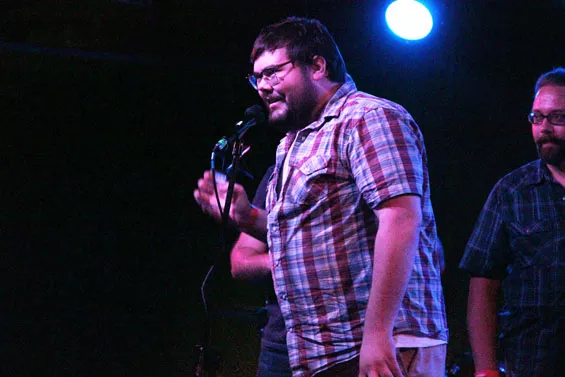 Dots Not Feathers won Best New Band. Photo by Kelly Hogan
The RFT Music Awards were announced at the Firebird this week, and we only just now finished fighting off the hangover. 18andCounting, Prince Ea and Sleepy Kitty all played memorable live sets, with Prince Ea inviting Teresajenee up for a characteristically glorious guest spot and Sleepy Kitty running a four-guitarist relay. As for the awards: The acceptance speeches ranged from thought-provoking to laugh-inducing. A good night for St. Louis music -- we can't wait to start putting together next year's showcase and awards.
Our incomparable Art Director Tom Carlson was on hand to film the proceedings; he put together a video with a few of the best speeches, performance highlights and the most Crass joke. Watch below.
2011 RFT Music Award Winners
Best Folk: Cassie Morgan and the Lonely Pine
Best Americana (Rock): Pretty Little Empire
Best Americana (Traditional): Pokey LaFarge and the South City Three
Best Soul/R&B (Solo Artist): Theresa Payne
Best Soul/R&B (Group):Fresh Heir
Best Jam/Funk Group: Funky Butt Brass Band
Best One-Person Project: 18andCounting
Best Solo Artist (Female): Ellen the Felon
Best Solo Artist (Male): Javier Mendoza
Best Jazz Artist: Dave Black
Best Blues Artist: Roland Johnson and the Voodoo Blues Band
Best Rock Band: Kentucky Knife Fight
Best New Artist: Dots Not Feathers
Best Pop Band: Tight Pants Syndrome
Best Indie Band: Sleepy Kitty
Best Electronic Artist: Safety Words
Best DJ: Needles
Best Party: London Calling
Best Residency: Rapture
Best Noise Band: Spelling Bee
Best Experimental Artist: Bikini Acid
Best Punk Band: The Fuck Off and Dies
Best Hardcore Band: Shaved Women
Best Hip-Hop/Rap Artist (Solo): Prince Ea
Best Hip-Hop/Rap Artist (Group or Collective): Illphonics
Best Producer(s): Urban Legendz
Best Metal/Thrash Band: The Lion's Daughter
Best Hard Rock Band: Greek Fire
Best National Band: Bottle Rockets