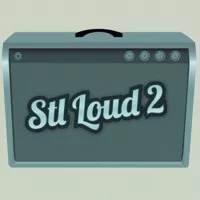 The second STL Loud EP gets its release party on Saturday at the Firebird. The series has evolved dramatically since it was first conceived. Ryan Albritton, who started this thing, has big ideas about St. Louis music, how it fits into the larger picture now and how the scene can grow here (through collaboration) and elsewhere. We talked to him before this weekend's five-act showcase about his goals, what he's excited about and what's in store for Vol. 3 (secrets, mostly).
Kiernan Maletsky: What did you learn the first time around that made the biggest difference for Vol. 2?
Ryan Albritton: The first one taught us several things, and we are forever grateful for the artists on that one who got behind the project at the beginning. I'd say the most important change though, is moving to 5 artists instead of 6 and having shorter sets -- I focused on building a cool show that will have a good flow first, then we recorded the EP.
What is the largest goal of the series?
Promotion of local music, but in a way that will hopefully build the scene at the same time. I like the idea of a sustainable music community that works together to further itself and I think this project is a definite step towards that.
Why did you think it was important to get such a wide variety of music?
This goes with the last question. It's hard to build a scene without getting different audiences together. Most of these bands have unique audiences who may not know much about the other bands on the bill. The hope is that people make new musical connections and each band gains new fans who can then support them at their regular shows.
What do you think the St. Louis music scene needs most right now?
There is such an incredible energy in the this town right now and I think that as long as we keep that going the scene will continue to grow, and that's really the goal. More bands, more venues, more support for all things art...it's all happening and we all have the privilege of being around for it and the opportunity to shape its future.
How has the series shaped up differently from how you first imagined it?
The original idea was to record one compilation LP, so that it is an ongoing EP project is a huge difference, but it is more powerful as it will reach more people this way. More importantly, one year ago when the idea first surfaced I could not have imagined the support this project has gotten and how far it has come in just two volumes. It is seriously humbling to see an idea take root like that and we are honored to be a part of such an incredible group of people in this scene. So, a big thanks everyone!
Do you have any specific goals (bands, sounds, time frames) for Vol. 3?
I do. I can say that we are hoping to release the next one late-summer/early-fall, but the rest you'll just have to wait for...