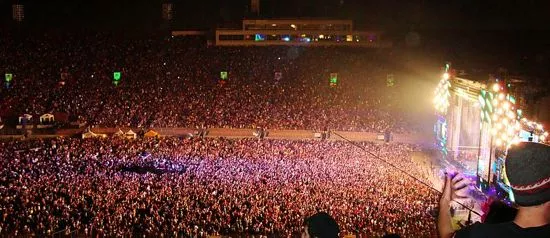 It has been a particularly grim summer already in music festival fatalities, with one death over the weekend at Electric Daisy and two more at Bonnaroo a couple weeks ago. But this is hardly a new phenomenon: The combination of crushing crowds, heat and mind-altering substances (as the Mormons say) at any of the thousands of music festivals that happen each year often proves lethal. In an effort to understand the problem, we tracked down seven of the deadliest music festivals in history. There are more-or-less infinite ties at the bottom end of this list, so Nos. 5, 6 and 7 were chosen as much for notoriety as for number of deaths, but No. 1 through 4 four are pretty much definitive.
7. Electric Daisy Carnival: Dallas, Texas This past Saturday, nineteen-year-old Andrew Graf died after being taken to the Baylor University Medical Center from the Electric Daisy Carnival, an electronic music festival. Though the cause of death remains under investigation, Graf was one of multiple people who were taken "to hospitals for drug, alcohol and heat-related illnesses," according to WFAA in Dallas. In addition, at least 24 others had been hospitalized after the festival. In a statement, festival founder Pasquale Rotella expressed his condolences and said he "will work with the authorities to understand how this tragedy occurred." The Electric Daisy Carnival was banned in Los Angeles after a fifteen-year-old died from an ecstasy overdose at last year's event.
6. Woodstock: Bethel, New York The most famous music festival in rock & roll, Woodstock set the standard, attracting so many people that it became the third-largest city in New York during its run from August 15 to August 18. The "three days of peace and music" proved not all harmony: Within the estimated gathering of over half a million people, two people died during Woodstock. One man died from a heroin dose and "a teenager in a sleeping bag was killed when a tractor ran over him," according to the Daily Mail, which goes on to state that the driver was never traced.
5. Altamont Speedway Free Festival: Livermore, California What set out to be "Woodstock West" wound up being Hell's concert: The free event was held on December 6, 1969, and drew 300,000 fans with performances by the Rolling Stones, Santana and Jefferson Airplane, among others. Four people died at the festival, with "two from hit-and-run accidents, one from drowning in an irrigation ditch and, most notoriously, one from repeated wounds at the hands of a Hell's Angels member" during an outburst of violence during the Rolling Stones' set that night. Eighteen-year-old Meredith Hunter attempted to climb onstage when Hells Angels members prevented him from doing so. Hunter returned with a pistol and Angel Alan Passaro stabbed him. Hunter later died from his wounds.
4. Roskilde Festival: Roskilde, Denmark On June 30, 2000, nine people died during a Pearl Jam performance at Roskilde, a rock music festival held annually in Denmark. According to the police report, "eight young men were killed outright and on July 5, 2000, another young man died as a result of the accident." It also noted that all victims had bruising on their bodies and faces and "none of them had been under the influence of narcotic substances." The cause of death for all nine victims was "suffocation after compression/pressing of the chest," according to the police report. Pearl Jam paid tribute to the accident victims in their song, "Love Boat Captain," with the lyrics "lost nine friends we'll never know, two years ago today."
3. Mawazine Festival: Rabat, Morocco Eleven people died on May 24, 2009, at the annual Mawazine "Rhythms" Festival in Rabat, Morocco. 2009's festival attracted 70,000 attendees at the Hay Nahda stadium. According to reports, during Moroccan pop singer Abdelaziz Stati's performance, "a crowd surging toward an exit apparently brought down a wire fence, setting off the stampede as the concert ended" on the festival's last night, killing eleven people including four men, five women and two children. The world-music festival hosted featured acts such as Stevie Wonder, Alicia Keys and Kylie Minogue as just a few of its thousand performers.
2. Wings: Moscow, Russia Two suicide bombers struck the entrance to the Wings festival in suburban Moscow on July 5, 2003, killing 16 people and wounding at least 60 others. About 30,000 fans were in attendance when the first bomb detonated near a ticket booth at 2:45 p.m., ten minutes before the second bomb went off. According to the New York Times, the bombers "were stopped by guards who were searching fans entering the airfield," where the festival was held. One of the bombers was Chechen woman who "had connections to armed groups fighting in Chechnya," a Russian republic. Calling it a terrorist act, Putin said that the act's goal was apparent, "to seed fear, suspicion an ethnic intolerances in our society."
1. Love Parade: Duisburg, Germany The Love Parade claimed 21 victims last year during a panicked stampede inside a tunnel, which police had closed after the electronic-music festival had reached full capacity of an estimated 1.4 million people. Announcements were made for attendees trying to enter the festival to turn around, but it quickly turned into a crushing stampede, according to the New York Daily News. The tunnel was 100 meters long and 16 meters wide, and had no escape routes. Festival organizer Rainer Schaller permanently ended the Love Parade out of respect for the victims.