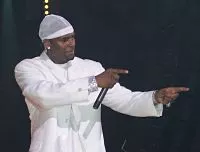 R. Kelly at a previous concert.
R. Kelly | Keyshia Cole | Marsha Ambrosius Chaifetz Arena June 17, 2011
Although last night's R&B spectacular at the Chaifetz was titled the Love Letter Tour, the name may have been slightly misleading. While R. Kelly did play the title song from his recent Love Letter, he generally shied away from most of the newer material. Kelly's audience is made up of mostly the over-30 crowd these days, and that means leaning heavily on the sex-crazed anthems he built his career on.
The show opened with Marsha Ambrosius, former half of British neo-soul duo Floetry. Marsha has changed quite a bit since her Floetic days; she's sporting a more slimmed-down, mainstream look, and her music is less distinctive without the spoken-word element the group was known for. Regardless, Marsha's soothing vocals and playful personality were a hit. She sounded incredible singing Floetry's highest-charting single, "Say Yes" (for which she also played the keyboard), and an Alicia Keyes-style ballad called "Far Away" off her recently released solo album Late Nights & Early Mornings. In an unexpected (and very amusing) twist, her half-hour set ended with her covering the "Soul Glow" song from Coming to America.
After a quick set change, singer-turned-reality star Keyshia Cole took the stage. Wearing thigh-high boots and booty shorts, the songstress looks to have wasted no time getting her figure back; it was impossible to tell that the new mother had given birth to her first child back in March. From the perspective of a casual fan, Keyshia's set was surprisingly satisfying. She gives an emotional performance onstage, and she sounds great live. The crowd favorites were "I Should Have Cheated," "Let it Go" and a cover of Rose Royce's "I'm Going Down."
The headliner's set opened on a prerecorded video segment to (sort of) set up the show. The bit was a little cheesy, but still entertaining -- and the crowd responded immediately. The spotlight panned to Kells sitting off-center of the stage at a bar (much like in the video) as he addressed the audience. Most of the crowd was on its feet and screaming as the R&B icon opened with "Step in the Name of Love," "Love Letter" and "Happy People."
Kelly's experience as a showman was evident in the way he controlled the crowd for the entire time he was onstage. His nearly two-hour set included some minor costume changes (different colored suits, mostly), a few half-naked dancers, and plenty of flirting with the women in attendance. Although Kells has never been the strongest singer, his seductive vocals complement his pop-friendly production well, and his songs tend to be fun and infectious.
Kelly managed to squeeze in most of his biggest records and features from his massive catalog, although songs like "I Believe I Can Fly" and "I Wish" were notably absent from the setlist. In typical R. Kelly fashion, he stopped the show at one point, singing for somebody to come "Fix this motherfucking light!" With the shadow of his legal troubles seemingly behind him, R. Kelly proved that he still knows how to put on an entertaining show, and his fans have shown their willingness to stay by his side.