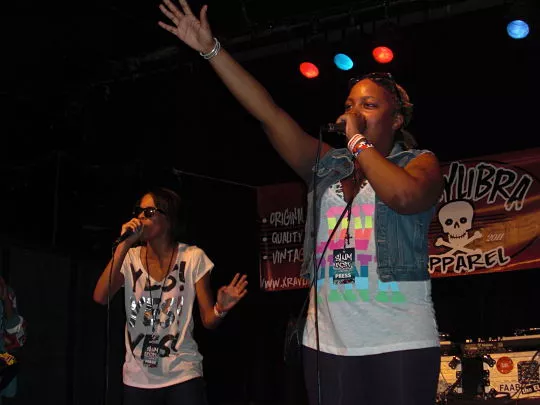 Lena J and Miss Precious. Photos by Kelsey Whipple.
This weekend's S.L.U.M. Fest, now in its second year, was an overload of talent, controlled chaos and more references to swag than a swag-only dictionary. There were also several jokes about Tupac, countless baseball hats and more proof of the Midwest's status as a hip-hop stronghold. After several sweaty hours at the sprawling celebration, A to Z brought back a few of the highlights from the twelve-hour festival and the hundreds of artists who played across the four stages set up at Atomic Cowboy. We might also have brought back some swag.
Aztec Dinero This is a pretty good title for the two-piece's aesthetic: fun but vulgar lyrics predicated on Hispanic sentiment and a string of seemingly endless cliches. The audience had fun, but creativity was in pretty short supply. It was at this point that we understood the day's setlist was out of order, which made the festival unpredictable but tougher to tackle. Artists played in the general area of time they were supposed to but might skip some and return to others an hour later. Key moment: We're pretty sure they rhymed "desire" with "higher" -- and then "choir."
Graffiti showcase at S.L.U.M. Fest 2011
Midwest Avengers Even in the ungodly heat that accompanies an outdoor hip-hop festival in June, the Avengers played a tight, disciplined set that showed solid command of each emcee's style. The different verses refracted each other in a way that gave listeners more than enough chances to get into an act that already started out strong. Key moment: Everybody can get into this act, and we have proof: Standing next to a woman in a Nine Inch Nails shirt and Docs, we spotted a goth enthusiast with a black parasol and several people who would look comfortable at a Vampire Weekend show. It's the great equalizer.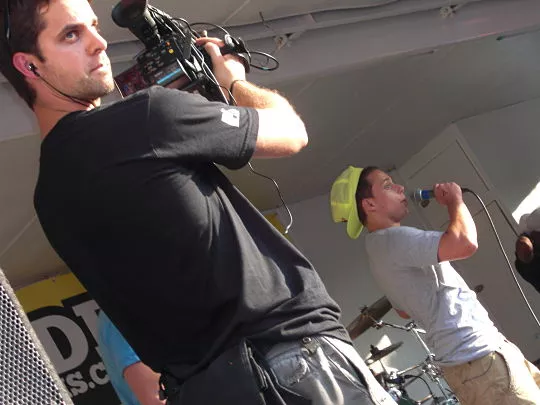 MTV's Made films at S.L.U.M. Fest 2011
Trey and Zuck We're not entirely sure what this rapper is called, which is weird considering how many times he was asked to repeat his short set. After a surprise announcement that this was being shot as a part of MTV's Made, the show's cameramen (who were actually wearing Made shirts, to heighten the lack of surprise) remained within a foot of the rapper at all times. What we saw: two white college-aged dudes with their hats on backwards singing about school, beer and luck with the ladies. The main artist was backed up by highly produced beats and his taller friend, though both of them acted out their lyrics literally while rapping. "Don't sleep on me like a bed at Macy's / All the haters be growing on me like daisies."The act reminded us of The Chalk Boyz without the local charm and know-how to make us watch it a second time. But we did: Unhappy with the angles of the first shoot, Made's cameraman asked to repeat the entire thing. Key moment: when we realized this is how reality TV works.
Mwellz Female artists were few but represented strongly at this year's S.L.U.M. Fest. Although their sets attracted smaller audiences in general, Mwellz packed the venue's Xraylibra stage with people who had clearly seen her before. And we're jealous: The slight rapper held her own onstage in a white baseball cap and a half-sleeve tattoo as she rapped lines of empowerment over a heavy backbeat that folded scratching into an occasionally blissed-out electronica. At one point, Mwellz (a.k.a. Marcy) stopped her set to repeat a verse she wrote recently. Moments like this, which found frequent home at the festival, underlined the earnestness of the message rather than overriding it. Key moment: Her lyrics hit hard with fans. Case in point: "Once I got a pen, you can't disarm me."
William H at S.L.U.M. Fest 2011
William H It's hard to deny William H's strength on stage, so we won't even try. What we will do is mention his stage persona, rooted in a combination of aggression and weed jokes that made his set simultaneously hilarious and hard-hitting. After a sing-a-long of violently anti-police sentiment, William H transitioned to a call-out for Mary Jane. "Y'all like smoking weed? If y'all have some of the green, light that shit up right fucking now." The highlight of his act was one of the strongest moments of this year's festival: Joined onstage by two other rappers, the group took on a song called "The City" that was prefaced with the idea of being "tired of all this bullshit violence going on in St. Louis." Throughout lyrics about the city's socioeconomic issues and an unrelenting backbeat, a chorus repeatedly condemning "the same shit" found paradox with someone cooing the line "round and round." Key moment: That was it.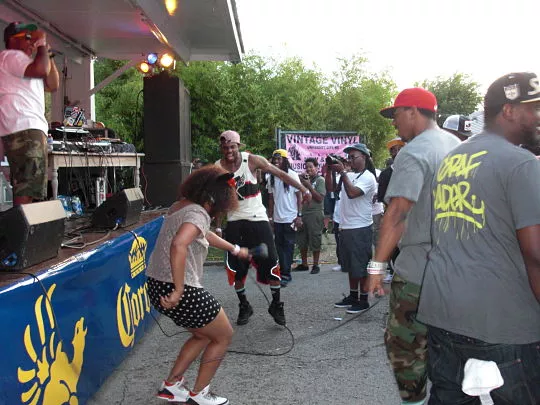 Thug Friends at S.L.U.M. Fest 2011
Thug Friends Thug Friends are hard to get a handle on. They said it themselves (again and again) when they repeated, "We are not rappers," but William H joined them onstage. They mixed semi-serious jokes about Tupac with a sarcastic attack on their lazier listeners ("Even you bowlegged bitches in the back, get your hands up.") all while taking on lyrics about a turtleneck. There was sass, to be sure, but there was also lip synching, a reality the group's female member took few pains to hide. Key moment: The group's most polarizing track -- an anthem entirely about "titties" -- set a multitude of women off in search of another stage while vehemently shaking their heads.
Ruka Puff at S.L.U.M. Fest 2011
Ruka Puff This will be a surprise to approximately no one, but Ruka Puff kind of killed it. If you don't believe us, consider the middle-aged dude in a Beatles shirt next to us who freaked out through the majority of the St. Louis legend's set. With his pants really low (no seriously, how did they even stay on?), his tattooed stomach fully out and his red mohawk at arms, Ruka Puff was rowdy, rapacious and at times R-rated -- basically just the way we like him. He and his fellow rappers filled the set with warrior faces perfectly timed to match the most aggressive lines. Key moment: The most intimidating lyrics were also met with Ruka's version of a choreographed dance, a scary, synchronized sway during which the group stared down the audience.
Teresajenee If you managed to miss this set, we pity you. Teresajenee was bespectacled and humble in her lace-up boots as she unleashed stunning lyrics that paralleled an autobiographic insight into the city and an independent spirit. Jenee spits and sings in equal measure in a mix that is as comforting as it can be surprising. Backed and sometimes fronted by the equally worthwhile Black Spade, Jenee's too-short set ended with a call-out for listeners to support independent music and a quick but sincere "Thank you." Key moment: Black Spade focused a good section of his lyrics directly on local experimental artist Adult Fur, standing in the front row, in an almost romantic gesture.
The Beat Battle The night featured its fair share of battles, both planned and otherwise, but we're going to go ahead and say this one was the toughest to miss. It was also the easiest to groove to as its 12 producers unloaded their sharpest creations on the largest audience to collect at the Xraylibra stage during the night so far. The battle's hosts started the night with a misinformed (foreshadowing) shout-out to the event's previous winners, Total Kaos by saying, "You know how an eye-for-eye battle goes. We all take on our beats and then Total Kaos wins. Seriously, it's not fair. We need to split them in half and make them battle each other."
Actually, we don't. In a surprise upset, Total Kaos, one of whom was wearing a Teenage Mutant Ninja Turtles shirt, was knocked out by the three judges in the first round, leaving the remainder of the battle up to a series of tough decisions and tie-breaker rounds of audience appreciation. The eventual winner, JBJR, earned the comparisons the crowd gave him to "Jesus music" with a hearty and unpredictable mash-up of heavy electronica and gritty rhythm, but the final round came close. The night's runner-up, Acedeuce, was a stone-faced teen whose threatening backbeats matched the Spartan attitude that might have ended his final chances. JBJR left the night with $300 and a trophy in addition to the knowledge that he knocked down a bold set of assailants. Key moment: The best part here might have been watching the number of people who flocked to JBJR and Acedeuce for phone numbers as they left the stage.