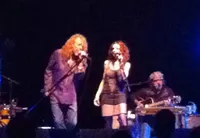 Robert Plant and Patty Griffin
Robert Plant and Band of Joy with Luther Dickinson
The Fabulous Fox Theatre
June 15, 2011
The lobby of the Fabulous Fox doesn't look so fabulous as of late. A maze of poles and beams supporting scaffolding and platforms for the post-fire restoration gives the grand hall the feel of a Mad Max set, a sci-fi jungle gym, a thousand chrome gallows poles reaching to the ceiling you can't see anymore.
But the bartenders still pour a serious $5.75 cocktail. And it's what's inside that matters.
Robert Plant and Band of Joy -- his unassuming but massively talented post-Alison Krauss project -- is on a summer run; its stop in St. Louis, a market that still teems with Led Zeppelin mania (with a certain radio station to blame), is Olympic-size news. Just ask the cougars -- and post-cougars, should we call them cougarones? -- who brought their kids and grandkids to see the high mystical wizard of heavy-metal blues in the full Americana twilight of his career. They would all tell you that he was one of the greatest rock & roll singers to ever invade their unspeakable dreams. Maybe he still is.
Opener Luther Dickinson, with fellow North Mississippi Allstar and brother Cody on drums, played a quick and dirty blues set with restrained meanness. Dickinson isn't a compelling singer, and his songs are little more than a pastiche of blues archetypes, but he understands the power of the images. Running a slide on the strings of a cigar-box guitar, or even a tomato-sauce-can guitar, he can make a solo on "Amazing Grace" sound like Hendrix. One wishes, though, that he could do more with the blues than merely get them dirty, though sometimes, as on a beautiful acoustic guitar duet with Cody, and on a serviceable and shortened "Stuck Inside of Mobile (With the Memphis Blues Again)", he very much does.
At 9:12 p.m. the lights go down and the full hall is seated (it's a welcome consequence of having an opener; everyone makes it to the headliner on time), and Band of Joy -- guitarist and singer Buddy Miller, singer Patty Griffin, singer and multi-instrumentalist Darrell Scott, bassist Byron House and drummer Marco Giovino -- shuffle onto the stage, with Plant alongside them. The old man is still striking, from fifteen yards at least, and if those are extensions he's flaunting, they're worth every Euro. With the first snare smack, Plant raises the mic stand like a vaulter's pole and brings it down like a stake into the fuzzy opening mood-groove of "Black Dog." Griffin matches his phrasing, line for line, and the band, even without a fiddle, straightaway finds that uncanny folk-rock place Plant's old touring mates Fairport Convention knew. If this is a warm up, it's going to be an astonishing night.
And it is, largely because Plant lets Buddy Miller, one of Nashville's finest musical minds, direct the sound, always fully in the thrall of a deep, thick rhythmic pulse, a kind of growling, purring groove that was unknown to Plant's music before this, but which suits the singer, his voice tempered and lustered by time, well. His signature "Oooooooooooooo!" gets a boost from the maximum delay setting; it still chills. Plant twirls and slaps his chest as Scott knocks out the first of a dozen hard strumming acoustic guitar solos on "Down to the Sea." On a slightly slowed down Los Lobos cover, "Angel Dance," the singer gets a little too cute with the mic stand, his leg catching the cable, sending the SM58 to the floor with a thud. He's 63 years old; slack is cut.
Midway through the set, Plant steps back into the shadows to give Miller a lead vocal on a song written by his wife, Julie Miller (and recently covered by Miranda Lambert), "Somewhere Trouble Don't Go," and rips into a harmonica solo, though the somewhat murky mix from the center VIP seats makes it hard to savor. Scott also gets a lead turn on the country standard "A Satisfied Mind," kicked off with hard-fused quartet harmonies, and then Griffin gets hers, on a Gospel-graced "Ocean of Tears." These guest spots receive a warm reception, though nothing compared to the squeals of ecstasy that greet Plant and Griffin's chanting duet on "In the Mood."
In sum, the setlist is unsurprising (it's identical to the previous night's), but the pacing is graceful. The Zep song "What Is and Should Never Be" elicits the first of hundreds of witchy, hands-in-the-air finger dances from the Wicca rocker chicks. Like all of the Zeppelin songs tonight, it's completely reworked, mostly slowed down, but even the melody is pulled and pushed in strange ways. If it weren't for the words, songs like "Black Country Woman" and "Misty Mountain Hop" would be barely recognizable. There's something exciting about that. Plant still cares enough about what he does to fuck with the music beautifully. The main set-ending "Ramble On" has the strongest echo of its original -- some dude behind me says outloud to himself, "Burn it down, Robert, burn it down" -- but it becomes a showcase for Scott's droning bouzouki and Griffin's responses to Plant's calls. The rendering is more stately than frenzied, and ends with no grand climax. The band steps forward into the light for a bow.
The encore after the 80-minute set is just two songs: Townes Van Zandt's "Harm's Swift Way" and "Gallows Pole." The former has a lovely, glowing melody and an acknowledgment of age -- "Who's going to mark my time?" -- and the latter is as riveting as doom folk blues could ever be. When Plant cranks up the pipes for one last "Ooooooooooooooo!" his voice sounds like a tornado siren echoing over a wasteland. "Don't go changing," he advises the audience. He wisely hasn't taken his own advice.
Overheard: Plant awkwardly attempted to explain the sound of Band of Joy a few times, mentioning bluegrass twice, but that makes no sense, even if Scott played the banjo on a few songs. To paraphrase Bill Monroe, "That ain't no part of bluegrass. That ain't no part of nothin'."
Critic's Notebook: If you're wondering where to start with the solo work of the Band of Joy singers, you could do much worse than these albums: Buddy Miller's 1995 masterpiece Your Love and Other Lies, Darrell Scott's A Crooked Road (a 2010 double album that's quite consistent) and Patty Griffin's gorgeous 2010 Gospel album Downtown Church.
Robert Plant and Band of Joy Setlist
Black Dog
Down to the Sea
Angel Dance
What Is and What Should Never Be
House of Cards
Somewhere Trouble Don't Go (Buddy Miller vocal)
Monkey
A Satisfied Mind (Darrell Scott vocal)
Satan Your Kingdom Must Come Down
Ocean Of Tears (Patty Griffin vocal)
Black Country Woman
In the Mood
Please Read the Letter
Misty Mountain Hop
Ramble On

Encore:
Harm's Swift Way
Gallows Pole