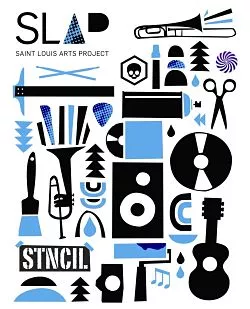 In some ways, its goals are as aggressive as its acronym, though the methods are more guerilla than they are violent. The latest enterprise from the St. Louis Art Project (SLAP) is an unchecked effort of creativity that will last four days, feature live musicians, explore the local music and art scenes and probe some big -- no, seriously -- ideas. It's collaborative in the way only grassroots efforts really can be, and if the whole thing sounds slightly wild, that's because it might be. And that's a good thing. A to Z talked to organizer Liz Deichmann about the issues and expectations behind the 2011 SLAP Conference, the first in what she hopes will become an annual event.
Kelsey Whipple: Which came first: SLAP or the SLAP conference? The group only got started in January, so it seems like the operation developed quickly.
Liz Deichmann: It started in January with an idea. The Secret Sound Society had a music festival previously on Cherokee Street in October, and it showed us how many amazing people were working in the city and had really interesting projects in the art community. It opened us to a vibrant arts scene we didn't even know existed, really. The whole thing happened pretty organically because we wanted to work with more people doing interesting things in St. Louis. There's kind of a chicken and the egg situation: Did SLAP come first, or did the conference? I'm actually not sure. Whichever one did, it really let us find a way to become involved with like-minded people who were interested in the same aspects of culture in the city. So we got together the first week in February and decided to create a community arts resource.
Why does St. Louis need a community arts festival like the SLAP conference?
Probably one of our primary goals, just because it's what inspired us, is working together to bring together a group of really diverse individuals to construct comprehensive programming and have meaningful discussions. It sounds complicated, but we want people to talk -- to each other -- about the arts. This year alone, there have been a few arts festivals, so those are definitely things that are going on in St. Louis. This conference is trying to reach out to a broad audience to get people engaged in the arts community who maybe aren't already. How is this festival different from the others?
I think this is the biggest conference that has happened. That has given us the opportunity to touch on a lot of different subjects. We have panels, workshops, artist talks and programming that's just totally new, like Current, which is a collaborative performance of electronic musicians. It's probably the best example of working across genres for this conference. At the very least, it helps people become more aware of the things and people that are in St. Louis that might not be incredibly obvious.
Which event are you most excited about?
Can I pick two?
Sure.
I'm first and foremost excited about the electronic artists in Current and their collaborative discussion. No opportunity like that exists in St. Louis. We'll have Black Spade, Adult Fur and Syna So Pro play together for the first time ever, and that will be fascinating. There's also going to be a community discussion on Sunday where people will reflect on what they've learned from the conference and talk about how you apply what you've learned in your community through engagement. Is the hope that this will be an annual event?
Yes. Hopefully this is the inaugural conference. After the conference, we're going to have monthly events to continue those discussions started this weekend. Our first one's going to be at the Luminary Center for the Arts, but they'll move around.
How did the group orchestrate a project of this magnitude? What was the planning process like?
We met every week starting in February, and we had a steering committee of a bunch of different people who made major contributions. It was incredibly collaborative, and we spent a lot of time deciding on the topics. That's why I'm excited about our topics: Everyone had input, and that made them stronger. The first thing was the content. We knew we wanted to have wide music events as well as the traditional panels and artist talks. It eventually became a four-day event that could incorporate more standard content. Then we added current events like the secret show and didn't really model the event off of any others.
SLAP's website emphasizes a local, regional and national focus. How does the event target each one?
I think with this being our first year, we definitely had a St. Louis-centric approach to a lot of things. But at the same time the art and music happening in St. Louis doesn't just happen in St. Louis. It sounds obvious, but it's important. For example, we have a panel called "Advice From Local Bands," and the local bands have to deal with issues in the city, but at the same time they have to plan a tour that will take them regionally or nationally. It just hopes to emphasize that while our music influences the St. Louis community, that has effects on the national level.
What issues do you hope to tackle in the city's arts community?
I have to preface this by saying that I lived in St. Louis, moved for two years to Brooklyn and came back two years ago. In that time there was a huge shift. There was a much more active arts community here when I got back than when I left. The community is developing on a bigger stage now and becoming more unified. I guess I just hope that the growth continues. That needs discussion and collaboration, and we really need to be a resource for the people doing that art. I still see a lot of division today. There are a lot of separate scenes in St. Louis, which isn't always bad because a lot of them support an individual D.I.Y. culture, but the important thing is that we have opportunities to bypass that scene or genre and come together to talk about issues that affect the entire arts community.