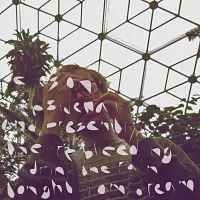 Photo courtesy of Ryan McNeely
Ryan McNeely does a mean Kate Bush impression. Although still a bit manly, his falsetto is bold as he tries to match her vocals on "Running Up That Hill," which he does six minutes into our interview.
In general, the local experimental musician, who makes music as Adult Fur, is more likely to smash the fucking box than just step outside of it. McNeely's most recent project, a two-part series of EPs that are quickly becoming more like full-sized albums, finds him part of an overseas collaboration with French artist Sacha Bernardson on the emotionally reeling new track "I Am Dream." It also finds him thinking -- a lot -- about topics that range in span from generational ennui (he's got it) to weapons of mass destruction (a different problem altogether). The dude has a lot to say, which makes his search for interesting ways to say it that much more worth listening to.
I AM DREAM (feat. SACHA BERNARDSON) by adultfur
Kelsey Whipple: The first EP, Adult Fur Part 1, came out in April. How have you managed to close in on the next so quickly?
Ryan McNeely: It's been a lot of work. A lot of the tracks I planned on releasing when I finished the first part ended up falling through because of collaborations not working out or schedules not working, and I started working on a lot of new songs randomly very recently. The second part is actually going to be ten songs, which means it's not actually an EP, but I'm OK with that. I didn't want to just sit on the songs. I want people to listen to them and enjoy them. And also, as a live performer, if I'm only performing part one, I'm limited to under a half an hour. With seventeen songs, things are not as restricted and I actually have options at my shows.
How did your relationship with Sacha begin?
I found Sacha on MySpace in 2004 and contacted him immediately because I was in love with the music he was doing then. He returned the compliment, and we have been great online friends since then. He actually approached me on Facebook about a month ago to sing on one of his songs called "Carelesness," and I don't even know if I even ended up on the recording because he said what I sent him was too complex. I was supposed to sing in unison with other people he had recorded in France, so I was supposed to record my part and send it to him. But I misunderstood him and sent him a copy of myself singing in unison with 16 versions of myself. And I sent him three versions of that, so it ended up being me 48 times. He ended up writing a dedication to me on the on the liner notes, "Thanks to Ryan McNeely."
For this project, he sent me his lyrics, and I sent him mine. We talked things out through video chat, and it came out really nicely. It's kind of in broken English, but I kind of like that. We want to do another song together because we liked this one, and he suggested we do a cover. So we're going to do "Wuthering Heights" by Kate Bush. He's really into the autoharp and wants to play each note. We can sing pretty high, I promise you, so it should work out with the falsetto parts.
What are the lyrics of "I Am Dream" about?
The chorus is, "Eyes on the sidewalk and presently they're bleeding / I'll drink the rain, tonight I am dream." That whole thing is more or less - god, I don't know - my response to the overload of everyone's self-projection on social media. It's so strange because you have two versions of the person, the online persona and the real person you're talking to, so it's almost like that online part is a dream. It's weird that we can't have these real personal communications with each other because there's this digital facade. It seems like as a generation we all are lost. I'm going to school for the second time right now because my first degree, music composition, meant nothing. People want things to be green while they're absolutely hellbent on creating weapons of mass destruction to protect the world in a way that creates chemicals and environmental issues that just kill the earth in a different way. It's this horrible paradox that everyone just to readily accepts. I don't know if anyone will get that from this song, but that's what my part is about. It feels like I'm part of this generation that is just lost. When will the second EP be released?
There's a girl in Japan doing all of the artwork, and she said she could have it all finished by August.
As far as other projects go, you're participating in the beat battle at S.L.U.M. Fest this Saturday. What made you interested in that side of music?
I thought it would be fun to do something like this because I don't see music as a competitive sport at all. They all seem like really cool guys, and I thought it would be fun to participate in a fun participation of sorts. I don't generally make music that has beats or is aggressive, which is what a lot of this usually is, so I want to see how people respond to my music. It's more of a field test than anything. I'm big into performance art, but I'm also big into pushing people out of their comfort zone. If I plug something that is mine into this area where people are coming from a different background than mine, I think it's important to get people to experience something that is meaningful but maybe foreign.
You also worked on the new Rockwell Knuckles album. Why the interest in hip-hop in general?
I've always thought hip-hop was just a beautiful art form. You can compare it to folk music in that it's about life issues. It seems raw, and I like that element. In recent years, it has become exploited by people who want to turn it into a cash cow. They've made it about misogyny and materialism and egotism and exclusion, and that's not what it used to be about. A lot of the musical elements in it have started to die away and become degraded. And that's just generalizing, obviously. I feel like now it's the responsibility of new artists in hip-hop to help rejuvenate it and get it out of that shit hole it's been it and make it this beautiful art form again. I feel like all of the true artists have just been forced underground. I want to help with that. It's just a fantastic combination, and I feel like our styles augment each other.
I know you're opposed to labeling your music, but if you could create your own genre and call it anything, what would you name it?
SoundCloud wants you to put a genre on everything, too. I think when I put "I Am Dream" up there, I called it "nebulous sparkles party."
I would click on that.
See? Cool.
What do you hope to contribute to the St. Louis music community?
I don't think anybody's doing exactly what I'm doing. I won't say what I'm doing is terminally unique, because I don't think anything is that unique. But hopefully, I'm trying to raise the bar for quality. I'm not trying to sound really egotistical; I just feel like a lot more attention could be paid to composition and quality. A lot of people release a lot of albums or play a shit-ton of shows so they can appear prolific and sort of assume that mantle. Hopefully people can be inspired by what I do just because they can take pride in good music and not in status or anything like that. The music is for the benefit of the person who makes it but also for the people who are listening, so if I can provide an escape for four minutes or augment your life for that time, I think it has done it's best.
Do you see the potential for that in that community?
I think that things like SLAP and all of the people who call themselves communally part of the Force and others like Beth Bombara and Theodore and Old Lights, all of those people collectively are working really hard to do something they're passionate about. Everybody plays in everybody else's band and helps people get shows and stuff like that. I think that's really conducive to other people getting shows, and I think that all those people are making people aware of the scene. A lot of people will quit and just drop out and say, "St. Louis sucks. Nobody goes to shows." But who cares? Why can't we just go to shows and make good music and make the city love itself? I think that's what these people are doing: making St. Louis love itself.