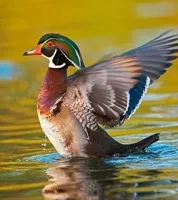 Some attendees of Twangfest may have found themselves experiencing something potent other than the music. On both Friday and Saturday night, water began seeping into Blueberry Hill's Duck Room, and there was some speculation as to the cause.
Don Hollenbeck, who attended Twangfest both nights, smelled what he described as a horrible stench on Friday. He and other attendees suspected raw sewage, which has been an issue in the Duck Room in years past. But according to KDHX representatives, what seeped into the building was mostly flooding from storm sewers around the building, which channeled water into the venue.
"People kept cracking jokes that maybe a smoke bomb had gone off," Hollenbeck says. He didn't notice any solid substances in the water, but, "Saturday night, the first thing we noticed was a really strong smell of bleach. But there was no disaster or people throwing up or anything. It was just kind of a weird inconvenience."
KDHX Co-Executive Director Nico Leone says there was some street water and no raw sewage. The Blueberry Hill staff fixed the issue with a wet vac, and the music went on as planned. Acerbic country singer Robbie Fulks even used the opportunity to play a song about flooding.
"It threw us off schedule a little bit, and the street was flooded, but we bounced back pretty quickly," Leone says. "Twangfest was a fun success, and it definitely didn't ruin the year."