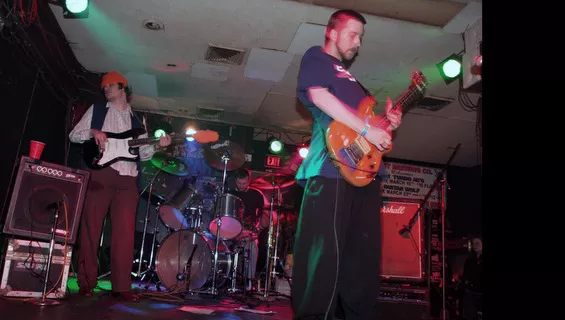 To call Yowie an acquired taste would be a flagrant misrepresentation. Yowie is not something you can acquire. Try to understand its sonic mindfuckery, try to follow the preposterous complexity of Yowies' sound, and your dendrites will start to short-circuit. Music like this can't be made by mere people and yet, you couldn't write a computer program capable of producing this kind of brain damage. It's so grand in composition but honed and microperfected until words like "tempo," "rhythm" and "melody" become meaningless abstractions.
Yowie is back, playing its third show since 2009 at Cranky Yellow tomorrow night. It's a benefit for their upcoming second album, the one they've been working on essentially since 2004. They handpicked the line-up: Spelling Bee, Egg Chef and Britches. We talked to the whole band briefly and drummer Shawn (a.k.a. the Defenstrator) at length about the band's process and what to expect at the comeback show.
It's been seven years since its debut album, Cryptooology, was released on Skin Graft Records, and in that time, the band has weathered a break-up, line-up changes that never took and spent three years working on one song.
After a few failed attempts at replacing guitarist Jeremiah, he rejoined the band, and since then, the dual guitar and drum trio have been laboring three or four nights a week for hours at a stretch to perfect enough material for the second album, which they'll record in Michigan at the end of July. Jeremiah asserts that the amount of labor that goes into one Yowie song involves more notes and work than most bands put into entire albums. When they practice, they don't stop until someone's hands stop working. These men are masochists of the highest order, and their music is a no wave attack on the senses. In an age where music is disposable, to be used once and chucked like Kleenex, Yowie toils to create music that's pathologically difficult.
In the past few years, there have been many arguments between the precisionist players. When asked who the pickiest member of the band is, everyone's loathe to give an answer. Moppy, (or Lil Pumpkin, depending on his mood) said that they're all equally picky, to which Shawn, the Defenestrator, replies jovially, "You're fuckin' lying, dude." Jeremiah adds that the pickiest member of the band is the invisible fourth member--"the ethereal ear" -- and Shawn says, "the damned ear." They can't even agree on that. They can agree, mostly, that the reason behind the break-up is "classified."
"I had to get a sex change operation reversed," jokes Jeremiah. "I just ended up becoming my mother."
The members are so dedicated to what they do that the Defenestrator actually turned down a a post-doctoral position at Yale University in order to continue with the band. They figured out if someone were paying them minimum wage to make the second album a reality, they'd have roughly $65,000 each. "We are all able-bodied people who have gainful employment, but I think people owe us," Moppy said, remarking on the $10 $5 bargain price of entrance to Saturday's show.
Diana Benanti: I guess the most obvious question is what the hell took so long?
Shawn O'Connor: We broke up for a period of like a year and a half, and we tried to find many, many, many other guitarists and were absolutely unable to do so. After a period of time, Jeremiah was able to come back and play with us again. There were a few rough patches when we started, in part because I think we were trying to figure out if we were going to do things differently on our second album. It involved a hell of a lot of whittling. We've been working on one song for about three years now, changing it, modifying it, adding, subtracting. I guess a one word answer would be dithering. Or maybe being obsessive. There's one song we've been working on for three years. We didn't spend the entire three years on it, but we've been working on it for three years. It's done now I think [laughs].
So, was it worth it?
I think so, but I'm going to be interested to see what the final product sounds like after we record it in a real studio, rather than the janky place where we recorded the first one.
What have you guys been doing since you stopped playing out?
We have been arguing over how we wanted these songs to finally settle themselves in, and we have been preparing to record, and for us that involves practicing 3-4 times a week and going over ten second little parts over and over and over again until they're played perfectly.
I can see how that could cause some tension.
There have been no fist fights. Just fantasies.
Is it because the music is so complex?
I think so, there are times when I've been playing the same part of six seconds for an hour and a half that I think to myself, man, maybe a punk rock band would be a great thing. But that' s really not what this band is about. We're about girth in our songs. I think that's a big part of why we've been stuck where we are in terms of very very slow progress. I will say we're joking a lot about it being tense, but it is truly a labor of love.
In the midst of all this, were you able finish you Ph.D.
Yes. I'm a psychologist with the V.A.
Does any of your work there inform the music?
Wouldn't that be an awesome story, that insights that I have into the human psyche are my inspiration for Yowie songs? I don't really think that it is; they're two completely separate parts of my life. I have a day time thing that I do, and a night time thing that I do. They don't really fit very well with one another I've found. I remember when we went on our tour, everyone else is drinking and partying and I'm writing the methodology section of my dissertation.
Have any of our coworkers been out to see your band?
It's not that I'm ashamed of it, but there's kind of a thing that your co-workers do, to be polite they would like to say, "Oh I'd like to come hear you sometime." But I think our music would be disturbing or possibly nearly traumatic for people.
Read the rest of the interview and listen to "Towanda" off Cryptooology on the next page
How much money do you guys need to put out this album?
Well, one of our members has his heart set on recording in this studio up in Michigan, as much as possible is really kind of the answer. We need a good vehicle to get up there, gas money thesedays to get up there, and the studio itself ain't keep. Key Club Studios at the end of next month. We're just trying to cobble together some cash to be able to support that. Given that we were very disappointed in the recording quality of our first album, we're really trying to go and do everything we can to make this a much much better sounding album. I liked the playing, but it sounded like it was recorded in a tin can by a simpleton, which it was basically.
What has been the reaction from Skin Graft in the intervening years?
Oh, checking in with us every once in a while, I think probably trying to figure out if we're actually serious. I'm not kidding when I say we play 3-4 times a week. It sounds like we're saying "Oh, yeah, we're working on it" while we're sitting on the couch playing video games. But in all sincerity, we usually play until one of my guitarists' hands stop to function--either he can't fret the things anymore or blisters start coming up; and we do that 3-4 times a week. The label's reaction has been incredibly patient given how long it's been. Is it going on seven years? We recorded it in 2004, my god, I think we might have released it in 2004 or 2005.
So apart from the break-up, you've been playing 3-4 times a week for the past 6-7 years?
That's about right. I need to say that was a little complicated for a couple of years there, we were trying to find a replacement guitarist. We had somebody from Chicago who was going to move here for a while. We had a guy from Italy who was going to relocate to the United States, believe it or not...but none of it panned out.
I've read many comments from your fans who say you guys are one of the greatest bands ever. Is it because they understand the labor intensity of it that people are so blown away?
I'd like to think so, I'd like to think the reason that we go down there is not because we have horrible disorders, I think we're producing something that takes us so long to do. I think that they hear something about the amount effort that goes into it and that's why they're as excited about it as they are.
No, we just finally came to the point where it sounded like they were done. I saw a post that I made online that I made almost three years ago that was like "any minute now we're going to be finished!" And I meant that at the time. Not too long ago, just to test out whether what I was saying made any sense, I listened to two of the versions of the songs from three years ago and they are vastly, vastly improved, we are not just spinning our wheels and like, rearranging things; we're improving them.
What can fans expect from the new album?
They can expect it to be even more danceable than the last one. I would say, we play more with space and time than we did in the last album, and we have more places where there are some forms of repetition. The prior album, there was very little repetition of any sort that was recognizable. This one, we do things, one instrument will hold down a field let's say and the other instruments interact with it on a different level. Not as many things that sound disjointed and random, this album is much smoother.
Can you give us any hints about the mystery line-up?
It's not a mystery at all anymore. Egg Chef, Britches and Spelling Bee, it was really only a mystery to us because we didn't know.
Have you heard from anyone coming in from out of town for the show?
Last year when we played we had quite a few people come in from Virginia, North Carolina, stuff like that, there are definitely quite a few people coming down from Chicago. Some of them didn't even introduce themselves, after, people told me 'hey, we tried to set these people up who had driven 12 hours for the show.' Last time we played with Brötzmann and Ahleuchatistas, so it was a whole package that people around the country were familiar with. This time, I think they're mostly coming to see us. That was almost exactly 2 years ago. Since that time, we played in a basement one time, we played a party, but we didn't advertise it very much. We just wanted to give the new songs a test run.
About the album, it's going to be recorded on a console that was built for Sly and the Family Stone, I'm hoping it's going to have a bit more low end, its going to sound more roomy, its not going to be as close-miked and feeling like there's an icepick stuck in your ear as it did on the first album. I'm hoping it's going to be a lot more organic sounding. Portray what we're doing.
What else can you tell us about the show on Saturday?
It's bring your own beer, which is my favorite thing, and there will be a P.A.; so we spared no expense. We are really excited about it though. We're not going to play the songs exactly as they're written on the album specifically just for this show, we're going to be sort of retrospective in how we play them. Part of that is reminding ourselves of our old material, and now we're laughing a lot at how complicated we used to think our old material was, in comparison to what we're doing now. Wanted to do something just a little special. And have a little playfulness and surprise in it.
Can you enlighten us about the Yowie process?
Well, I think everybody in Yowie is sick of uni-dimensional music. What we do usually involves layers and interactions on multiple levels. We'll have a great idea, but then we have no idea how to play it, so we have to force ourselves to do things that are extremely unnatural. And we do that a lot. I think that's what part of the whole process is like--making ourselves do things that one would not normally think of to do. I think that's what takes so long, all of our writing is very deliberate. There's no sort of like, jamming; coming up with ideas and then jamming stuff. It's much more concept-driven and ethereal rather than emotion-driven.
So what's next once the recording is done? Time for a tour?
Before the breaks ups back in the olden days, we had a European tour lined up, and mind you at that time, one of us was unemployed, one of us worked in social services, and one was a grad student, so we were extremely poor. And none of us had ever been anywhere else really, so the thought of people paying us to go to Europe and play for them was the greatest thing in the world. The circumstances that lead up to the break-up was a real kick to the teeth. As soon as we've got this stuff in the can, we've got people who have offered to help us try and book European tours, I think that's going to be the first thing that we do. Undo that huge disappointment from before, and return victorious to conquer Europe.