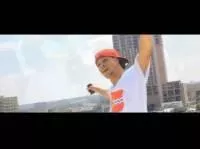 Nato Caliph's intellectual lyrics and Black Spade's soulful hooks on Revel now have images to accompany them.
Almost ten months after dropping his mind stimulating and head bobbing REACH EP, Nato Caliph has released a video for it's lead-off track, "Revel" featuring Black Spade and produced by Tech Supreme. The delay was planned. From the start, Caliph, who directed and produced the video himself, envisioned the "Revel" video being shot at this year's SXSW.
"The idea came as soon as I recorded it," he says. "Hearing Black Spade sing like that just made me want to tap into that real life emotion, that worldly connection."
So he had videographers SYGU [Creative] follow him and his crew around with a camera during the festival, which he believed would be the best time to capture "reality as it's happening."
The result is a warm and crisp video presenting a composition of scenes of the rapper in downtown Austin. It feels like a guerilla-style documentary, as the camera shakes and the images quickly fade in and out of each other. But it also feels just right.
"I wanted it to be a soundtrack to a day-in-the-life sort of thing," he says. "I wanted it to be like the essence of life, just as it happens. Before they become a commercial type of thing. Before they cash-in."
In "Revel," after all, Caliph muses on the degradation of hip-hop and his aspiration to rise above the filth, to be real in a room full of fakers. "This is more than a rap song or something to clap for/ It's trying to rescue an art form from it's current platform," he raps. And what better way express his mission to rescue the art form than a video that bleeds the authenticity of hip-hop.
There's Caliph performing at a cramped bar, nothing but a few feet of empty space between him and the crowd. There's Caliph kickin' it with a bunch of his St. Louis homies-- Rockwell Knuckles, Teresa Jenee, Vandalyzm, Tef Poe, Prince Ea and many more. There's Caliph reflecting on a rooftop. There's Caliph walking the streets, signing autographs and talking to fans. And though the video was shot 800 miles away from his hometown, the red Cardinals fitted never leaves his head. The video takes us back to the hustle, the come up, the grind, the loyalty and devotion that makes hip-hop resonate.
"Music used to be the voice of all of those who were dirt poor/ Now it's an excuse to get loose, and what hurts more/ is the refuse of opportunity to artistically explore," Caliph raps.
The understated images of the video never distract from the real attractions: Caliph's sleepy annunciations and thoughtful rhymes plus Black Spade's soulful and triumphant hook that serves as exclamation point to each matter-of-fact verse.
In case you haven't yet downloaded REACH, go ahead and do that now. Even better, support the artist and cop his latest album Knowledge Cipher. And if that's not enough to fix your Nato Caliph craving, you're in luck. Caliph, Tef Poe, Rockwell Knuckles, and the duo WhiteOut & RT-FaQ are in the midst of planning The Doorway to The Force Tour, which is tentatively set to kick off in St. Louis on July 25th, then hit Chicago, Indianapolis and Nashville before returning to The Lou on the 29th. More stops may be tacked on after that, according to Caliph, who adds that they are still looking for sponsorship. "Gas money," he says. We'll keep you posted as the date gets closer.
Here's the video: