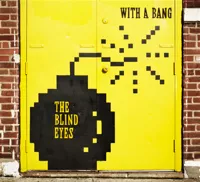 With a Bang, the Blind Eyes excellent follow-up to 2009's Modernity comes out this Saturday at Off Broadway. In this week's print edition, we went through the sophomore release track-by-track; there's more than meets the ear on first listen. And now, we've got some sounds go to along with those words -- you can listen to two new Blind Eyes songs below. "Hermetically Sealed" has been floating around for a little while and ode to St. Louis "Hold Down The Fort" has been a live staple. My take on each track from the print story is included.
Hold Down the Fort by The Blind Eyes
Inspired by poachers who steal St. Louis' sturdy brick from abandoned buildings and sell it elsewhere, "Hold Down the Fort" draws a satisfying parallel to the fleeing populace.

There's a pride among those who have endured in one way or another, and that's the bulk of "Hold Down the Fort." It is a toast raised to the people making homes in St. Louis, but right at the end, to a room full of glasses triumphantly tipped into mouths, comes the line: "The cure to all your ills/Is headed for the hills."

"One day I was bummed out about St. Louis," says Seth Porter. "And I was like, 'Even the buildings are picking up and leaving.'"
The Blind Eyes -"Hermetically Sealed" by The Blind Eyes
Let's not discount the quality of the songs, which is high, but some part of this band's success in St. Louis is owed to the charm of its members. Porter is understating things when he says, "I would be surprised if there are a lot of bands around town that are like, 'Those guys are jerks.'" A room with all three (Porter, drummer Matt Picker and bassist Kevin Schneider) tends to be a lively one.

The songs are lively too, and though the lyrics clearly mean something, the Blind Eyes' general intent has more to do with sound than words. After all, the lyrics come last for this band; for a while this song's only words were "Buuh buh buh baaa." Only later did it become about being hunkered in a metaphorical underground, fighting through emotional layers.

Porter, describing With a Bang, says, "Just about everything on there, eleven out of twelve..."

Picker interjects. "Is a bummer," he says.

Porter ignores him and finishes the thought: "...is pretty uptempo rock & roll or poppy kind of songs."

"Hermetically Sealed" is ultimately optimistic: Lines like "I've got some layers to peel" and "summer is coming soon" situate the narrator within sight of a better day.