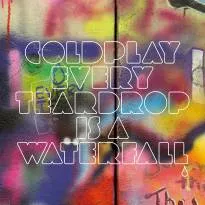 There's a strange interview lurking somewhere in the unpopulated regions of the Internet in which Oasis frontman Liam Gallagher calls Coldplay singer Chris Martin a "plant pot." It's a weird thing to say for more than one obvious reason: What actually is a plant pot? Should Chris be offended? Would he even care? How many people actually listen to Liam's insults? Does any of this make sense?
The answers, after considerable deliberation, are as follows: I'm guessing just a pot for a plant, probably not, probably not, few and no. The last answer is the most important because it also applies to pretty much the entirety of the plant pot's band's new song, the tongue-out-of-cheek "Every Teardrop is a Waterfall." Fortune cookie title aside, the song is the current zenith of two years of fans and skeptics waiting to hear what comes after Viva La Vida, which was produced by Brian Eno and significantly altered the band's aesthetic and its crossover success.
The aggressively low-pressure jam was released to Americans -- the band's fellow Brits have to wait another day -- early this morning and, let's be real, it's groundbreaking. The early rise was worth it for the moments of stunning lyrical clarity, found in pure, Shakespearean lines such as, "I'd rather be a comma than a full stop" (Who wouldn't?) and, "Maybe I'm the gap between the two trapezes" (Woah).The best part of that last one is that it functions as a rhyme with "knees."
The single clocks in at exactly four minutes, which means you can listen to it fifteen times per hour, depending upon your speed at clicking "Play" and your knowledge of the Repeat option. At the very least, you have a minimum of fourteen chances an hour, and you probably should be doing that for at least three hours today in order to truly plumb the plant pot's depth. As you listen to the song, we recommend making predictions for the full album, debating Chris Martin's expression in the new press photos and considering the literal and figurative implications of every teardrop actually being a freakin' waterfall. Shit gets deep.