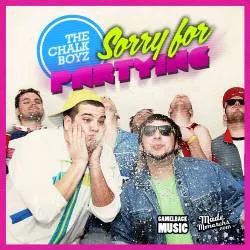 courtesy of the ChalkBoyz
For the ChalkBoyz fourth mixtape, which gets an official release tomorrow night at Off Broadway, 22-year-old Drake Maret (a.k.a. Dominant Force, the J. Crew Kid) and 23-year-old Dylan Cunningham (a.k.a. Dyl Staxx, Staxx Fifth Avenue) created summer songs that are as easy to laugh along with as they are hard to peg. Is it serious? Is it a joke? Is it both? Does it matter? The answers aren't necessarily to be found on the mixtape, Sorry For Partying, which finds the two doing everything from just shouting a succession of words that kind of rhyme ("Emeril Lagasse") to subtly dissing Ted Drewes ("NAC'em") to bravely taking on the most important social issues of our time ("Rebecca Blackout").
Sitting uncomfortably close in a Blueberry Hill booth meant for couples, the two mimed giving wet willies, sang along to Jimmy Eat World and touched on the sometimes strange, usually funny reality of being the hardest-hustling, hardest-partying white rap duo in suburban St. Louis.
Rebecca BlackOut by the ChalkBoyz
How did The ChalkBoyz begin?
Drake Maret: We were at a Young Jeezy concert two years ago, and there were like five other white people there. It was a fucking awesome show. We were already interested in hip-hop and rap, but that kind of did it. We decided we wanted to be the middle ground when we started out, almost for people who didn't understand what it's all about. I was grooving at that show [demonstrates]. I might as well have been at John Mellencamp or something.
How did the two of you meet?
Dylan Cunningham: Match.com.
Maret: Craigslist's missed connections.
How did you really meet?
Cunningham: Eighth grade. We went to middle school together and rode the same bus. We didn't really like each other. I liked him, and he didn't like me.
Maret: I was still feeling you out!
There's a pretty huge amount of disconnect between your public image and the amount of work you put into your music. Who are the ChalkBoyz, and how serious are you about the music?
Maret: It's young, fun music. We talk to some people and they say the Beastie Boys, and we talk to others and they say the Lonely Island. I don't even think we know yet.
Cunningham: We take it seriously, but everything at the end of the day has to be fun. I won't do something, even if we have to, if there's no fun in it.
Maret: What would be the point of that?
Cunningham: We try to have more fun than anybody else, basically. It's the summer of swag, and you've got to join in.
Maret: All you've got to do is send out an SOS [Summer of Swag]. This is ridiculous, but he has an actual swag switch in his room. It says "On" and "Off," so when he turns it on in the morning, he turns the swag on. It's awesome. NAC'em by the ChalkBoyz
But you make Smash Mouth allusions in your songs. Where is the line? Is it a hobby? Is it a job?
Maret: It's not a hobby. It's a girlfriend. And sometimes we fight.
Cunningham: Everything we do looks nonchalant, but behind the scenes, there are hours and hours and hours of work. Just because we're not on our Facebook page saying, "Yo, we in the studio working so hard" doesn't mean anything. We work hard, but we don't take things too seriously.
If you had to rate it on a scale of one to ten, how serious would you say you are?
Maret: What would you say? I want to interview her.
So, if you had to pick a number ...
Cunningham: Probably an eight, and school's a nine. This isn't my whole life, but more and more, as we see the great things that are happening as we open for other people or get guests on our mixtapes, things get bigger. We were always the obnoxious party funny dudes, but when people started talking to us and coming to shows and taking us seriously and being happy, we paid attention. You have a shelf life for true, genuine fun. I'm not completely in the real world. I'm supporting myself, but I still have a home base I can touch on if I need to. But then you start getting married and having kids. That's coming up soon. I want to have memories and conversations that last the next 50 years of my life, and I want to do it in the next seven years.
Maret: We've met other rappers who are like, "I've got to do this to get out of my situation," but that's not us. We're both upper middle-class, and we're just trying to have fun. We've already gotten this far on it somehow, so why wouldn't we? We're just riding that wave.
Who are you influenced by musically?
Maret:Third Eye Blind.
But really.
Maret: I really do like Third Eye Blind. Counting Crows. OK, also Mickey Avalon.
Cunningham: I always wanted to be Simon & Garfunkel. Really I just want to be Simon, so I guess I'm looking for an Art Garfunkel.
Really? I would want to be Garfunkel.
Maret:There you go. It's a perfect match. Art Garf, is that you? You can be his Garfunkel.
What is the ultimate goal of a group like the ChalkBoyz? Is there one?
Maret: It's to have fun. We give each other dares for shows and things -- and we'll do it. For one show, I was like, "Dylan, you have to take off one shoe in the middle of a show and smell it." I didn't even know he did it until someone later was like, "Ew, why did Dylan do that?"
Cunningham: These aren't announced things. Other people have no idea.
How far do these dares go? What are some other examples?
Maret: Well, for this interview, the dare was that I was supposed to play footsie with you until you asked me to stop.
I'm pretty glad you didn't.
Maret: I thought I should at least tell you now. I have to think of a good one for him next time. I think I'm going to need to like, eat a salad for like five minutes during a show, right in the middle.
Do you have any other band traditions?
Maret: We have this rule that if one of us ever falls offstage or anything, the other one has to also to lessen the embarrassment. And you almost did last week, Dylan. It was at Cicero's, and you were almost falling off the amp. I got ready to fall off the stage myself just in case.
What is the best thing that happened to the ChalkBoyz so far, and what is the worst thing?
Maret: The best thing is when it became cool to like us. When somebody asks you if you like something, you're way more likely to say, "Yeah, I'm cool. I like that."
Cunningham: The worst thing? My grandma won't talk to me until I'm done with "my band thing." We weren't that close, anyway.
Maret: Grandma's a hater.
Sorry For Partying by the ChalkBoyz