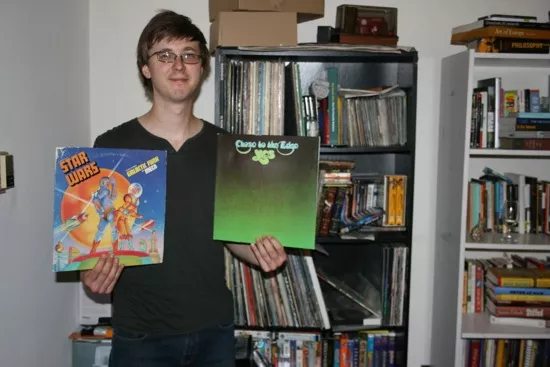 Often times the biggest music collectors are musicians themselves. This is certainly true for So Many Dynamos guitarist and long-time record collector Griffin Kay. We recently met with Kay outside his Soulard apartment as he was carrying a new record player upstairs. His fiancé Nicki's cat had used their previous turntable as a cozy, rotating bed, leaving its turn-belt inoperable. After setting up the new record player and listening to side A of Jets To Brazil's Four Cornered Night, we discussed So Many Dynamos history of releasing vinyl and a rare record sold in a specialized pizza box.
Last Collector Standing - So Many Dynamos signed with Vagrant Records in 2008. Did you feel like it was an odd time to sign to a record label?
Kay - 2008 was definitely an odd time to be signing to a record label. At that time, CD sales were just plummeting. Even more so now, labels are becoming less relevant. In talking with Vagrant, we asked them, "What are you doing to adapt to the shift in the music business as digital becomes the new norm?" The labels that are remaining relevant are adapting to the new business paradigm, but we were really excited because it was a step up for us.

The last record you released with Vagrant was the "New Bones" single on colored vinyl in 2009.
Yeah. I've got one copy left. We did a promotional single with "New Bones" on a yellowish-orange vinyl, limited run of 300.
As a collector of vinyl, how does it feel to release music on wax?
Our last two records came out on vinyl and I can't foresee us doing a release that doesn't come out on vinyl. I remember when we got Flashlights LPs at out house. So Many Dynamos used to share a house together in Edwardsville, Illinois. I remember walking out on our porch and the records of Flashlights came in. I was really excited and I ripped them open. I had a Pinocchio-like moment, "We're a real band! We're on vinyl." It was really, really satisfying. It was definitely a life highlight. We're on vinyl. This isn't something you can delete.
How did you start collecting music?
As a kid there was always music played in my house. My dad is an avid music fan. A lot of the records I have used to be his. At one point, he got tired of having them in the basement and let me have them. I was a kid of the '90s. I started off with cassette singles and CDs. The first CD I ever got was Pearl Jam's Ten, around that huge wave of early 90s alternative rock.
I got really into music, not just as a hobby but as a passion; I was a music kid. There were kids that were into sports, kids that were into church. I was into rock music. I dug out my parents old record player and dug out some of their old records. Now that I think about it, it was kind of a turning point. My neighbor across the street was having a garage sale. He was selling all his old records. I got Jethro Tull's Aqualung, a bunch of Beatles records. I got Jimi Hendrix Band of Gypsies, the live record. The real sad part about me getting [Jimi Hendrix] for ten cents is that the neighbor I was purchasing it from was present at that concert. Now he was a suburban dad and had no use for his records and was selling them off. To think he'd come to that point. Note to self, "Don't suck when you're old."
I basically acquired a bunch of classic rock records and a year or so later as I became an angst-y little suburbanite I got into punk. Vinyl never went out of style for punk. Getting into bands like Black Flag or the Misfits. Their records are still available at independent record stores.
Do you remember the first punk record you bought?
It was Out of Step by Minor Threat. I had the complete discography on CD, but I saw it for eight bucks at the record store and thought it be cool to have the vinyl. I believe that they ended up rerecording that and the version that is on the vinyl and the version that is on the Complete Discography are slightly different.
Do you have a favorite record in your whole collection?
It depends. As far as packaging goes, I would have to say Radiohead In Rainbows. It's one of the greatest packaged records.
It's really interesting that you say that album because In Rainbows was the album that Radiohead gave away for free. Why did you choose to buy it on vinyl when the band gave the album away as downloads for whatever you wanted to pay for it?
When reading about the deluxe record set it just sounded too cool not to own. At the time I was pretty broke, but my fiancé bought it for me as a gift. If I can have the super amazing version of this, why not?
As far as favorite record musically... If you put a gun to my head and say, "What's your favorite record of all time?!" I might say Kid A by Radiohead. How do you follow up one of the greatest guitar records of the '90s? You put out a record with no guitars at all.
Do you have a guilty pleasure record?
I collect a lot of things for novelty. I once bought a record because it was a bloopers in comedy record. It was described as quote, "Totally Hilarious Boners." [Laughs] It says boners. Sold for three dollars.
Do you think novelty records could have an appeal and lifespan in any other format?
Not really. I guess it's the fact that so much care and time and consensus by a lot of people that this record should be made on a massive scale and should be distributed to record stores all around the country because we think we're going to make money on this. It's something so absurd as "totally hilarious boners."
There's a record... Mr T's Be Somebody... or Be Somebody's Fool. Mr. T in the '80s, to coincide with his rap album, put out this movie that was like, "Get confident in yourself! Be proud of who you are! Don't make fun of other kids' mothers!" It's a rap album of Mr. T songs. One of the hits was "Treat Your Mother Right." It's Mr. T going through the word Mother. "M is for this. O is for this." Spelling it out and it rhymes. He's got no rhythm at all. There's also a video of him with a bunch of kids like, "Don't get down on yourself. You're cool just the way you are!" So the fact that someone went to all the trouble of making this movie and making this record and there are thousands of copies scattered throughout landfills or goodwills gives it life. The fact that it won't biodegrade for five thousand years also gives it a long lifespan. It's always waiting there to be discovered by someone. If it were a file on a hard-drive abandoned in somebody's dorm room it would probably be just wiped and someone would keep their own files on it.
No one is going to be nostalgic for the purchase button on iTunes. "Oh man, I remember when I purchased that. I was sitting at home wearing my bathrobe. I was about to go to work and then I came home and listened to it through the speakers in my MacBook. It was really underwhelming. It was great." I don't think many people are going to look [back] nostalgically on that.
Do you have any other highlights in your personal record collection?
We toured with Horse the Band. This is probably the most amazing packaging for a record I've ever seen. It's the Pizza EP. It comes in a pizza box. The tracklist is coupons. The disc itself is a 10 inch, double-sided, picture disc. One of a pizza drawing of their name, and the other of an actually cheese pizza. All the graphic design is taken from an actually pizzeria in Chicago.
What is the most enjoyable part of collecting records?
One thing I really love about having all my records is for most of them there is a story that comes with it. That Jets to Brazil record I got it sighed. I briefly met Blake Schwarzenbach when I was 17. I remember going to that show and the good time I had with my friends. I remember that period of my life. I really appreciate that. There's the part in High Fidelity where the main character reorganizes his record collection in chronology of his life. That's a little indulgent, but there is that aspect of it where these records aren't just recordings of music, but memories.
If a new generation of music listeners grow up never listening to music as a full-length album what do you think will draw them to that format in the future?
Like most people, my musical habits and tastes were informed by my parents. So if kids don't have the idea that music comes in albums. It's something that you have to sit down and pay attention to. I guess what would really turn them on to that is word of mouth. Just as anyone else that gets into music outside of their scope, they just have to meet that cool kid in their dorm who smokes a joint with them and says, "Hey man, you should listen to Dark Side Of The Moon."
Can bands still influence their audience's buying habits?
Some bands can influence their audience's buying habits. A band like Radiohead is at a point where they can do anything and people will follow suit. They definitely pioneered the pay what you can model.
I think Kim Gordon in an interview gave Radiohead a hard time for that. Even though Sonic Youth is critically acclaimed and very well known and has a long, distinguished career, they can't do that. They still need to sell records. They're not at the point where they can just give their music away.
If indie rock bands all started following in the same pattern, the audience will follow suit. It hasn't been massive in terms of numbers, but vinyl sales have gone up. I think a lot of that has to do with people missing the tangible thing. I'm going to continue buying vinyl, and I would hope that other people do just because... I would like to think that people are still emotionally attached to music to where they want to have something that will last them a long time.
My friend went to Pitchfork last summer. He saw a record company shirt .He forgets what the record company is but there slogan was, "You can't break up weed on a digital download." [Laughs] As cheesy as that is it kind of encapsulates a lot. You can't sit around with your friends like, "Check out this sweet digital download!" Whereas, if an album has trippy artwork and folds out into a crazy gatefold you can spend hours looking at that.
So Many Dynamos is playing July 30 at Cicero's
[Writer's Note - I actually met Kay at the Unlimited Sunshine tour in 2002, but hadn't been in contact with him for about eight years. It's funny how records can be a reuniting force.]