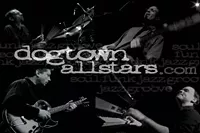 There's something very Steve Carrell about the idea of four dudes with day jobs playing funky soul jams after hours with a name straight off the coolest garage band on your block: Dogtown Allstars. It's a solid plot, but the soundtrack is what matters. Since 2003, Dogtown Allstars have struck the background music for the long, late, lazy nights in the city.
Dogtown Allstars play at 3:15 p.m. on the outdoor stage at 11th and Washington
Kelsey Whipple: You received the award for best R&B/funk/soul band in 2005, 2007, 2008 and 2009. What do you think happened during the off years?
Bassist Andy Coco: Because we're in a town with as rich a history as St. Louis has in those genres it's kind of humbling. The only pressure is to keep winning, but after winning it a number of years in a row, we weren't even nominated in that category the fifth year. That felt like an administrative decision to let somebody else get it, but that put us in a situation to not be able to get it back. [Funky Butt Brass Band] really kicked our ass there for a while, so good for them.
You're credited as the band's general manager. How did that role come about?
It's kind a weird story. There's another band in town called Hip Grease, and it was my band with some other guys that started to get work in the late '90s, early 2000s as a soul-jazz thing with horns. All the guys in the band were in other bands, so it was really hard to book. When I started to book gigs and couldn't get the original members, I asked stand-in musicians to cover for them at shows. It started as a joke, and the guys in the band didn't even really know it was coming. After a while, the guys in Hip Grease became less and less available, and the others were more reliable, so I started a new band. Interestingly enough, Hip Grease has started playing gigs again recently.
The band's record label is cited as Dogtown Records. Is that a real label?
It was just a name to put on the label. I have my fingers in quotes when I say "label." If I released anything else or started any personal projects, I'll call the label Dogtown Records, too, but for now it's just kind of a joke.
You all have day jobs: How do you rate your priorities?
We're not pushing ourselves to create more than we can manage. Our drummer, Drew, is a financial officer at AT&T, so he's super corporate. One of the other guys is a tech support guy for medical journal CD stuff. Nathan and I are both in the music industry. I work at KDHX, and Nathan is the chief engineer at Phat Buddha. We take our rehearsal time pretty seriously. We have about 80 songs in our repertoire. We try never to play the same show twice, and because we have so many songs, we could play six separate sets easily. The way bars book bands in St. Louis, they work you to death, and you're supposed to play four hours. Some shows are five or six. Those are the kind of bookings we take, and we end up playing all night. What is the worst part of the band's daily lives?
The worst thing is the Funky Butt! Those guys are taking away our title. But really, the worst thing is that we all have day jobs and can't dedicate more time to it. How did the band's focus on vintage equipment come about?
It was a stated vision. It was about that sound, that style: vintage organ, guitar and piano sounds, the sound of the late '60s and '70s when jazz was getting really funky. It started to get too out there, and I hate fusion, so I really wanted to try to make sure the sound was dancey. The guitar's not too noodley or too electric, and the organ stuff is a real solid attention to the vintage sound of an organ. It's funky, and it's good.
What is your favorite St. Louis music venue?
The Broadway Oyster Bar is where we're able to let out hair down. You can just always walk in there and there's something great going on in there. We have a monthly stand there. That's where we try out new material and get super loose. It ends up just being a party every time.