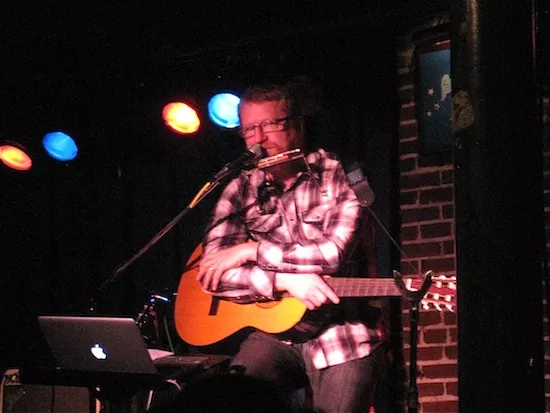 Ian Froeb
David Lowery at the Duck Room in Blueberry Hill
David Lowery/Johnny Hickman
Blueberry Hill
May 24, 2011
In February, after nearly three decades as the lead singer of Camper Van Beethoven and then Cracker, David Lowery released his first (excellent) solo effort,
The Palace Guards
. That album was the ostensible reason for his appearance last night at Blueberry Hill, but for those who filled the folding chairs in front of the Duck Room stage, a more appropriate touchstone would have been
300 Songs
, the blog that Lowery began last year to chronicle, in highly discursive fashion, every song from his long career.
Lowery, it seemed, wanted to tell stories as much as he wanted to sing songs. It's a testament to his skill at both that the crowd, with very few exceptions, was happy to indulge him.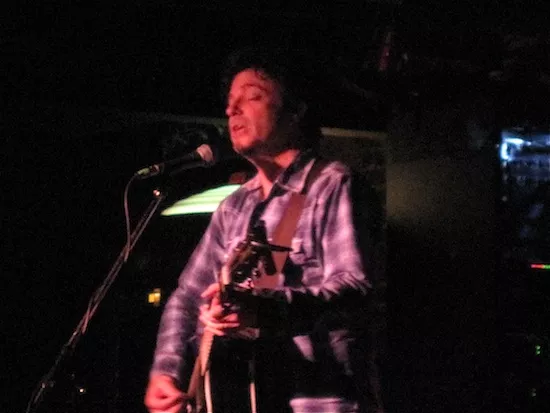 Ian Froeb
Johnny Hickman opened for David Lowery at Blueberry Hill.
Johnny Hickman, Lowery's longtime Cracker bandmate, opened the show with a rollicking set drawn from his contributions to the Cracker catalog as well as his solo project (Palmhenge) and the Hickman-Dalton Gang, his shitkicker-country collaboration with Jon Dalton of Roger Clyne & The Peacemakers.
Hickman is best known for the guitar-slinging that helped turn "Low" and "Teen Angst (What the World Needs Now)" into inescapable '90s alt-rock hits, but he also has a knack for writing catchy roadhouse pop, and the crowds' clapping and hollering suggested that the sedate seating arrangement might have been a mistake. Standouts included two new songs: a funny spurned-lover riff with the chorus "Holy my drink / while I kiss your girlfriend" and the Lolita-baiting "Papa Johnny's Arms," which trod that delicate line between insidiously sexy and downright creepy.
David Lowery arrived on stage looking like your favorite career-adjunct professor: bearded, black-frame glasses, thrift-store button down, faded jeans. He sat on a stool, strapped on his acoustic guitar and then, before strumming a lick of gorgeous
Palace Guards
highlight "I Sold the Arabs the Moon," using handwritten notes and (presumably) whatever was on the screen of his Macbook as reference, talked about the time that Cracker toured U.S. bases in Iraq.
There was a tangential link between these stories and the song (the clash of civilizations, etc., etc.), but mostly Lowery dwelled on the gallows humor of the soliders who shepherded him in country: their habit of announcing over the communication systems, "BOOM!"; the ominously named highway, "Route Baltimore," which Lowery later learned had led them straight through dangerous Sadr City; a soldiers' reaction, after returning to the U.S., to the backstage amenities of a music festival (tents, port-a-potties, steam-table food): "I can get this shit in Iraq!"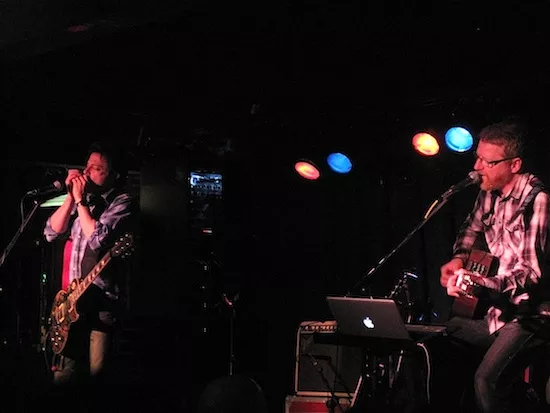 Ian Froeb
Johnny Hickman and David Lowery performed a few Cracker songs together.
This set the pattern for the bulk of the show: story, song, story, song. Lowery's stories were consistently engaging, often surreal and occasionally politically incorrect. Leading into dreamy
Palace Guards
ballad "Deep Oblivion," a song rich with Victorian imagery, he mentioned his fondness for Victorian gentleman-scientists and imagined Victorian-esque rock & roll deaths, like an Alice in Chains guitarist getting caught in his own experimental mechanical thresher.
Musically, Lowery's weathered voice and acoustic set-up lent itself much better to ballads like Cracker gem "I Want Everything" than rockers like "Merry Christmas, Emily" (a better story than song) or the psychedelic Camper tune "The Long Plastic Hallway." Perhaps sensing this, Lowery had Hickman join him on Palace Guards survivalist anthem "Raise 'Em Up on Honey," and the duo finished the set and its encore with a few stripped-down but still-punchy Cracker tunes, including a stomping guitar-and-harmonica rendition of "Eurotrash Girl" to close out the night.
Critic's Notebook
: I had no idea beforehand that the format would be VH-1 Storytellers. This is roughly the umpteenth time I've seen some variation of the Cracker/Camper lineup, so I didn't mind the different approach, but I wouldn't have begrudged anyone disappointed that this wasn't a straight-ahead rock show. That said, with the exception of three guys immediately in front of me, who left maybe four songs into Lowery's set, everyone seemed content with the set up.
- On their way to St. Louis, Lowery and Hickman had driven through Joplin shortly after the tornado had stuck. Understandably, both men seemed at a loss to describe the devastation that they'd witnessed.
Set List
Johnny Hickman
"Costco Socks"
"Little Tom"
"Lucky"
???? [Hickman-Dalton Gang song]
"Trials & Tribulations"
"Hold My Drink"*
"Wedding Day"
"Papa Johnny's Arms"*
"The San Bernardino Boy"
"Little Queen Bee"
"The Construction Man"*
* - new songs; titles are guesses
David Lowery
"I Sold the Arabs the Moon"
"Merry Christmas, Emily"
"Deep Oblivion"
"The Long Plastic Hallway"
"I Want Everything"
"Raise 'Em Up on Milk and Honey"**
"Hey Bret (You Know What Time It Is)"**
"Been Around the World"**
Encore:
"Friends"**
"Eurotrash Girl"**
** - with Johnny Hickman