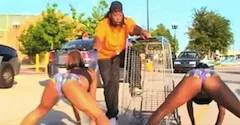 Mr. Ghetto's hype man deconstructs social norms in the parking lot of a Super Wal-Mart
There was a time in my life, I think--back when the end of the world was a week from now, and not tomorrow--when I found dancing ladies pleasant, maybe even erotic. I remember it now as one might remember a childhood dream, one that's grown hazy at the edges with repeated handling. Something about what they were doing communicated something to me on a visceral, unconscious level. Then I saw Samuel Beckett's newest music video, "Wal-Mart."
Don't watch this at work, or in a universe where you're comfortable with the societal and cultural assumptions you've made about your own sexuality and the sexuality of others. This video is distinctly N-S-F-people with a tenuous grip on their connection to other minds. You know that phenomenon where if you say the same word enough times in a row--like, "ass," for instance--it begins to lose its meaning as anything other than a collection of sounds?
In resisting the urge to rhyme two consecutive lines, except on accident, Mr. Ghetto--actually a Ph.D, I'm told, whose dissertation was titled The Disjarring Aesthetics of the Familiar in D4L's "Laffy Taffy", forces us to reconsider the conclusions we draw while listening to more conventional summer party jams. He also makes it very difficult to listen to the song in a non-party-jam capacity, frustrating reinterpretation at the same time he denies the possibility of an overarching interpretation.
But his masterstroke is the jackhammering, unnerving, astonishingly unsexy consistency with which the identically costumed women--who, he insists in consecutive verses, are otherwise clean, socially integrated members of society--shake their postmodernity-makers. Their fascist regularity makes Mr. Ghetto's point clear: the sexualization of booty dancing is not organic but a normative social construct, one he is determined to subvert. About two minutes in I was concerned primarily with how uncomfortable the position they assume must be, and why one of them is going to Wally-Wally-Wally-Wally-Wally-Wally-World's parking lot with no shoes on.
In a prepared statement, Sir Mix-A-Lot suggested that he was no longer interested in whether or not baby had back, because was it even possible to know what back was, or whether back exists in the minds of others? Mystikal told the Journal of Postcolonial Theory that the only thing he was interested in shaking fast, any longer, was "the colonial notion of 'Showing me what you're working with', where 'me' and 'you' are anything more substantial than subject positions within a deeply fraught discourse about power."
In a separate press conference Bubba Sparxxx confirmed to reporters that he was "still pretty much into asses" after viewing the video.