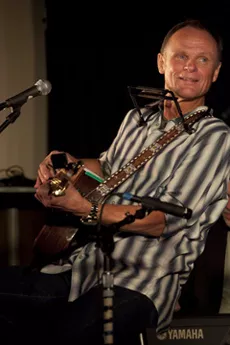 Photo Credit: Stephen Ide
Folk troubadour Jonathan Edwards is a master of the less-is-more approach - so much so that his best known song, "Sunshine," still sneaks up on listeners as a catchy, acoustic pop ditty, and then, on repeated hearings, becomes a bold indictment of authority and war. The '70s legend returns to St. Louis on Tomorrow, Friday May 20th for a show at the Old Rock House. Roy Kasten caught up with Edwards to discuss his bluegrass roots, politics, a new batch of songs and a brooding transformation of a Lennon and McCartney standard.
Roy Kasten: You're not a country artist per se, but one of the things I've always like about your music is that connection. Can you talk about your relationship to country music and bluegrass?
Jonathan Edwards: I grew up listening to bluegrass, as much as I could. I really got turned on to acoustic music and the power to be derived from four or five guys on stage with acoustic instruments and just belting it out. It stuck with me since I was in high school.
Did playing with an ace bluegrass band like the Seldom Scene change how you thought about music?
It did in the sense that we did that album [Blue Ridge] in three days. I said, "We're coming in tomorrow to fix it, right?" They looked at me as if I was from another planet. That's what I was used to, fixing what wasn't quite right. But they came from the philosophy of, "That's the way band sounded on Wednesday and by God that's the way it will sound on the album." That taught me a little bit about spontaneity and energy and how precious that is to recording. Then I turned around and did this new album in a totally different way!
And of course you worked with Emmylou Harris, and sang on Elite Hotel.
That was a pleasure and a privilege.
She's one of the greatest backup and harmony singers, and you found yourself in that role singing back up to her. That was probably easy.
Yeah, we were cracking each other up for days. She's terrifically easy to work with. She's as sweet in private and in the studio as she is in public. Every time she comes to town I call her up and ask, "What time is sound check?" She'll have me come up and sing a few songs with her.
Your first album was on the legendary Capricorn label, one of its first releases. Can you talk about the scene surrounding that label in the late '60 and '70s?
Phil Walden had started this great little boutique label in Macon, Georgia, with the Allman Brothers and Wet Willie. Not sure who else at the time. My friend Martin Mull. It was pretty eclectic. Phil was a real energetic guy and a huge lover of music. We responded to that energy.
Your second album is titled Honky Tonk Stardust Cowboy. Was that ironic?
A little bit. At the time, "Sunshine" was all over the radio, the No. 3 song or something. I was getting tired of hearing it on the radio. I'm not tired of it now, but I was at the time. I was listening to a country station and here came this song by Lefty Frizzell. It just seemed to speak to me. I pulled over to the side of the road, wrote it down as best I could, and I was able to learn it for that night's show. And it became the name of my second album. It's still one of my best, I think.
Cover songs have been important to your career. And that's often, especially for the male singer-songwriter of the '70s, somewhat verboten. The idea was that you had to be an auteur, do your own songs, almost exclusively.
I never subscribed to that magazine. It's always been about the song to me. Where can I find the best song for my voice, heart and psyche? It doesn't matter who wrote it. It often boils down to songs by my friends that I've carried around for years. They go through a maturation process and become something I can and want to record.
There hasn't been a manager who said, "OK, Jonathan, we need to do the math on this. You're not going to get as much money with these cover songs."
If I was worried about money I would have taken up welding years ago!
Your best known song, "Sunshine," is original. It's a terrific melody. The minute it comes on it demands you hum or sing it. How did you compose it?
Well, I'm a very spontaneous cat in my life and my writing and my shows. I just picked up the guitar and that was the first melody that came out. I was doing some shows with Dave Van Ronk at the time, it's true. Dave had a song, "Red light, green light, 'round the town," [Green Green Rocky Road] which has the same melody as "Sunshine" if you think about it. I didn't think about it, but it just happened to be the first melody I picked out. The words had the same meter and drive for that melody that I wanted. So the song just grew from that point, like planting a seed. I call it entry-level folk melody 101.
I wonder if a younger generation understands the context, thinks of it as an anti-establishment, protest song?
If there's any doubt I erase that before I sing it each night. I tell them the finest time I got to sing it was at the May Day End the War Rally in 1971. It's a protest song about the war and how people can get us, peace-loving creatures, into these wars that have no end, no plan, no nothing, but are for people who make the machinery. It was true in 1952 when Eisenhower talked about it, it was true in the '60s when we were getting killed on college campuses for protesting it, and it's true today. I try to draw that parallel between then and now. Meanwhile I try not to bring the audience down too much. It's a tricky balance.
That's one of the things that's fascinating about the song. It could be done as a dark blues song if you wanted to. "Sunshine go away." On the page it's a serious song, but you still feel really good when you hear it or sing it.
It couldn't be more enigmatic that way. It's meant a lot to a lot of people. I hear that every night I do the song.
The new album, My Love Will Keep, comes out in June. It's your first studio album in 14 years. What took so long?
I don't know. A live album is so easy. You just walk in and do a show. But I haven't felt like I've been in one place long enough to acquire a stable of musicians that I knew and trusted. And I did instantly when I moved to Portland [Maine], I found a great engineer and a great studio. I found some great musicians, some young, some my age. It was a natural experience. It took a year to make.
The cover of the Beatles' "She Loves You" is especially striking. I don't think I've ever heard it done so pensively. Was there anything that inspired that approach?
Not really. A friend of mine had a scaled down version of "She Loves You," and I liked that, but I took this version to a whole different level of, I hate to say it, obscurity. I tried to plumb the depths of the meaning of that little pop ballad. It's a pop ballad now, but it certainly wasn't then. I thought there's a lot more there than just "yeah, yeah, yeah." So I went there with it. It seemed to make sense with what was going on in my life at the time and I found a piano player who totally got what I was about on that song. Literally, it just fell together in the studio.