photo courtesy of Mike Jones
As major record labels continue to consolidate their lineups, it might seem an unlikely time to start an independent record label. Yet, for Mike Jones, founder of I Hate Punk Rock Records, starting his label in the mid 2000s came as naturally as expanding his personal record collection. We meet with Jones to discuss the trials of owning a record label, the story behind the I Hate Punk Rock name and his 75 copies of Against Me! Is Reinventing Axl Rose.
Last Collector Standing: Why did you start your record label I Hate Punk Rock Records?
Mike Jones: I started it just as a hobby. I had been collecting and buying and listening to records for probably twelve years or so. It was something to do and another means to fill and fuel my personal collection as well as being able to get stuff to the customers.
How did you come up with the name for you label?
I was at a Lawrence Arms show at the Creepy Crawl probably about eight years ago. They opened up for Tsunami Bomb. They had a female singer. It brought out a different crowd then world normally be at a Lawrence Arms show.
There was this girl there at the show. She just looked really uncomfortable. My friends and I were standing off by the bar, and she went to order a drink. She tried to pay with a credit card. The bartender goes, "Sorry, we don't take credit cards." She digs through her purse. Pays in cash. Finishes here drink. A half hour later comes up and orders another drink. Tries to pay with a credit card again. The bartender goes, "We don't take credit cards." She digs out cash again. Pays for the drink. Comes back a half hour later. Gets a third drink. Tries to pay with a credit card again. The bartender goes, "We don't fucking take credit cards!" She goes, "Oh my god, I hate punk rock!" and just left the venue. [Laughs]
That became an inside joke with me and my friends for a couple of years. Anytime something went completely wrong, with no basis to the situation: "Oh my god, I hate punk rock!" It was just a stupid inside joke.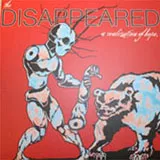 What was the first band that you released on your label?
The Disappeared. Dan use to live in my house. He was one of my roommates. He was in a band called Picture Book of Saints. They broke up and Brad and Dad of Picture Book of Saints started The Disappeared. We had been distributing records for a little over a year and I talked to Brad about doing a 7". They were all for it and that was release number one.
How did it feel to release that first record?
It's a great feeling. It's a great feeling when you see someone who takes music very personally. That appreciation that they present to you is just a great feeling.
Now, having released multiple records, when a band comes to you about releasing vinyl how do you decide if that's a good decision?
Every record is different. Every band is different. Step number one for me is where are they from and do they tour? Are they from a small town and just play at local bars? They could be the best band in the world but if they don't leave their small town then no one is going to buy it. If you're from St. Louis and you play in Arkansas, and Chicago, and Oklahoma or wherever; you get out on the road and present yourself, that product is going to sell better.
Outside of that, I like working with people I get along with. I like to be friends with those people. I like to understand what they're trying to do and want them to understand what I'm trying to do. It's more than just a business relationship. It's a personal relationship. When all of those things mesh together we're going to figure out how to put that record out.
How did you start collecting music?
I started going to shows in 1992. I grew up with MU330, The Urge and Fragile Porcelain Mice. I got into the whole underground punk rock scene and vinyl was always predominant then. I didn't necessarily start collecting vinyl. I just purchased it because that was the media that the music was available on.
I didn't care what format it was on. If it was on CD, I'd buy the CD. If it was on vinyl, I'd buy the vinyl. It grew from there. Then it came to the point where if a full length came out on LP and CD at the same time, if I had the opportunity, I'd buy the LP. That was always my preferred medium, but if it wasn't available I wasn't upset about it.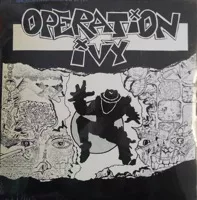 What's a record that changed your life?
I think a lot of different records changed my life at different periods of times. Going back to Operation Ivy Energy and Minor Threat Complete Discography when I was in high school. Then going to college and listening to Less Than Jake's Pezcore. I had never heard anything like that before. Then getting into Hot Water Music and Small Brown Bike and Quicksand... I don't know if I can pinpoint just one record that changed my life, but I can go back to different eras of my life as my music interest changed and find one record from one specific genre that does that.
Do you have a prize record in your personal collection?
A prize record that I found in a store was the first Alkaline Trio seven inch Sundials. I found that at a record store in Columbia, Missouri. We were there for a NOFX show. We got there early. Went to a record store and I found it for, like, three bucks. It's their most sought out record to date.
The most expensive record I've ever purchased was a first pressing of Hot Water Music's Fuel For The Hate Game. There ware a couple special color variants of that. It's half black, half white. There are only fifty of them. When I was at The Fest in Gainesville Florida five years ago, I was at the No Idea Records tent sale. Var, the owner, had a bunch of super rare stuff that never hit shelves. That was one of those records. I saw it there and the price was $250. I told myself, "Next year when I come back I'm going to buy it." I put ten bucks away every week for the Fest next year. Took it down there. He had it out. Paid cash. "Thank you!" I got home, put it on the record player and turned it up as loud as I could.
Is there any particular band that you think is unique to your record collection?
Not one band, but one label. There is a label out of Gainesville, Florida called No Idea Records. The first time I heard of them was '94 or '95 when I started to hear Less Than Jake. Their first record came out on Dill Records. I found a couple of their older seven inches on No Idea. That was probably around their twenty-fifth release. That's when I first found out about them and I just stayed into it. They were the first label that I ever remember buying stuff from that was consistently colored vinyl and beautiful packaging. A real diverse sound from ska to punk rock to post-hardcore and straight-edge stuff.
They are getting near release number 300. I have at least one of every record that they've done. They've done so many represses and variants. I think they're up to the thirty-third pressing of Reinventing Axl Rose by Against Me! I think there are over 87 variants of that and I have 75 of them.
What does it mean to own a record label in 2011?
Confusion. [Laughs] In an era where music is changing, where music sales aren't necessarily what they were five or ten years ago with the availability of music essentially being for free online. People who are 25 years old and have possible never purchased a record or CD in their life see music as free. By doing this I'm trying to stick to my values of what I like, and presenting a product that would satisfy me. This is how I believe music should be released on a specific format. I guess it's maybe just a sense of pride, so to speak.
What influence does an independent record label have in uniting a local scene?
I think the whole thing [about] a punk community is being involved. So whether you're putting out records, or you're in a band, or write a blog or you have a zine or whatever. That's a punk rock community 101. I'm really seeing more of that now than I have in years.
I think [having a label] gives people something to strive for a little more. "Oh, These guys are putting out records. Maybe we can put out our own record now and people will care."
How does it feel to release vinyl records that could potentially end up being collector's items?
That's a weird thing to think about. I would be amazed if one of our bands had some sort of national success and we had a record that was sought after on eBay for more than eight dollars. That would be flattering for everyone involved.
How long will record labels survive?
Record labels will always be there. Record labels are more than just funding money for a record. They're marketers. They're advertiser. As long as physical formats are still around labels will still be around. Records are the oldest form of recorded media that I know of. If they're still around I don't think they're going anywhere.