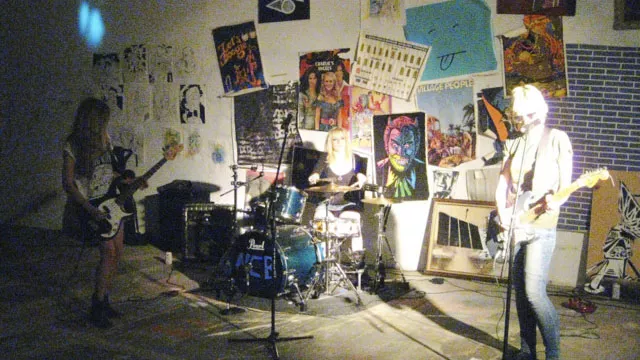 Diana Benanti
Nasty Cat Bath performing last night at Civil Ape's studio.
Last Friday we told you about Civil Ape's fundraiser for the St. Louis Arts Project (SLAP) Conference in conjunction with the weeklong Chautauqua Art Labs. About 125 people gathered to check out design collective Civil Ape's digs on South Broadway in Soulard. Adult Fur, Nasty Cat Bath and Jam Out Satie performed in the massive, art-strewn studio. We talked to Civil Ape co-founder Lenard Blair about the collective's goals and what he thinks are some of the highlights of the St. Louis scene.
Civil Ape is the catchall moniker for four artists: Lenard Blair, Damon Davis (a.k.a. Screws of Scripts N Screwz), Andrew Cohen and Nanyamka Ewing, plus a few accomplices: Jarrel Lawrence, Matt Lauer, Jon Strode (Lurch) and Jerrime Rogers. The Civil Ape brigade makes street-art inspired gear, do graphic design, promotion and produce tracks and videos for local musicians. Blair said they were blown away by the Chautauqua Art Labs last year, and were happy to debut their studio in conjunction with the annual event.
"I think it was just a group of creatives that really wanted to pool resources and start working together," says Blair. "It's kind of based on our own taste, we find somebody we really like and see what their plans are and if they would like to join, we hit them up and as long as they're a good fit, hold onto them."
Diana Benanti: Have you guys found a way to make this venture sustainable for yourselves?
Lenard Blair: The other company we own is CreativeHitmen.com. We do graphic design and web services, and I think we're going to switch it up soon and Civil Ape itself is going to start offering those services. Nobody is working any other jobs other than designing art. So right now we're keeping it above water, but we're definitely looking to grow...We'd love to buy a yacht [laughs].
How would you describe your aesthetic as a collective?
For lack of a better term, it's street art, street culture. We're not anti-fine arts but we kind of prefer art that's trying to touch your subconscious. The only way to describe it would be really eclectic taste. From the mundane to complex subject matter. From Chomsky to zombies.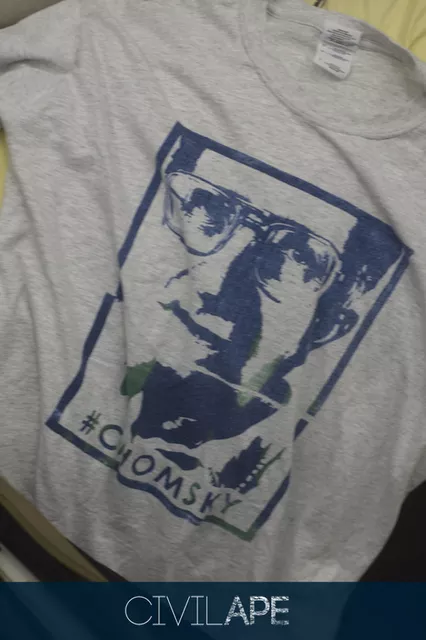 What artists are you guys inspired by?
Definitely Shepard Fairey. It's almost become a cliché to say this in the art world, but we all love Banksy, Salvador Dali...it's really kind of endless. I really love the work of 18andCounting, Me Against the World, Evil Prints, and it kind of goes with what I said before, but I really love Carol Carter. She's over on Compton, I want to say; she does these really large watercolors. She's probably going to hate me saying that. She's 100 percent fine art world whereas we're the exact opposite.
What do you think is the best part about St. Louis right now?
Honestly, I'm kind of flabbergasted by the art community right now. It's a bunch of really fresh new faces that have popped up. The people are otherworldly passionate about it. I love the whole vibe of Cherokee Street, I wish there were more places like it, and I wish Cherokee St. could get more funding to do what they're doing. St. Louis historically hasn't been too fond of the art community, but in the last few years I think the community has grown and the general public is taking a fine look at it, taking a comb to it as well. I'm really excited about the local underground music scene, man I've found some incredibly passionate people. Some of them are at the point where they could take the step to hop on the Clear Channel bandwagon, but they've decided to be a little more true to self and that really excites me. I've seen a bunch of music videos and art that are really testing the conventional wisdom. I think it's pretty awesome.
What projects are on deck for 2011?
We've been working with Nick Whiteout, working with those guys. Family Affair, been working with those guys, Jonezy, definitely working with Jonezy, another cat Thelonius Kryptonite. We've been working really hard to schedule time to get in the studio with Ryan McNeely -- also known as Adult Fur -- he's done some projects with Rockwell Knuckles. We love him to death. I think it's genius level work, I think he's one of the most versatile artists out there. A lot of people are going to be hearing his name. That dude is awesome, man. We're also hoping to do a video with So Many Dynamos, I freaking love those guys.
On May 20, we have a concert at Urban Lounge. It's a live beat electro concert called Tron 1.0, with Jay Fay, 18andCounting, Civil Ape, Garden Plot Jackals. We're gonna have T-shirts for sale and a ton of live art. We're planning a couple of outdoor events, and we're gonna drop a few more videos. We just did a video for Nato Caliph, that's going to debut in a week or two.
Let's help these gentlemen keep doin' the damn thing; head to Cranky Yellow, Apop Records or Civil Ape's site to cop your own tee.