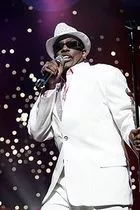 St. Louis Music Festival Chaifetz Arena Friday, May 6, 2011
The Chaifetz played host to a satisfying mix of old and new school R&B last night, marking the second installment of the St. Louis Music Festival. The concert's title may have been a little over-ambitious -- especially after the underwhelming climax of the first event -- but everyone from pre-teens to senior citizens packed the arena to enjoy the show.
Comedian/radio personality Ricky Smiley did an outstanding job as host, keeping the crowd laughing at each intermission, often at the expense of unlucky concert-goers. His filler material wore a little thin, however, as En Vogue opened the show more than an hour later than scheduled.
Although it was undoubtedly a pleasure to see the group's original lineup performing together, the "Funky Divas" seemed a tad under-rehearsed. Feedback was a constant issue, and the ladies relied heavily on backing tracks for assistance with the trickier harmonies. They seemed to find their bearings as the set progressed, though, and the a cappella intro for their closer "Hold On" concluded their set on a decidedly high note.
Both Eric Benet and Fantasia played slightly shorter set lists when compared to their performances at the Fox earlier this year. Benet was accompanied by a four-piece band, with former American Idol contestant Leah LaBelle handling the backup vocals. Fantasia added horns and percussion to the mix, but had to forego all the costume changes and pageantry of her Back To Me tour. Once again, Benet's near-flawless vocals and Fantasia's country-girl charisma kept the crowd engaged and energetic.
The headliner opened his set with the Gap Band classic, "Party Train." Surrounded by a full band and four curvaceous dancers, Uncle Charlie worked the stage like a man half his age. The funk legend incorporated colorful costumes, old school choreography and just plain fun music to show how his career has endured with such longevity. As he transitioned between the older Gap Band material and his more recent efforts, like "There Goes My Baby," not everyone in attendance was able to hang in there for the show's entirety; it was after 1:00 a.m. when he closed out with "You Dropped a Bomb On Me."