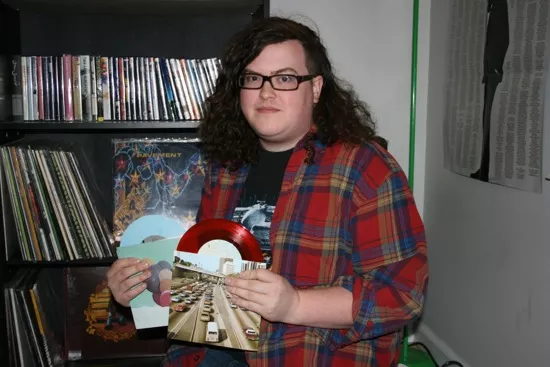 In early January, Rolling Stone reported that vinyl sales had increased fourteen percent over the previous year with around 2.8 million units sold, making 2010 the best year for vinyl in recent memory. DJ Billy Brown is part of a new generation of music fans choosing records over CDs or MP3s. Brown's vinyl habit developed in earnest when he got a job at Slackers CD and Games three years ago (he also works in Production at the RFT). Last Collector Standing ran into the Brown in line at Vintage Vinyl on Record Store Day waiting to pick up some of the exclusive releases. A few days later we were at his South City home looking through his collection and discussing the resurgence of vinyl.
Last Collector Standing: What is the last record you bought?

Billy Brown: The last record I bought was James Blake on Record Store Day. I got to Vintage Vinyl a little bit after 10 a.m,, when they opened. I didn't know what they were going to have. I was exciting not knowing if they were going to have this single or that single. I ended up with most of what I wanted, but it took almost two hours in line. It was the most docile line I've ever been a part of. No aggression in that line. Nobody worried about people butting. It was really just a nice line experience.
When did you start collecting music?
I've been collecting music for as long as I can remember. I had a cassette Walkman when I was four or five years old. I would listen to my parent's cassettes and make tapes of their CDs. It was always either Billy Joel or Pearl Jam or Led Zeppelin. My Dad was really into Led Zeppelin and Bruce Springsteen. I would just listen to the same Billy Joel album over and over again for a week.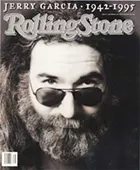 Do you have a formative album that shaped your musical taste?
I think listening to a lot of Bruce Springsteen really young shaped who I was musically. Also, my family had a subscription to Rolling Stone. Reading Rolling Stone got me into a lot of stuff. Like when Jerry Garcia died, that got me into the Grateful Dead because that's all Rolling Stone wrote about. Reading Rolling Stone made [the music] more interesting to me. The same thing with Notorious B.I.G. I bought that album after I read about it in Rolling Stone after he was killed.
I love going into the one room in Blueberry Hill because I remember every cover. "Oh yeah, the one where No Doubt is dressed like doctors." That's where I first heard about Pavement. That's where I first heard about Jimmy Eat World. That's what got into the Replacements was an article I read in Rolling Stone comparing them to other bands I liked. I miss that about music journalism between Rolling Stone and Spin. I still read them both but I think they've kind of lost touch, especially now where a blog can have a story up in seconds where with Rolling Stone you have to wait a couple weeks until the next issue.
Nowadays everything is so instantaneous. You can find most things you want to know about music in seconds by just jumping on Youtube. Yet do you think having that waiting period for Rolling Stone lent any additional meaning to learning about music because it wasn't so instantaneous?
There was that, and there was also kind of a pressure. I bought [this] CD, so I better like this. Now I download music and if I like something I buy the LP. I like it as a previewing mechanism. I think there might be a lot of stuff that is being thrown by the wayside because people are so quick to digest something new, decide if it's good of not and then move onto wants new next. The whole blog thing is self-perpetuating with that.
What was the first vinyl record that you purchased?
I've always had a passing interest in [collecting vinyl]. I started collecting seriously when I started working at Slackers, which was about three years ago. The first thing I remember being super excited about getting was Joy Division's Unknown Pleasures. I got the repress of that the first time I went into Apop. That's one of those things where I went in there on a whim and that's what really got me into all my favorite albums [on vinyl]. I started getting stuff I like as it comes out because I work at a record store. What is the coolest record you own?
Sonic Youth EVOL. It's on pink and white marble vinyl so it looks like chewed up bubble gum. The last track is called "Expressway To Yr Skull" and it drops into an infinity loop at the end. It doesn't really feel like a loop. It sounds like the song keeps going. If left it on way to long. It's such a cool piece of vinyl.
What is it about the record that makes buying it worth your investment?
It's a physical product. I love that I can download any album I want to within thirty seconds. That's awesome, but there is also something to be said about an actual object that pretty much retains its value compared to a file that's worth nothing. It has no resale.
You work part time at Slackers. Is there a renewed interest for vinyl at Slackers?
Totally. Within the past six months the south county store started carrying vinyl. They've got some releases major stores [in the city] sometimes forget to order or don't order enough of like Radiohead OK Computer or Wu Tang Clan Enter the 36 Chambers. If you were a starting collector those are a lot of people's favorite albums. They've got the Pink Floyd Dark Side of the Moon repress. It makes sense to get people's feet wet the same way that Slackers as store has branched out into selling action figures and comic books. They've realized that there is still a market where people want to go to a store, touch things, flip them over, and base their purchase on that. It's nowhere near as satisfying an experience sitting at a desk and clicking around for thirty seconds.

Do you think albums like OK Computer and Dark Side of the Moon make sense to be listened to as MP3s?
Both of those are albums that were meant to be listened to as album and it makes more sense to listen to them on vinyl because you're usually forced into listening to the whole thing. With MP3 you get it on shuffle and you get one of the intro tracks on one of the rap records or one of the Radiohead non-singles and it ruins the shuffle, whereas it makes total sense in the middle of the album. I think people are starting to listen to albums as albums as opposed to single MP3s.
You're also DJ. What's the craziest experience you've had performing around town?
I had somebody once try to pull the hair off my head because they thought it was a wig. [Laughs]
I DJed after Sound Tribe and I had a guy who probably had way too many whatevers and kept coming up to me asking me to play reggae. I kept having to explain to him that I didn't have reggae. I'm not that type of DJ. I think I played Washed Out. He came up and pointed at my Serato record. They aren't actually records but they control what's going on in your computer. Luckily I had it turned off where the record wasn't actually controlling the song. He tapped on it and goes, "What is this? I want to buy this?" and pulled his wallet out. He could not comprehend that the song that was playing was not on the record. He was so ready to hand me money for my Serato record. Then I played him Peter Tosh and he left me alone. [Laugh}
If the renewed interest in vinyl is just a hip trend right now, how long do you think this trend is going to last?
As long Arcade Fire keeps winning Grammys. I think there is an upswing in people wanting better quality music. I don't think that two years ago Mumford and Sons or Florence and the Machine would have had the impact that they've had. Rebecca Black is probably going to be the last of the auto-tune -y, manufactured thing. People are looking more towards traditional musicians again. That's why Arcade Fire can come to St. Louis and play an arena show and Mumford and Son can sell out in seconds. That wouldn't have been the case a couple of years ago.