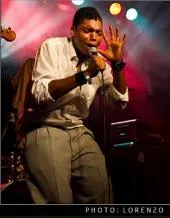 Photo courtesy of JC Brooks & the Uptown Sound
We have just received the details on this year's Indie Rock Ice Cream Social, a yearly summertime party fueled by sugar and music. Chicago's JC Brooks & the Uptown Sound, which played a well-received set at last year's Twangfest, leads a bill rounded out by a trio of locals: The Breaks, Bear Hive (former members of the Sham) and DJ Chris Bay. Ice cream will be provided by (who else?) Serendipity Handmade Ice Cream.
This year's Social will be Saturday, July 9th at the Firebird. Tickets are $10 ($3 minor surcharge) and are available now. Ice cream is free with admission.
"We go all out with the ice cream," says promoter Mike Tomko. "There are usually 3-4 flavors and a plethora of toppings and last year we had Vanilla, Chocolate and Black Cherry along with sprinkles, whipped cream, fudge, carmel sauce, strawberry sauce, marshmallow fluff, etc. etc. etc. This is the real deal.
"There is nothing like hundreds of St. Louis music fans slammed up against the stage with a beer in one hand and a sundae in the other."
And here is JC Brooks & the Uptown Sound turning Wilco's dour "I Am Trying To Break Your Heart" into a block party jam.