Though records are most commonly thought of as a way to listen to music, they were also the first medium to document the majesty and mystery of the spoken human voice. Local poet and former Streetside Records employee Philip Gounis is a lifelong collector of spoken-word records. He will be releasing his new poetry book Upgrading the Allusion at the Archive tonight, Monday, April 25 at 7 p.m. He will be performing pieces with live musical accompaniment by bassist Rich Kruse.
We met at his south city loft apartment, which looks like it could have been straight out of Greenwich Village in the '60s. At a table full of vintage Rolling Stone's and underground comics, we discussed Bob Dylan, beat writers and the importance of spoken word on vinyl.
Last Collector Standing: Having worked at Streetside Records since the beginning of the CD era, are you surprise that vinyl has survived this long?
Gounis: I'm not that surprised. I worked there in the '80s. I worked at the Streetside in Ballwin, and then the one in Florissant. When CDs started to sell I just didn't feel like the buyer got the complete artifact. Not only was it a situation that the music didn't have as full of a sound, but [they lack the] great knowledge and information you can get from liner notes... you had to squint with CDs to get that same knowledge. I'm not really surprised. There is a real value to a vinyl record and the packaging.
How did you start collecting?
When I was a kid if you turned on the radio you would hear Doris Day or Frankie Laine. I can remember before Rock n' Roll got popular. You would hear, "(How Much Is) That Doggie In the Window?" When people like Little Richard and Chuck Berry came along, it was really an exciting thing.
Harry Belafonte was probably the first record I bought. It was called Calypso. I have an older brother. I remember we had a little crystal radio hooked up so we could hear all kinds of stations. We're talking the mid to late '50s, Johnny Cash, Buddy Holly that was all part of the beginning of it
Another thing that I try to relate to people who weren't around then is if you can imagine there were only three TV stations in St. Louis. There were only a handful of radio stations. There wasn't this proliferation of media like there is now, so it was an exciting event when a new Elvis record came out or if there was a James Dean movie in the theater.
It was the same with rock 'n' roll shows. I think the first concert I went to was the Rolling Stones in 1966. Brian Jones was still with them. They had Rick Derringer and the McCoys open up for them. There wasn't so much of it, so you really valued those events and those particular artifacts when you could experience them.
Did you consider rock 'n' roll music to be rebellious music?
I can remember when it was not mainstream, and it was associated with a term in the '50s called juvenile delinquents. "Rock Around The Clock" was the soundtrack for the movie Blackboard Jungle. A lot of people... felt that rock 'n' roll was a subversive art form that was corrupting the youth of America. In fact, there was a whole project here in St. Louis, for a while they made a big issue of smashing rock 'n' roll records on the air. It was a big promotional thing. "We're not going to play rock 'n' roll anymore!" Then they would film the DJs smashing the records. Of course, it didn't go away.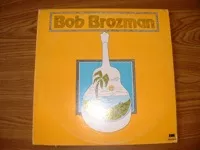 Do you have any records that you think are unique to your collection?
The only record Streetside ever put out: Bob Brozman. He played with R. Crumb and his Cheap Suit Serenaders. He does a kind of ragtime thing. It says copyright 1977. I think it was the only record that Streetside ever put out. That would be one that nobody else has. [laughs]
Being involved in the St. Louis poetry scene, do you have a favorite spoken-word song or album?
I really like Jack Kerouac's Blues and Haikus. I remember the first time that I heard it. I had read Kerouac before... but the personality and art of Jack Kerouac really came alive in a whole new dimension when I heard him perform with Zoot Sims and Al Cohn on that album.
I like a lot of variations and combinations of poetry and music. I like what Patti Smith does. There was a group called the Fugs with Ed Sanders, which was kind of political and also scatological and was a precursor to Zappa. I like most of the stuff Allen Ginsberg did. The one cut he did with the Clash called 'Ghetto Defendant" I think is an outstanding combination of poetry and music.
Does the process of recording a poem or spoken-word piece and releasing it on record gives that piece more validity?
It definitely gives it another dimension. The best poems work on the page, when you hear the poet read it, and then if you hear it on a recording with music [and] it affects the listener again. Then you've really got a strong poem. Some poems seem to only work one way. You might hear it and it really affects you but then you go read it on the page and it doesn't quite work. It's such a subjective experience, it's hard to pin down why that would be... but hearing a poem with music on a record brings a new dimension to it.
Do you have a particular album that inspires your own work as a poet?
I would say almost all of the Bob Dylan albums. He's always been a person who has brought in the influence of the Beat writers; he brought in the influence of the early, primitive blues singers. He had so many influences that when you go see him or listen to his music you get a wide spectrum of experience. So much is happening lyrically and musically.
I was in high school when I heard Highway 61 Revisited. When I listen to it now as an adult it is still a tremendous, incredible album. I think it's way ahead of its time. That album could have been released now and it would be considered innovative.
What do you think makes listening to poetry or spoken-word on vinyl unique compared to just watching it on Youtube?
As a person who writes, I think it is the role of the artist to honestly put into accessible form their feelings, thoughts and impressions of the world they live in. Now, there is so much. You can receive things digitally or receive them by reading a book or Kindle. You're bombarded with so much. How is one experience different than the other? Maybe this is a generational thing, but at least for me if I go on Youtube and watch someone [perform spoken-word] I really enjoy that. I can get a lot from it and really be touched by the performance, but if you read it you do it at your own pace. You incorporate it into your own rhythm.
There is such a proliferation of different artists doing different material. There is so much on Youtube alone... I've seen amateur or non-professional artists really ruin it. It might be a particular piece you really like. That can happen because this medium has opened to anybody who has a microphone and a camera. A lot of people are doing a lot of thing and the quality differs, but that doesn't mean that there aren't versions of it that really make an impact and connect strongly enough that as a creative person it makes you want to go and do something. It's this idea that you want to create something because you've been spurred by what you just saw or heard or read. That's the ultimate artistic experience.
Do you think record stores will be around twenty years from now?
Will libraries be around? You see so many things being digitized... I think there is a rich, important, significant, tactile experience in touching an artifact. As in: There is art in a particular object. I think to touch it and be able to really experience it is a full, valid experience. It seems that the digital experience is the shadow of the real experience.
What effect does mass media have on the arts? You want to get to a big audience, but on the other hand it's like the Warhol thing. He kind of did a parody of it. If there are fifteen copies of something it's not as rare and and valued as one copy of it. I used to kiddingly say to people that for an album like Blonde on Blonde you should have to go to a museum and put on headphones and it should be a one time experience. There are millions of copies of it. That accessibility is a good thing, and yet I hope it doesn't cheapen or trivialize it.