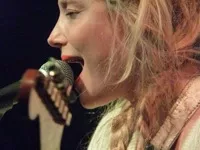 Photo by Kiernan Maletsky
Marnie Stern is coming to St. Louis. There is almost no sentence I would rather write; this should be amazing. Last year's Marnie Stern turns me into a puddle of awestruck music dork every time I hear it. She's playing at the Firebird on July 6th. Tickets are $10 and on sale now. Only slightly more renowned for her guitar playing abilities than for her vulgarity, Stern seemed to reach some clarity of vision with this most recent release.
She just finished a U.S. tour that you can read about on her Vagina Monoblog . This St. Louis show comes in the midst of several dates in the Midwest in July after what looks like a break for June.