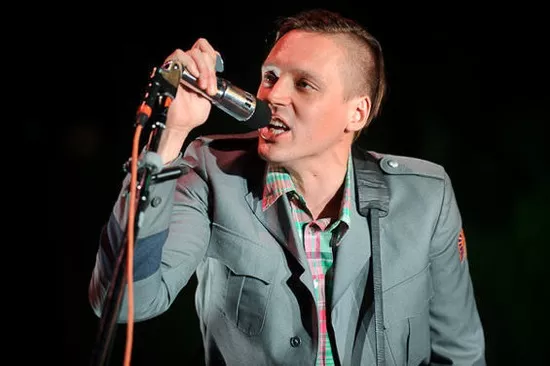 Arcade Fire/The National Scottrade Center Thursday, April 21
"We're still getting used to this arena-rock thing," Win Butler said last night. "But shit, a room's a room. Let's go!" With that, he and the indie rock juggernaut he fronts launched into "No Cars Go," seven of its eight members singing full-force from the front of the stage.
View a slideshow of the Arcade Fire at the Scottrade Center
While it's true Arcade Fire hadn't (officially) played in St. Louis since an opening gig at Rocket Bar in 2004, nobody believes the band is uneasy in the Scottrade Center, given the grand ambitions of all three of its albums. On Saturday, Butler and his cohorts will sing "Take Me Out to the Ballgame" at Wrigley, for crying out loud, so good thing he only took one brief second to stare doe-eyed at his new surroundings. After that it was back to the business of putting on a good fucking show.
Opener the National stutter-stepped into "Anyone's Ghost." Full-sounding and textured in the vast space, the track from 2010's exploration of a mood, High Violet, floated over a half-full floor and sparsely-populated seats. During a 13-song set, the National took time to develop its sound, as frontman Matt Berninger's baritone tinged layers of melancholia over Bryan Devendorf's circular drumbeats and the horn section's dark undertones.
The National's studio arrangements are precise cascades, so it was surprising when the band dropped the piano and inserted a dance beat during "Slow Show" from 2007's glorious Boxer: It was a less-than-great version of an aching, tender song that holds out hope for redemption in love, even though - and because - everyone at some point is a paranoid fuck-up. More effective was "Afraid of Everyone," during which Arcade Fire's Richard Reed Parry provided hushed backing vocals as the song shimmied into a sublime guitar reckoning of a sidewalk panic-attack.
On "Mr. November," Berninger took his comedic lap around the venue, looping through the floor's stock-still crowd. Up in the stands, he clotheslined at least four sections of fans, dragging the endless microphone cord, passed hands-over-head like the train of a royal wedding veil.
The National may make sad-bastard music, but it's the black humor around every corner that rings most true.
Under a video screen display that looked like the marquee for a science fiction B-movie drive-in, Arcade Fire played 90 minutes of open-road anthems. Half of the seventeen song set came off Album-of-the-Year Grammy-winning The Suburbs, and while the songs are mostly set in cul-de-sacs, the Canadian collective propelled the show to catharsis. Members switched positions between each song, and despite the musical chairs interruptions, Win Butler and Co. kept up the energy.
Arcade Fire's arrangements are dense, playful, variegated and tight - and therefore don't vary much from the recording when played live. One exception was "Rococo," which is cloying on record, but with big crowd response, more pronounced synth-shots and ghostly background vocals, it took on the dimensions of a space station minuet. The other revelation was "The Suburbs," where Butler's jaunty piano bounce became a doubting nostalgia, deepening into "The Suburbs (Continued)" and Régine Chassagne's whispered echoes.
In a cast of talented, jubilant performers, including a couple giant-sized Texans -- Chassagne outshone them all -- whether sharing vocals with husband Win Butler on the solar-flare chorus of "Empty Room" (with its string part masterminded by Owen Pallett) or vamping like a broken-doll chanteuse on "Haiti." Her charm and power culminated with show-closer "Sprawl II (Mountains Beyond Mountains)," a standout disco-beat on which Chassagne channeled Blondie and Cyndi Lauper, singing from the gut against malaise.
Critic's Notebook: Though I love Funeral, I managed to avoid the hubbub of the last eight months surrounding the release of The Suburbs and its subsequent Grammy win. After repeated listens, I didn't get the this-band-will-save-your-life fervor, and after seeing Arcade Fire put on a hard-working show that lacked ego and often soared, I'm no closer to understanding the vitriol. These wide-screen songs are gorgeous and sometimes even transcendent. So what's the big fucking deal?
By the Way: For those of you who didn't think it could be done, St. Louis ticket-buyers may have successfully underrated Arcade Fire last night.
Random Detail: Mountains Beyond Mountains, part of the title of the song "Sprawl II," is also the title of a book by Tracy Kidder written about Dr. Paul Farmer, one of the founders of Partners in Health. Butler announced that $1 from every ticket sold last night would go to Partners in Health's efforts in Haiti. Chassagne is of Haitian ancestry, as her parents emigrated to Canada during the dictatorship of Jean-Claude Duvalier.
The National Setlist: 1. Start a War 2. Anyone's Ghost 3. Brainy 4. Bloodbuzz Ohio 5. Slow Show 6. Afraid of Everyone 7. Conversation 16 8. Abel 9. Apartment Story 10. England 11. Fake Empire 12. Mr. November 13. Terrible Love
Arcade Fire Setlist: 1. Ready to Start 2. Rebellion (Lies) 3. Neighborhood #2 (Laika) 4. Empty Room 5. Modern Man 6. Rococo 7. The Suburbs 8. Intervention 9. No Cars Go 10. Haiti 11. We Used To Wait 12. Keep the Car Running 13. Neighborhood #1 (Tunnels) 14. Wake Up Encore: 15. Month of May 16. Neighborhood #3 (Power Out) 17. Sprawl II (Mountains Beyond Mountains)