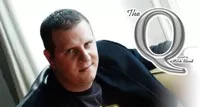 As you may be aware, we have a music showcase coming up: June 4th on Washington Avenue, to be specific. In an effort to spread the word about this, I appeared on Mark Bland's The Q podcast over the weekend. It it now live; you can listen here.
There's plenty of non-music conversation involved, and let's just say I'm a writer for a reason, but if you're are interested in some music-editor-talking action, I have certainly made more embarrassing podcast appearances in my day.
Speaking of embarrassing: I say on the recorded airwaves that Bunnygrunt's new album comes out in June, which it doesn't. It actually comes out on May 14th, which coincides with the 30th birthday party for Pancake Production's Pancake Master Rob Severson. The joint festivities will happen at the Way Out Club. Meanwhile... listen to this podcast if you're feeling like listening.