The line at Vintage Vinyl. Photo by Chrissy Wilmes
Still feeling hung over from Record Store Day 2011? You could hardly be blamed: St. Louis' fine purveyors of music were in rare form on Saturday. The beer flowed freely, the live music just kept coming and the lines, as you can see, prove the death of the record store has been greatly exaggerated. We stopped a couple shoppers on their way out of Euclid Records, and they were kind enough to pose with their prizes.
Nate B, with David's Town, a compilation of fictional bands from Fucked Up's upcoming rock opera David Comes To Life. Interests: "Fucking the man by putting holes in my nose. I like to shoot guns and I like records." Number of Record Store Days Attended: Two
Isaac Herzog with The Heath Brothers Live at the Public Theater by the Heath Brothers Occupation: Freshman in high school Number of Record Store Days Attended: Three
Crissy Boll with 21 by Adele Occupation: Owner, Brava Bodywear Number of Record Store Days Attended: One
Ben Geers with Counselors of the Lonely by the Raconteurs Occupation: IT Director at Wash U.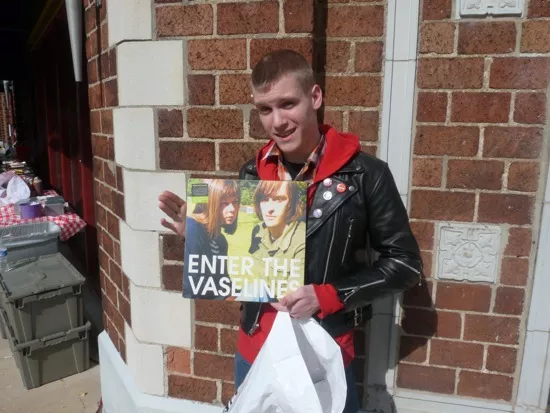 Photos by Kiernan Maletsky
Jess Catlin, with Enter the Vaselines by The Vaselines Occupation: Schnuck's Employee Number of Record Store Days Attended: Two