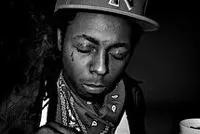 It's FRIDAY, FRIDAY! Gotta get down on FRIDAY! Here's where you can find this weekend's FUN, FUN, FUN and partyin', partyin' (yeah), starting with locals Bikini Acid at Floating Laboratories and ending with Lil' Wayne and a few of his famous friends.
Friday, 4/8
Bikini Acid @ Floating Laboratories Local experimental trio whose "psych-rock can hit like a sledgehammer or float like a post-apocalyptic morning," writes Annie Zaleski. 9 p.m. $5.
Pretty Little Empire @ Mildred Lane Kemper Art Museum Early acoustic set by some of the best - local or national - purveyors of Americana-tinged indie music. 6 p.m. Free.
Oil Boom, Beth Bombara, the Dive Poets @ Off Broadway Dallas-based eclectic roots-rock trio, featuring singer Brian Whitten, an ex-St. Louisan, supported by two popular local acts with a history of collaboration. 8:30 p.m. $8-11.
Theodore and Southeast Engine @ Billiken Club Local noise-folksters perform with fellow Misra Records band Southeast Engine from Athens, Ohio. 8 p.m. Free.
The Raveonettes @ The Firebird The oft-imitated Danish pop duo bring the fuzzy, dancey melancholia in support of fifth studio album. Read Diana Benanti's critic's pick here. With Tamaryn. 8 p.m. $15.
Spelling Bee @ Schlafly Tap Room DIY spazz-rock duo Joseph Hess and Mabel Suen of KDHX's "Wrong Division." With Zevious, Britches. 9 p.m. Free.
Green River Ordinance @ Old Rock House "Grab Your Dancing Shoes" tour by Texas radio-friendly pop-rockers. With Corey Crowder. 7 p.m. $10-12.
Saturday, 4/9
Franz Nicolay; David Dondero @ The Firebird Nicolay, former keyboardist for the Hold Steady, and his "bohemian punk rock poetry" opens for singer-songwriter Dondero. 8 p.m. $10.
London Calling @ The Gramophone Monthly hipster dance party. Check out our slideshow of the event's fourth anniversary. 9 p.m. $4-6.
Sunday, 4/10
Lil Wayne and Nicki Minaj @ Scottrade Center Two of the most surprising, combustible, screws-loose emcees in existence take victory laps. With Rick Ross, Travis Barker, Mix Master Mike. 7 p.m. $49.75-99.75.