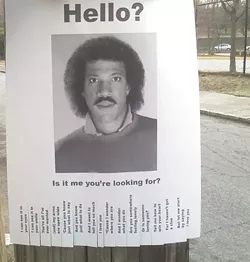 Randy Osborne?
Street art, internet meme, or both? That is the question.
But let me start by saying ... I love you.
Now that that's out of the way, let's talk about art. Specifically, street art. As Exit Through the Gift Shop so poignantly illuminated, street art has in recent years become quite the lucrative commodity.
Despite this, or perhaps because of it, many street artists choose to remain anonymous. Even the iconic Banksy's identity is still unknown.
The Internet has made street art so easily consumable, that we sometimes cease to think of it as "art." This is where Randy and Lionel come in.
Randy Osborne, who's originally from Rockford, Illinois, has been a journalist for decades. In the early '90s, he and his wife moved to St. Louis. Coincidentally enough, he was hired at the Riverfront Times as a writer and associate editor.
Eventually, his career led him to Atlanta, Georgia, where he writes zines and organizes MOTH events in a neighborhood near Cabbagetown. "It's not too far from my neighborhood, which is Inman Park, the oldest neighborhood in Atlanta," he says via phone. "It's very nice, kinda artsy, but not as hip and cool as Cabbagetown."
Walking through Cabbagetown one day in late February, Osborne saw Lionel Richie's imploring eyes, pouting lips and desperate question stapled to an assuming telephone pole. The poster caught his eye, and he was -- as most of us were when we encountered it online -- tickled by it.
He snapped a photo and posted it on his Facebook page. And the next thing he knew, it was everywhere.
Randy took a few minutes to chat with A to Z about his interaction with the artist who made the poster, that artist's anonymity and the state of street art in Atlanta. How did you end up getting in touch with the person who had originally made the flyer? He contacted me, and it wasn't through Facebook. It was through Gmail, and it was related to a comment that I'd left on one of these websites that reproduced the image. First of all, many of them said it was in New York, which kinda pissed me off, and him too. Atlanta does something funny and interesting like this and New York swoops down to take credit for it. So, I posted something saying "actually, that's my photo, and its from cabbagetown, a neighborhood in Atlanta." And he saw that. It turns out he had only made one poster so far, was planning on making more, and had bought a new staplegun and was testing out his new staple gun with this first poster. Of course, unaware that I would come along, take a picture and it would go all over the internet.
So when did you take this picture? I believe it was February 24.
Do you happen to know why this person wants to remain anonymous? I think he was just overwhelmed by what happened. He has a job where the people there have no idea that he did this. It's nothing sinister, he just didn't want to be thrust into the spotlight like he would've been. These things have such a short shelf life. Now, he could probably come out and say "Hey, I'm the guy who did the Lionel Richie poster!" and people would say who cares? What's that? Oh that was a few weeks ago. We've moved on to new things now." But when it first hit it was spreading around so fast everybody wanted to know who he was.
He contacted me, he was just curious about how I happened to take the photo and who I was. He was kinda coy about it. [At] the RFT and other places I did investigative journalism, so I had his name and his job and everything pretty quickly, and told him, "Look, why don't we do an article on this? I'll do it, I'm a journalist, I can do the article, you'll be protected, we can name you or not name you." He didn't even want to do that. So I said fine, and I'm still in touch with him. Every time another one pops up, I send him the link. I think he will probably do other projects, but I have no idea what they are. He said he might ask me for help with the next one so he can try to keep himself under wraps a little better.
Another piece of street art from Cabbagetown, Georgia.
It's a great trend. I don't know if St. Louis has this as much, but it's a really wonderful thing here. There's so much street art of various kinds. In that same neighborhood a couple of weeks before, right around Valentine's Day, someone was tying laminated valentines to stop signs, anywhere they could make the little cable tie fit. And the valentines had bitter sayings on them. i took pictures of those, too, because I thought, "This is amazing!" There's somebody out there doing this and they're doing it completely anonymously and in many cases they want to stay that way.
So it's kind of another step after graffiti to some new kind of street art. I just thought the Lionel poster was a great example of [this]. I'm a big fan of that kind of thing. Odd art projects. It's the type of thing that makes someone's day if they come across it. You know what's really wonderful about it, too? The other thing I like about that kind of art, is it's free. I've talked to my daughter and other people about this a lot, she's an artist. And we talk about how now the way our society and our economy are becoming the artists have to start giving things away if they're gonna be noticed. If you go in there with an economic interest, people shut off immediately, we're just trained to do it just like we don't hear commercials or see banner ads. If you go out and just create something and give it to the world, they want to know who you are and they want more of it. I'm not saying use this as a marketing tool, I'm saying you do it because if you're an artist you love people and you love to create and you love to see the joy on their faces when they have in their hands or in front of them what you've created. It's almost like we're going back to that kind of purity.
I felt a little bad about the Lionel poster because I didn't really mean to put people on this guy's trail, or unveil his project before it was ready, which is what it amounted to. I think he was probably planning something bigger, more posters in more places, but that was all preempted by little old me.
Well, if he was trying to reach more people, you helped him accomplish that. I'm not sure if he was consoling himself or trying to make me feel better or what, but he said the same thing.