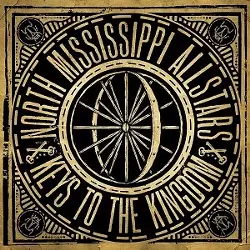 Let us not speak of the weather, shall we? On the main music page, here are previews of many shows happening this weekend, including Margot and the Nuclear So & So's with Union Tree Review and Sleepy Kitty tonight and Mount Kimbie on Sunday, while below are ten more good bets for this weekend.
Friday North Mississippi Allstars @ The Pageant The sizzling, blues-tinged Southern jam rockers are touring in support of a new album, Keys to the Kingdom. Note: This show is being filmed and recorded for a potential future release. With Nathaniel Rateliff. $23. 7:30 p.m.
Will Hoge @ Off Broadway Tom Petty-esque singer-songwriter with heart to spare. With John Henry & the Engine. 8 p.m. 21-plus: $12. Under 21: $15.
New Addresses @ Pig Slop Local trio New Addresses cite Dwight Twilley, the Go-Betweens, Raspberries as influences -- and that's a pretty good summary of the band's rickety, heartfelt pop. With Soars, Arc in Round, Reds & Blue. $5 suggested donation. 9 p.m. Pig Slop is at 2700 Cherokee.
The Nields @ The Focal Point Sisters Nerissa and Katryna Nields bring a warm, familial edge to folk music. $15. 8 p.m.
The Upright Animals @ Old Rock House The local funk-tinged rockers are the perfect way to kick off the weekend. With Javier Mendoza, Shooting With Annie. 8:30 p.m. $7. 21-plus only. Jonathan Tyler & the Northern Lights @ Pop's The older-than-their-years bluesy rockers headline the Pointfest Announcement Party at Pop's. For those who can't make it to Pop's, the lineup for the annual concert will be on the Point's website at 7 p.m. With Last Nights Vice, From Skies of Fire, Breakdances With Wolves, Corvus. $5. Doors at 5 p.m.
Saturday Soul Sessions @ 2720 Cherokee Bryant Stewart, Orie and Teresajenee head up this night of R&B, hip-hop, soul and even some spoken-word. Post-performances, stick around for a networking event. 8 p.m. $7.
Jay Fay EP Release @ The Firebird Throw electro, dancehall, funk and hip-hop into a blender, and it somewhat approximates Jay Fay's vibrant tunes. This show is tied to the release of his Sassofono EP. With 18andcounting, Cor(e)yography. 8:30 p.m. $5.
Sunday Wanda Jackson @ Blueberry Hill's Duck Room The Queen of Rockabilly comes to town for a rare club show. Read Robin Wheeler's interview with her. With Dex Romweber Duo. $20. 8 p.m.
The Breaks @ The Firebird Local rockers end the weekend on a joyous note. With Palace, DJ Trash Talk, Found Future. 8 p.m. $5.