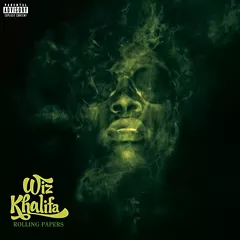 A select few got to "Roll With Wiz" last night at the Flamingo Bowl. The chronic-loving Pittsburgh rapper was in town promoting his new album Rolling Papers, which drops next week. Khalifa gamely posed for pictures with fans, signed posters and treated them to free eats -- it's no wonder he's grown a rabid grassroots fanbase over the past few years without the support of a major label. Hot 104.1 hosted the event for its "Insiders"; only about twenty winners were selected from the contest. The Hot 104.1 luminaries -- Finsta, DJ Cuddy, and even Yung Ro, sporting his perfectly flat-ironed coif -- also repped in style. A few high school aged kids from Springfield, Missouri, even drove hours to stand in the freezing cold and peered in the window, hoping for a glimpse of their idol, the guy who claims to drop ten grand a month to get stoned.
Wiz Khalifa photos from the meet-and-greet coming soon...
The rapper walked out to "Black and Yellow," and was treated to cheers. When he walked into the reserved booth, a noticeable breeze of sweet chronic came with him. Freshly jointed and ready to face his public, Khalifa did a couple rounds of interviews and then bowled for a bit. He was playing against his crew and didn't have the highest score on the board, but came in at a respectable 144, with three strikes and three spares. He was a good sport with fan requests, still posing for cameras while his handlers tried to hustle him out the door.
Khalifa had a busy 2010. He blew the lid off with his April 2010 mixtape Kush and Orange Juice, signed to Atlantic in July, sold out 50 dates in a row with Yelawolf and effectively burned "Black and Yellow" into our collective tympanic membranes. (Face it, to unlearn that song you'd have to make a deal with Satan. But why would you?!) 2011 is shaping up to be the his year, however. He's working on a movie with Snoop Dogg (it's about weed, obviously), got his mug on the cover of Rolling Stone (albeit a dual cover with that bronzed Oompa Loompa, Snooki), and he's now the envy of every guy on the planet since bagging Amber Rose. Khalifa took some time to speak with A to Z.
Diana Benanti: How is St. Louis treating you so far? Wiz Khalifa: I've only been here for a couple hours, but there's a lot of love here. I've been here before. This is my third or fourth time maybe.
Have you had any beef with Kanye since you snatched his girl [model Amber Rose]? Ah man, nah, I'm not really beefing with any rappers.
So how did you and Snoop decide to doHigh Schooltogether? Just from him being a homey, you know what I'm saying, we met and we vibed so we just figured we might as well play off that and make it fun for everybody.
Who smokes more weed, you or Snoop? We smoke like the same, that's why we're so cool with each other. Yeah, we smoke like a lot, but the same amount. I only smoke joints though, he smokes blunts. I can't smoke blunts. "Black and Yellow"
Do you have a favorite track off your new album, Rolling Papers? Yeah, "The Race" is one of my favorite songs. "Rooftops," that's one of my favorite songs too.
The album is dropping on your sister's birthday. Do you have any plans to celebrate with her? Yeah! We're going to be in New York when it comes out, so she's going to come to New York and we're gonna get to chill and just party. Yeah, that's going to be tight.
What does she think about what you're doing? She loves it man, she's so happy. And with her friends, she's just really cool and level headed about it, that's what I love about her. She's going to be seventeen.
Are all her friends after her to meet you? Yeah, yeah, especially now, they're like 'I'm almost 18!' I'm like, nahh. [laughs].
What did you grow up listening to in Pittsburgh that influenced you as an artist? I grew listening to everything, a lot of Bone Thugz N' Harmony, a lot of West Coast music, a lot of Snoop of course, a lot of stuff from down South too. I grew up on everything, that's kind of what makes my style as versatile as it is.
What was really the driving force for you to do music? Just wanted to be the man.
How do you cope with being on tour? I love being on tour actually, it's fun. It gets tiring a little bit though when I'm on tour for months at a time, I like to go back home and chill with my dog or just do regular stuff, but at the end of the day, it's fun for everybody, it's fun for the fans, so, you know, I like to do it.
How did SXSW treat you this year? It was good, I was really really busy, but I got to check out some shows and stuff so I had fun.
Do you have any thoughts about Odd Future? Yeah, I like those guys, they're really tight. I got to meet them actually, backstage at the Woodie Awards. I just like their vibe and the element that they bring to the game, I think that it's needed.
What are they like in person? They're really chill, you know what I'm saying, they have everybody--not me because I understand what type of people they are--they have everybody else on edge because they don't know what they're gonna do. But that's kind of tight though, that they're able to shake it up like that, that's a good place to be.
What have you been listening to lately? I've been listening to my stuff lately actually, because I've been working on some new stuff. Of course like Curren$y and Rick Ross and Big Sean and my man Chevy, my man Meko, Mac Miller, yeah.
Any Pittsburgh artists we should be looking out for? Definitely two of the artists I just named. Mac Miller, he just got the cover of XXL for the Freshman Class, and my man Chevy, he just dropped a mixtape. He's gonna be doing his thing in the upcoming years.