Did Eli "Paperboy" Reed strike a deal with the devil? How else could this 27-year-old Massachusetts native sing like a soulman's screamin' dream, with all the sexy swagger of Wilson Pickett? Last night's performance at Off Broadway demolished all doubt: If you want music of the highest quality on a Tuesday night, then, St. Louis -- you've got to come and get it!
Opener Goodtime Engineers doesn't want you to worry about labels. Is it classic rock vibing with Red Hot Chili Peppers -- or other '90s-era laid-back, bass-heavy rock? Is that a touch of funk? Is that the blues riff from Bob Dylan's "Ballad of a Thin Man"? The local quartet did admirable work, purveying the groove to an empty room. During a set that didn't outstay its welcome, lead singer Adam Barr's unostentatious style and vocal ability stood out, as did the too-brief harmonica and piano interludes. Stage-roaming bassist Dave Chapman injected exuberance into his "walking bass lines" -- literally!
At 9 p.m., the latest incarnation of the seven-piece True Loves -- which has changed its trumpeter, saxophonist and guitarist since the making of the last album -- took the stage and found an efficient groove, while a sharp-dressed young man with a black pseudo-pompadour leaned against the bar. JB "30 Seconds" Flatt on keys made a superlative-yet-accurate introduction - sort of like sideshow at the Apollo - and Reed grabbed the mic stand for a head-tossing, eyebrow-popping yowling of "The Satisfier."
Anyone familiar with Reed knows his story. The boy from Brookline, Massachusetts, left home after high school, cut his teeth performing with bluesmen in Clarksdale, Mississippi and learned gospel in a church on Chicago's South Side with Mitty Collier, a Chess Records artist-turned-minister. Returning to Boston, Reed hit the scene in 2005 and has drawn comparisons to R&B legends Pickett, Otis Redding and Sam Cooke ever since.
So was a deal struck? Well, if the Robert Johnson story is a metaphor for the sacrifice of commitment to creative talents, then something probably went down. Yet even after years of touring nationally and overseas, performing on TV shows such as Later with Jools Holland and being fawned over by NPR, Reed is still paying his dues. To anyone in the audience last night, it doesn't make sense that the showman isn't more widely known, especially with the popularity surge of soul "throwback" acts like Mayer Hawthorne.
Though exhausted from a month on the road and an 825-mile drive from Austin, where the band performed at South by Southwest, Reed never hinted at fatigue during the set, which lasted more than an hour and included older songs as well as tracks from 2010's Come and Get It, the band's first major-label release with Capitol.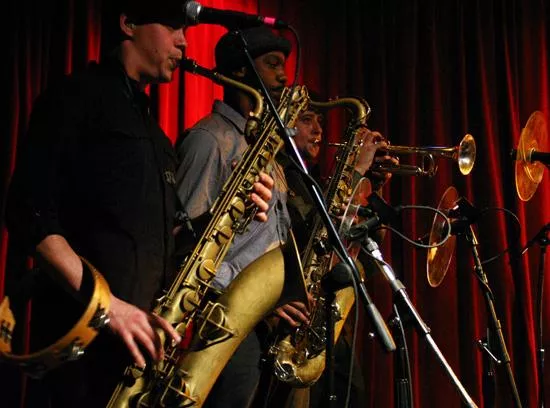 There were notable absences in the setlist: earlier songs "I'll Roll With You," "Am I Wasting My Time" and "I'm Gonna Getcha" - a personal favorite for its sarcastic horn lines and lyrics about going eye-for-an-eye with a cheater: "I told ya I'd forgive ya/If you said that you was sorry/You said that man wasn't stealing my love/He was only borrowing." Also missing was "Doin' the (Boom Boom)," which was replaced by newer dance floor blasters like "Explosion" and "Come and Get It."
Fast or slow, Reed's voice was the star of the show. Highlights included "It's Easier," from the 2008 album Roll With You, a torch song Reed shreds with the heartbreak of a cuckold in denial. New song "You Can Run On" started off spare with handclaps and well-done harmonies by the True Loves and swelled with the energy of a revival meeting.
Though the show was "criminally underattended" (as one of my companions put it), the audience had fun, hips swinging around the periphery of the dance floor, where one leaping and kicking man showed off his inexplicable take on northern soul.
That's the thing about Eli "Paperboy" Reed: in this world of AutoTuned sterility, he's created a voice steeped in mythology, deep and rich as Mississippi mud. The music's tide carries away all irony, pulls the audience into a current that may seem outside time and place, but really - it's just deeper-down, dug into the crossroads of the soul where deals are struck, gauntlets thrown, demons exorcised through bass rolls and wails and dance. Night after night, Reed transports listeners to an era that perhaps never really existed, where great frontmen are still introduced as minstrel kings, and where Eli "Paperboy" Reed - "the Satisfier himself, ladies and gentlemen" - makes ecstatic sense. As Reed and the True Loves took their bows, a small weeknight crowd, suddenly released, howled for an encore.
Setlist: 1. Introduction 2. The Satisfier 3. Name Calling 4. Help Me 5. Break Every Heart 6. Tell Me What I Want to Hear 7. Walkin' and Talkin' 8. Just Like Me 9. True Loves interlude 10. Run On 11. Time Will Tell 12. Young Girl 13. Come and Get It 14. Explosion Encore: 15. Pick Your Battles 16. Take My Love With You