Dana Plonka
The Civil Wars
12:24 In the South By vortex, all news - or at least news not related to Jack White pop-up performances, Cee-Lo Green cancellations, Kanye gossip and R.E.M. show rumors - gets obliterated. Japan's nuclear nightmare is no exception. Glancing at an RSS reader under 75 degree skies pool side at the Oltorf Road La Quinta is surreal, nauseating, guilt-inducing. Rock & roll shouldn't flatter itself into thinking it can do a goddamn anything about anything. And I don't pray. So it's onward into the music. Godspeed real world.
13:12 I stop by Jovita's, the site of the 88.1 KDHX and Twangfest Day Parties, but the parking lot is a wasteland. No music. The local authorities, on complaints from neighbors, shut down the outdoor stage. But the indefatigable Nico Leone (Co-Executive Director of KDHX) has a plan. All the outdoor bands, move indoors, sets shorten and the music continued, apparently without further incident.
13:36 At Waterloo Records, the chillwave (typing this word is unpleasant) band Toro Y Moi play indoors to a smooshed-in crowd. The sound is abysmal and the band, while expert in its own redundant fashion, has little to say. Sick of beer and hungry, I find a table at the 24 Diner, a new joint next door. The Bloody Marys, with farm-fresh, pickled Brussels sprout garnish, are ace.
14:30 Stuck in traffic on Cesar Chavez, and there isn't even a Strokes concert to blame (that would be later). Traffic and lines and parking searches are as much a part of SXSW as pedi-cabs and swag. That doesn't make them suck less.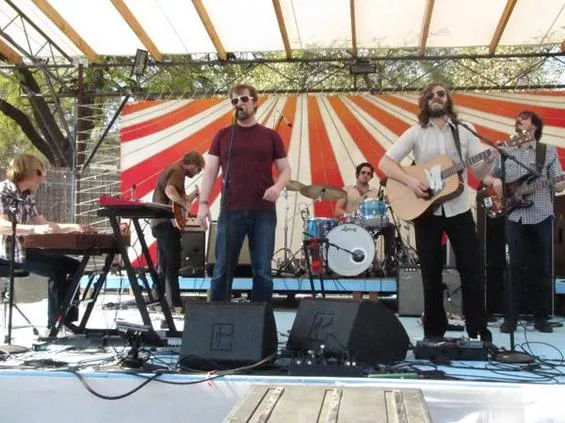 Dana Plonka
John Grant w/Midlake
15:30
Walking up Congress towards South By San Jose, the annual free parking lot concert outside the zen-plush hotel of the same name, I hear the instantly identifiable sound of Denton, Texas band
Midlake
. And, it is Midlake, but fronted by
John Grant
. I'm certain he's a fun drinking buddy, but as a songwriter, dude is the apotheosis of irony, so over the top in his cutesy attempts to offend and flatter, simultaneously, an audience that one almost thinks it's an elaborate satire of himself. But no, he takes his stream-of-hipster lyrics seriously, and sings them with big, barrel-chested pipes. Not even Midlake can save his songs.
Dana Plonka
Peter Buck
16:15
My first chance to see
The Civil Wars
(rising Americana duo Joy Williams and John Paul White) happens under bursting sunshine on the San Jose lot. The two start off with "Tip of My Tongue" and then cover both "You Are My Sunshine" and "Billie Jean." Williams smiles, a lot, even through the quasi-murder ballad material. This is strange, but the chemistry is undeniable. The teens in the crowd go nuts.
16:58 Back at Jovita's for the finale of the KDHX and Twangfest Day Parties (disclosure: I'm a Twangfest volunteer and KDHX DJ), the outdoor stage is still silent, but the indoor stage is not: Steve Wynn and the Miracle 3 is pushing its Velvet Underground influence through the roof. There are 1473 (give or take a dozen) rock bands in Austin this week. Not even the black metal showcases rock this hard. The geezer crowd rocks right along.
17:39 Twangfest somehow snagged the Baseball Project, featuring Scott McCaughey of the Minus Five, Steve Wynn and R.E.M.'s Peter Buck. The band plays songs about baseball and invites metaphors of the same, but let's not go there. Starting off with "Past Time" and "Ted Fucking Williams," the super group sounds terrific, held in place by Linda Pitmon's steady drumming. McCaughey seems in great voice and mood, while Buck just hangs back on Rickenbacker bass, his mind elsewhere. His buddy Mike Mills is in the audience, and climbs on stage to hit a tambourine and sing harmonies on the terrific song "Jackie's Lament." He looks and sounds like he's happy to be performing with his old friends. It's sweltering inside Jovita's, but this is very cool.
18:59 At the recently opened ACL Live at the Moody Theatre on recently named Willie Nelson Boulevard (Second Street), Bob Geldof, SXSW 2011's keynote speaker, wishes a crowd of mostly Widespread Panic (later at the same venue) fans a happy St. Paddy's Day. I grew up wearing out The Fine Art of Surfacing, but I'd never seen Geldof perform. He's a lefty guitarist, strumming a big Gibson acoustic, his eyes closed behind shaggy gray bangs. He looks like a cross between David Johansen and Julian Assange. His big band of old dudes kill, and the set ranges from new material to classics like "When the Night Comes" and "I Don't Like Mondays." Geldof, in polka dot shirt and silver Soprano's zoot suit, can't resist a chance to lecture the crowd a bit on the past and future of rock & roll. (Hint: He doesn't think it's the Internets.) He and his band delivered a sweeping rock & roll schooling to the Panic-heads, not that they're teachable. If that sounds gratuitous, that's only because they weren't yakking in your ear for an hour.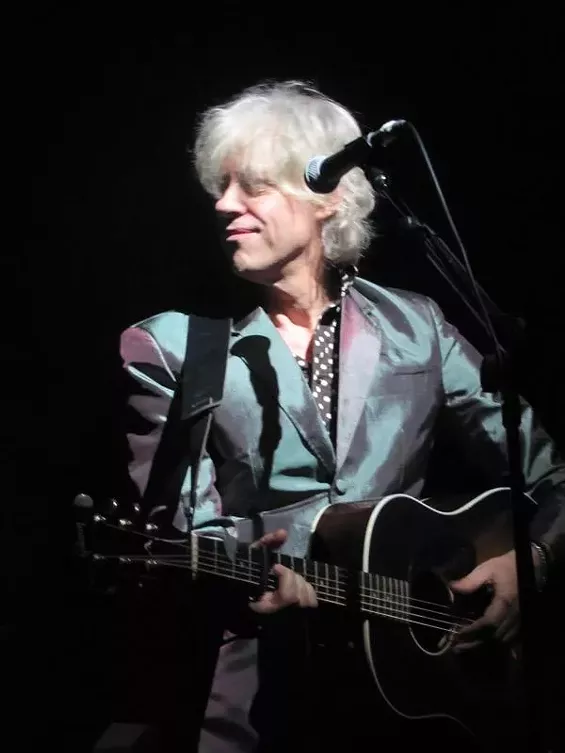 Dana Plonka
Bob Geldof
20:08
Heading north towards Antone's, I stop off in the Tap Room at Sixth for an acoustic set from
Vandaveer
, AKA Mark Charles Heidinger and Rose Guerin. The two sing mostly brilliant songs about forever falling from grace; it's a fine way to come down off the Geldof high.
Dana Plonka
Charles Bradley
21:17
At Antone's,
Abigail Washburn
takes her time tuning her three banjos and her band follows suit. But when they finally get going, opening with "City of Refuge," the title track to one of my favorite records of 2011, they smoke in an indie-rock-meets-old-time-music style. Washburn shows off her clogging-ready dance footwork and sings like a less fragile Emmylou Harris (who was playing later in the evening). The band -- with pedal steel, fiddle and drums -- is subtle and fleet, and though the set is short and somewhat halting, the crowd loves every minute.
22:30 After a slice (only the second of the week), I make it to Klub Krucial to join Adam Duritz (no, I don't know why he's here) in catching the last song by LA band Romany Rye, who pull off the Whiskeytown rock expertly and soulfully. Wish I'd arrived sooner, but perhaps I'll hear a full set somewhere tomorrow.
23:05 Nowhere to go, really, before heading to Stubb's, I have another skimpy and over-priced vodka tonic and give young British pixie Ellie Goulding a chance. Apparently London adores her, but there isn't even a there anywhere near her vibrato-strained voice and slight songs. My theory that the Brit press is not to be trusted when it comes to singer-songwriters receives further confirmation.
23:30 The crowd for TV on the Radio is late in arrival so I slip in easily to Stubb's to hear Charles Bradley and the Menahan Street Band. Who? You're right to ask only if you haven't been following the Daptone records release schedule. Bradley's No Time For Dreaming is a heavy suite of straight-up, high drama soul from the New York label. The rediscovered singer is ecstatic to be on the Stubb's stage; he let's an appreciative audience know as much, with repeated calls of "I love you!" and repeated spins, splits, collapses and down-on-his-knees wailings and weepings. Christ, he's amazing. Kay Clary (Senior Director of Media Relations at BMI) stands beside me, overcome with the power of this performance. "He looks like Percy Sledge and sings like James Brown," she says. Yes, and the band is unflagging and supple, all the way through a concise set that includes a revelatory reworking of Neil Young's "Heart of Gold." I'll see more performances at SXSW this week. I won't see anything more real.
00:34 With time to kill before Surfer Blood closes out the night at the Warner Bros. party, I slip into the Bedford showcase at the Hilton Creekside to hear the last two songs of Ron Sexsmith's solo acoustic set. The room is full and Sexsmith, as always, sounds dreamy and deep, his voice ageless, his temperament generous. It feels great to sit down for the first time in five hours.
01:07 West Palm Beach, Florida rock band Surfer Blood has been playing every 4 hours or so for the last three days in Austin. That's clear, and not because the band sounds tired or jaded. To the contrary, John Paul Pitts and company sound extremely tight and extremely happy to be turning up their vintage amps and dual, Television-esque guitar lines, as drummer Tyler Schwarz atomic clocks the shit out of his snare. Pitts twirled and teased the apron and climbed on top of a teetering stack of speakers for one last solo of the night. Sometimes even post-buzzy bands can genuinely bring it.