(RFT freelancer Roy Kasten is at SXSW through Saturday. He'll be checking in with A to Z about what he sees. Here's the first installment.)
Dana Plonka
The Head and the Heart
11:45 I've returned to my hotel after stopping at Maria's Taco Xpress for a bag full of migas breakfast tacos, each weighing in at approximately a pound and a half. This is breakfast, lunch, dinner and dessert. I must be in Austin.
12:20Mellow Johnny's Bike Shop, owned and operated by Lance Armstrong -- if you had any doubt, check the Chairman Mao-like photos that dominate the space -- played host to a KEXP (the rough Seattle equivalent of KDHX) remote broadcast. Recent Sub Pop signees The Head and the Heart jumped into a stunning half hour set. The band, like Blind Pilot and Mumford and Sons before it, captures everything that's wonderful about another younger generation's discovery of Americana. With three clearly distinct vocalists, a bouncing and confident stage presence and songs that magnetize gospel, folk and pop forms, the band gave me my first goose bumps of the week. The girls in the front, in sandals and smelling of Juicy Fruit gum, sang along to every word.
13:30 With a jelly jar full of a local sweet tea vodka, ice, water and lemon, I took in the Guitartown/Conqueroo party at the Dogwood (formerly known as Mother Egan's) on the west side of Sixth Street. I missed Willie Nile's opening set, but saw the dude out front, chatting with Alejandro Escovedo, the two friends dressed like dual satans at a BBQ. Inside, Caitlin Cary's latest band, Small Ponds, turned in a charming, ruminative set, with the ex-Whiskeytown fiddler in excellent voice, though the songwriting sounded somewhat fragile. Fleeting echoes of the Walkabouts here and there kept me focused.
14:00 On the indoor stage at the Dogwood, three old friends - Susan Cowsill, Freedy Johnston and Jon Dee Graham - fought against the poor sound and non-existent sight lines. Such are make-shift venues at SXSW. The friends are billing themselves as The Hobart Brothers, featuring Lil' Sis Hobart, and apparently have recorded together. The songs sounded sturdy enough but the sound at the back of the bar was a sludgefest; it was time to move on.
14:30 A few doors down Sixth Street, I took in lunch with St. Louis friends at Hut's, favorite hamburger joint of Kinky Friedman, and made plans for the rest of the day. Don't miss the onion rings.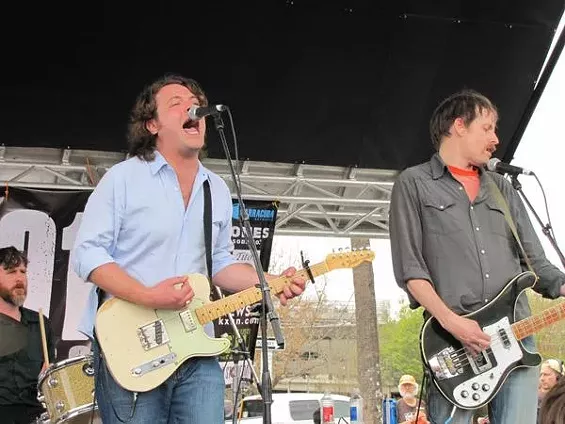 Dana Plonka
Apex Manor
15:20
The first minor fiasco sets in, as the Music Fog party took place inside rather than outside at Threadgill's. This meant only 60 or so people could actually see a killer lineup featuring country pop maestros
Foster and Lloyd
and Americana buzz band the
Civil Wars
. I aborted the mission and raced back downtown for the free outdoor stage at Waterloo Records.
16:07 Apex Manor was following Fitz & the Tantrums on the parking lot outside Waterloo, and two songs in the band sounded alive and unpretentious, playing its first SXSW show and focusing on the best songs from one of my favorite rock records of 2011, The Year of Magical Drinking. Ross Flournoy revisited his previous band, The Broken West, with a bracing, set-ending version of "Down in the Valley." Power pop as it should be played: loud, loose, and thrilled to be alive.
17:20 Against my better judgment I returned the Music Fog party and took up seat on the floor for Austin legend Ray Wylie Hubbard's brief set. Backed only by the finest drummer in Austin - that would be Rick Richards - Hubbard played his semi-hit "Drunken Poet's Dream" (co-written with Hayes Carll) and two terrific new songs about choices and fate and wooing a stripper with a version of "Polk Salad Annie." In Austin, there's a reason Ray Wylie is considered a guru. His wit, open-tuned guitar playing and storytelling have no immediate rivals.
18:38 The Trishas, an all-female quintet (plus percussionist, who looked to fresh off a Mormon mission), performed a suite of pleasant but supremely light Americana folk, nearly redeemed by excellent four-part harmonies. With time, a little suffering and a few more trips to Nashville work on songwriting, the band may yet leave a mark.
20:04 My first official showcase of the night took place upstairs at The Parish on Sixth Street, as a good crowd gathered for Seattle band Ivan & Alyosha (as in the Brothers Karamazov), who echoed the Head and the Heart, but loudly, with harmonies across the front of the stage and songwriter Tim Wilson singing to his wife and 11-month-year-old child, both in attendance. "Fathers Be Kind" and a final semi-a-capella rendering of "Glorify" sounded marvelous.
21:00 At the Brooklyn Vegan showcase at Swan Dive on Red River, Ólof Arnalds tuned a gut-string guitar and a charango. She is fetching in fish net and Marilyn Monroe hair, and there is something weirdly compelling about her girlish phrasing. A cover of a Caetano Veloso was more than welcome.
Dana Plonka
John Taylor and Simon LeBon of Duran Duran
21:34
I attempted to enjoy my first warm beer of SXSW 2011 at Red 7 for the Secretly Canadian / Jagjaguwar showcase, but as the set-up for a special guest band dragged to 15 minutes, my mood soured for the first time. I realized I was the only person on the patio not tweeting. A kid behind me raised his iPhone in the air to flash out a message: PLEASE DON'T SUCK. Nice app, but the band on the stage,
Gayngs
from Minneapolis, paid no heed. This kind of unrehearsed, bored and boring, white hipster soft electro-funk with weak saxophone solos needs to vanish from the earth.
22:46 John Vanderslice was scheduled for 22:30, but the gentle genius likes his ramshackle gear, even as his futzing and checking ate into his set time. But when his drummer and violin player found the sound, the 4 songs I heard were charming, elusive, allusive and beautiful, part experimental art rock, part back-to-basics folk rock.
23:12 While I was being tortured by Gayngs, the rest of the world was texting the secret code for the Kanye West party and getting in line for Raphael Saadiq and Duran Duran at Stubbs. I could have waited, but chose a quick slice and scurry back down Sixth for another show at the Parish.
23:48 Young Man from Chicago finished up its set with two songs that sounded somewhat vague and drained in a medicated indie rock way. Lead singer Colin Caulfield reminded me of the Tallest Man on Earth, but the songs did not.
00:14 Brooklyn's The Antlers isn't art-damaged. It's art-poisoned, but beautifully, fearfully. The band puts an array of keys and bass pedals to precise use, constructing a kind of dream pop that always turns into a nightmare. Singer Peter Silberman broke into a falsetto that chilled the room and slashed at his guitar like he more than meant it. As remarkable as the album Hospice is, The Antlers are a live band, for absolute certainty. Even if it meant I would miss Duran Duran at Stubb's, this set, including new material from the forthcoming Burst Apart, was unforgettable.
01:11 At St. David's Episcopal Church you'll find blood-red hibiscus tea for $1 and church pews. That's almost all you need to know about this end of the night choice. Also: Vetiver, playing new songs and chestnuts, with bluesy grace and a Rickenbacker guitar in a hall with acoustics that killed. Also: A cover of Gene Clark's "Here Tonight." Also: Sublime.