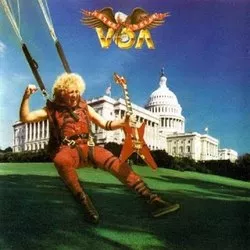 In part one of our interview with Joel Selvin, co-author of Sammy Hagar's new autobiography Red: My Uncensored Life in Rock, we talked about the early years of Sammy's career and one memorable incident in which Selvin's home phone number became very public. Here's the second part of our conversation which covers Hagar's tenure with Montrose, Eddie Van Halen and why tequila is better than making albums. Hagar will be in St. Louis for two book signings. The first takes place at Sammy's Beach Bar & Grill at 6 p.m. on Thursday, March 17, while the second is at Left Bank Books Downtown at 6 p.m. on Friday, March 18.
Related Content: Joel Selvin talks about how he came to write Hagar's autobiography
Matt Wardlaw:
I was listening to the
interview
that you did with Sammy in 2005 on your radio show [Selvin On The City] and when you played "Rock Candy," it struck me as it always does, that it's hard to believe that you're hearing the sound of an artist cutting his teeth at the very beginning. It sounds so developed that you would expect that it came off of the fourth or fifth album from the artist, but that comes from his debut entry into the music business as a recording artist.
Joel Selvin:
[Laughs] It is a rock classic, isn't it?
Hearing him tell the tale during your interview of how "Rock Candy" developed as a song is mind blowing.
Well, you know Rocky Marciano says that you have to watch out for hungry fighters because they hit harder? And I think that's often true of rock bands taking their first crack at it. Maybe not the first time in the ring but maybe the second time in the ring, they hit somebody so hard that they never hit 'em again that hard. The second time Van Morrison was in the studio, he cut "Here Comes The Night" and "Gloria." The second time Burt Bacharach took Dionne Warwick in the studio, they cut "Anyone Who Had A Heart" and "Walk on By." There's a lot of examples of that.
But that song, again we were sort of scoffy about Montrose [and] called it a junior Led Zeppelin. I remember that whole rap, yeah "pint-sized Robert Plant" and all that. But when you look back and you listen to those records, no no no no, "Rock Candy" is its own world [and] Montrose was minor in its own way. It wasn't a major band - it had one album that mattered and a second album [
Paper Money
] that was sort of an echo of it and then after that none of the stuff that Ronnie [Montrose] did mattered at all. But that first album was a full and complete sonic statement.
The producer [Ted Templeman] went on to become super important - he made all of the Van Halen records with David Lee Roth, for instance and when you look at the big breakthrough hit Van Halen did of "You Really Got Me," I think there's a lot of significant reference to the production style that Teddy tried out on the Montrose records. So looking back, Montrose is looking like a cornerstone hard rock act upon which the whole school of music was built and "Rock Candy" is the scena corna of that deal.
In an interview, Ronnie Montrose compared Sammy's time in Montrose and Van Halen as being pretty similar and in his words, it just took Eddie Van Halen longer to fire Sammy. What do you think of that?
[
Laughs
] Have you ever met Ronnie?
No.
Ronnie is a really sour, bitter guy. I've known Ronnie since he met Sammy. And he's on his fifth wife, she's supporting the deal with her flower store, he doesn't play much guitar at all. Ronnie peaked in the first two albums with Montrose, that was it. Then it was just a slow gradual slide into complete obscurity and semi-retirement for him. Is he a little resentful of Sammy's success? I would say so. Does he feel superior and hip? Yeah, I'm sure he does. That's what he's got. Sammy got the career and Ronnie got to get the resentments. I'm not surprised.
That's sort of the character of the guy. Pretty good guitarist, but if you listen to his guitar playing, he never really imbues it with any kind of emotional abandon - it's always very held in check, very sculptured, very finessed. It bespeaks someone whose character is constantly under revision and control and is not cleanly and directly in touch with his own feelings. There's Selvin on Montrose for ya! [
Laughs
]
But you know, the guy made some nice records - some of the things that weren't successful were real interesting. I remember when he and Mitch Froom were a duo. And Mitch Froom certainly went on to have a great deal of success as a record producer.
In the credits, you thank author David Ritz for "showing you how." One of the things that I loved about the book that he wrote with Paul Shaffer is that it definitely reads in Shaffer's voice and I think you achieved that as well with Sammy's book. Can you describe the collaborative process with you and Sammy that ultimately produced this book?
Oh yeah. This book was Sammy's book and I also got a really good assist from an editor at the publishing house named Matt Harper, who did a really fine job editing it. And you know from working in newspapers, you can't count on an editor helping. [
Laughs
]
But Sammy was so directed and focused at telling the story, it pretty much just came out of him. We never did long interview sessions - it was never a grueling process whatsoever and Sammy's work ethic was astonishing - I had to run to keep up with him. But some of the times we'd go there and he would just have the story in his head in such an exact way that really all I had to do was knock out a few "ands" and put some periods and capital letters in it.
"Heavy Metal," live in 1983:
I remember the Montrose interview, which he'd actually taken some notes for and I stole the notes from him. I thought, "Fuck, he's taking notes?" The Montrose story just came out like boom!, that was it, brother. These things are so vivid in his recollection and he sees his own life as a narrative force. You can't ask for that. It makes him a natural storyteller for this story. There would be no reason to do a biography of Sam - nobody wants to read the biography of Sam. But there would be a reason to help Sam tell his story - people would really enjoy hearing Sam's account of his own life.
So my role is transparent - I'm just there to pull Sam's voice out and direct the narrative flow and keep him between the gutters. And he's so good at that - he turned out to have this talent for it and the story told really well because of Sam. So I ain't takin' no bows here, right? Because I'm just fortunate to be involved in the project and there's some story on that too. Because I brought the project to Sammy's manager Carter [John Carter, known as "Carter" to his associates and friends].
I was sitting in my agent's office and talking about what am I going to do with myself now that I've left my staff position at the
Chronicle
after 36 years, right? The Sammy thing came up pretty quickly although there were a couple of other things that we were also going to consider too at that time. I went and called Carter, because I've known Carter as long as I've known Sammy. I knew Carter before he signed Sammy. Carter said, "Terrible idea, no upside, complete distraction, NO." So there goes that idea.
When I get home from New York, I've got a bunch of phone messages and one of them is from Sammy and it says "Joel, Sammy Hagar - as you know, you're not high on my list of people to give love to, BUT, I just read your Sly and the Family Stone book." So he goes on and on and on about how great the Sly book is and how everybody in the music business should read it and all that bullshit and hangs up. A couple of phone messages later, "Joel, Sam again - I just ran into Carter - he says you want to write a book about me. I don't know why, I'm no Sly and the Family Stone, but listen - don't deal with Carter, you've got my number, deal direct with me."
So I called Sammy and said, "Give me a half hour meeting" and he goes, "No problem." I showed up at the rehearsal hall, looked at him and said "Look, Sam, somewhere between 5 and 10 minutes into this discussion, you and I are going to have a Vulcan mind meld and we're going to move forward, but here's what I'm thinking." I started to tell him why I thought this was the time to tell his story and why it seemed like a good idea to me. And about three minutes into the conversation, he looks up and he says "Vulcan mind meld!"
And since that moment, it's just been forward progress down the rails. He's a really great worker, he's really great at telling a story - he has such candid and uncensored instincts. You know how interview subjects can be - some of them are cagey, some of them are guarded, very few of them are fully discursive. It's such a blessing for somebody to do what we're doing to have a subject that's this outgoing, forthcoming and almost compulsively candid.
That certainly was my impression from the times that I interviewed Sammy for his past projects. I'd imagine that with the interviews that you've done with Sammy over the years, you probably had the thought at some point that what we're doing here in this interview would make a great book. I can definitely hear the moments and stories in your radio interview with Sammy that might trigger thoughts like that.
Well, Sammy called me once in the late '90s and asked me about this book thing. And he's taken a couple of cracks at it with other guys who thought they might be able to do something. At that time, I told him I didn't think so - I didn't see it. And I didn't. But that was before there was all this post-Van Halen reunion, Cabo Wabo Tequila - in the last 10 or 15 years of Sammy's life, the events have been so redemptive in terms of the sort of crap that Ronnie Montrose and EVH might say about him. Winning at the tequila game is the perfect adjoiner. He's had more success because of that tequila than any of these guys ever had in their wildest dreams in the music business, way more. Nobody makes 100 million bucks off an album.
So I got this force of redemption in the narrative sweep and Sammy emerges victorious and they never laid a glove on him. He continued in music, he does music on his own terms - that makes him an artist. And he's wandered off into nothing but success and sunlight while these other guys have been mired in their past and unable to make anything happen, Ronnie Montrose or the Van Halen brothers. So he's the winner in all of this and the thing that I love about the book is that I've never had a book before with a happy ending - I LOVE this ending. I love his mother smiling down on his enterprise in the last paragraph and blessing us all.
Because she's this huge angelic feature in the book that is somebody who we all invest our positive feelings in. Because you read about his mom who's hiding the kids from the abusive dad and you want the best for her, but you know what she wants is for her kids, you know that. And I'm sure that Gladys is as happy for [Hagar's siblings] Bobbi, Velma and Junior [Hagar's brother Bob Jr.] as she is for Sammy. So that's a really great fuckin' book and I'm really happy to be a small part of it.
"Remember the Heroes," 1983:
This book delivers on so many levels, particularly all of the Van Halen-related material. As a co-author, I think you're always a bit worried as to whether your subject will ultimately deliver the goods necessary for a good book and Sammy certainly brings that home, here. When was the moment where you knew you had the book?
I never worried about that from the beginning - this is Sammy Hagar we're talking about, right? There are other people that I've worked with on these kind of projects that I haven't gotten across the finish line and it's difficult to write about yourself, because it requires a kind of fearless honesty that very few of us have. It requires it. You can't do this and write a book like say, Eric Clapton did. You need that fearless kind of honesty because otherwise your reader is not going to believe you, they're not going to be interested in it and they're going to feel cheated by somebody who did not tell them the truth and did not give them that true intimacy that the experience of reading this kind of book is all about.
I think that a book that you would think would be killer doesn't always end up that way because of the pitfalls that you just described, but when the excerpts started to circulate for this book, it was pretty clear that we were going to get the kind of book that one would hope for from Sammy Hagar.
No, this is the right book from Sammy. He did a great job and I read all of these things. Do you know Dave Marsh?
Absolutely.
I wanted to know what he thought of [Bob Dylan's]
Chronicles
and he and I are old pals, so I sent him an email and said "Hey c'mon, what do you think of
Chronicles
?" He wrote back and said "Selvin, you and I like stuff like this from Sandra Dee." [Laughs]
So I'm a huge fan of the whole genre, the celebrity autobiography and I have some wacky favorites like the Lillian Gish autobiography about silent movies and I'm widely read in the field. I know what the genre requires and that fearless honesty is the key element and then the other thing is you have to have some kind of redemptive narrative. Your life has to have been a challenge, you have to overcome the challenges, you have to look back on it with the wisdom that you've gained from winning the race or losing the race. Because there's people that have come out of disaster and written books about it that it's like "Oh, okay."
Sammy's viewpoint is very mature - he's hard on people around him, he's honest about himself and he's revealing of his feelings, it's not just a list of people who have insulted him. He's compassionate to the people who have been difficult with him and he's angry at some of the people who have been close to him.
You know, we were talking about it the other day - there's a lot of concern that people think "Well geez, he's Eddie bashing." As if the Van Halen story is the big deal in the book. It's a tent pole, there's no question, but there's a much wider narrative at work here than just that. And Sammy said two things that I thought were just totally pertinent, he said, "Well, they know what happened - they were there," so who's bashing who? That's not bashing. Then the other thing that he says was "Jesus, I was harder on my granddad!" [
Laughs
]
Good point!
I know, I said "your poor old granddad, you're absolutely right, you called him a prick! You never said that about Eddie - you always go out of the way to point out that Eddie was really a sweet guy." [
Laughs
]
Well, I think that's about the best place to wrap things up. Thanks for the time!
I'm delighted to talk to you! I'm pleased that you think there's a story in this beyond having to talk to Sammy. We love St. Louis and Sammy's coming into town, it's the only market he's doing besides New York, Los Angeles and San Francisco. He hopes to live to see a statue raised in his honor in St. Louis someday.