(New albums are typically released on Tuesdays, i.e., today. What can you spend your hard-earned pennies on this week? Find out below.)
This is the Second Album From a Band Called Adebisi Shank
*Adebisi Shank, This Is The Second Album From A Band Called Adebisi Shank Sputnik Music gave Adebisi Shank a 4.0 review, saying: "For their second record, the Adebisis have expanded upon the blueprint of their first with a range of new influences: they experiment with vocals, both lead (the 'Mr. Roboto'-style vocoder chorus on 'Genki Shank') and embedded (Villagers' Conor O'Brien guests on 'Europa'); there's a hint of saxophone on triumphant opener 'International Dreambeat'; and to everybody's great relief guitarist Lar Kaye has belatedly discovered the top three strings on his guitar. At 10 tracks and almost 40 minutes - nearly twice as long as the first - the second album is a far more developed and nuanced record."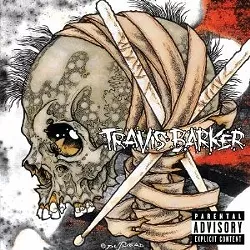 Travis Barker's Give the Drummer Some
*Travis Barker, Give The Drummer Some Prefix reviewed Barker's solo venture: "The tracks that have leaked so far from Travis Barker's Give The Drummer Some have left me wondering if one of the first singles, 'Jump Down,' was a fluke. That Cool Kids-featured cut found Barker essentially lacing them with a beat Chuck Inglish could have made himself. But since then, we have only heard rap-rock hybrids that sound like Rage Against The Machine-lite. Then again, I might be writing that only because Tom Morello guested on the so-so 'Carry It.' Following that track's lead is Barker's latest, 'Can the Drummer Get Some,' a riff-heavy posse cut featuring middling verses from Game, Lil Wayne, and Rick Ross and a Swizz Beatz hook. It's not a terrible track, though, even if it does feel like a relic from 1997. Oh, and is that the piano line from 'Lazy Sunday'?"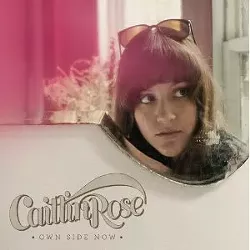 Caitlin Rose's Own Side Now
*Caitlin Rose, Own Side Now Guardian reviewed Rose's latest: "Earlier this year, Nashville-based Caitlin Rose released an EP of songs recorded in 2008, which introduced a promisingly wry lyricist unable to decide whether she wanted to sound like Loretta Lynn or Kimya Dawson. On her debut album, the 23-year-old thrillingly finds her own voice. Own Side is sad and strong as she walks away from a careless lover, playful in Spare Me as she dashes off the delicious line: 'Love is just one more useless thing you don't need, but you can't throw away.' Now pure country, her songwriting has taken a leap, too, delivering a profusion (sometimes an excess) of memorable choruses and arrangements freighted with emotion."
*Caitlin Rose's video for "Own Side"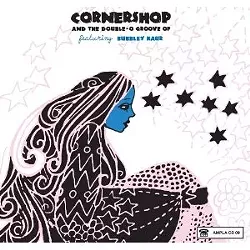 Cornershop and the Double-O Groove
*Cornershop, Cornershop And The Double-O Groove Spin reviewed the Double-O Groove: "These wry Anglo-Indian groovemeisters are long past the point of trying to score another 'Brimful of Asha' leftfield hit. So they follow up 2009's slept-on Judy Sucks a Lemon for Breakfast with this low-key collaboration featuring newcomer Bubbley Kaur, whose piping vocals nudge Cornershop toward Punjabi folk music. As always, the ramshackle, kitchen-sink beats are well worth sampling: 'The 911 Curry,' with its chopped-up disco horns, is especially tasty. Minus the mock-heroic guitars, though, frontman Tjinder Singh's globalist critiques lose some of their pop-political punch."
The Death Set's Michel Poiccard
*Death Set, Michel Poiccard Drowned In Sound reviewed Michel Poiccard: "Seventeen tracks are crammed into 36 minutes, and to considerable effect. The weaker tunes (and there are several) manage to justify their place by virtue of being constituent parts of the wider onslaught - and besides, if you don't like one track, you know there'll be another bursting forth any second. It also means that, within the album's defined aesthetic, there's plenty of scope for variety. So while the somewhat Britpop-esque 'Michel Poiccard Prefers The Old' struggles to convince, the following four and a half minutes offer not only the snot-nosed insolence of 'I Like The Wrong Way', but also the Beastie Boys-ish romp 'A Problem Is A Problem It Don't Matter Where You From' and the exhilarating trebly frenzy of 'Too Much Fun For Regrets'."
*The official video for "Slap Slap Slap Pound Up Down Snap"
*The Dodos, No Color NPR reviewed the Dodos: "After 2009's slower-moving and far less eventful Time to Die, it's satisfying to hear a rebound as confident and assertive as No Color, which is consistently shot through with infectious energy and real power. Without losing sight of its predecessor's pursuit of sweet melodies, the new album regains the thrill of The Dodos' 2008 breakthrough Visiter, while wisely bringing in Neko Case as a ringer on backing vocals. (Really, has inviting Case to sing on an album ever been a bad idea?)" Read the rest of the review and stream the album in full via NPR's First Listen.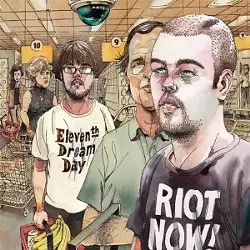 Eleventh Dream Day's Riot Now!
*Eleventh Dream Day, Riot Now! Pitchfork reviewed Riot Now!, saying: "There's always something to be said about a band who can simply plug in and blow your hair back on any given night. But this isn't a record to turn to for similarly explosive songwriting. Songs like 'Cold Steel Gray' or 'Tall Man' boast as much verve as 'That's What Coming' and 'Sonic Reactor' do a sense of strong yet forgettable, Neil Young-indebted guitar wankery. That said, much of this record will translate brilliantly to a rock club with one exception: 'Divining for Water,' far and away the high point here, is a fist-pumper anywhere and everywhere. Surprisingly, it's a simple three-chord strummer with far less distortion than anything else here. But there's a depressing, equalizing, Rizzo and Bean-shared line that goes: 'The smarter you get, the less it seems/ That anybody cares about your dreams.''"
Joy Formidable's Big Roar
*The Joy Formidable, The Big Roar Guardian reviewed The Big Roar, saying: "The album title's no lie. The debut album from the Joy Formidable sounds as if it was recorded as some kind of sonic weapon. And singer/guitarist Ritzy Bryan seems to feel one of her is nowhere near enough: her guitar tracks are heaped on each other, until the whole edifice is teetering under its own weight, and her voice is layered and treated into a smooth, shiny facade. In small doses, this kind of shoegaze-grunge hybrid - it's a bit of both, without ever really being either - is invigorating, but The Big Roar isn't a small dose. The opening track, The 'Everchanging Spectrum of a Lie' (they have a weakness for portentous titles) meanders on beyond seven minutes without ever improving on its opening verse and chorus. Its shortcomings are thrown into relief by its brisk and taut successor, 'The Magnifying Glass.' After 50 minutes of unyielding assault, The Big Roar will leave the uncommitted whimpering."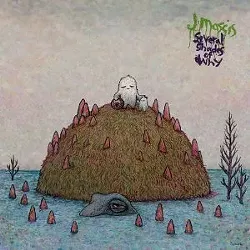 J Mascis' Several Shades of Why
*J. Mascis, Several Shade Of Why Spin reviewed Mascis' debut solo record: "In addition to reconvening his influential proto-grunge trio Dinosaur Jr., J Mascis has spent the past few years indulging his love of classic rock and doom metal with Sweet Apple and Witch, respectively. On his first solo studio album, though, the granny-spectacled guitar god unplugs for a set of gentle acoustic ditties. Pals Ben Bridwell from Band of Horses and Kevin Drew of Broken Social Scene pitch in, but Why definitely exudes an introspective home-recording vibe. Call it I'm Living All Over Me."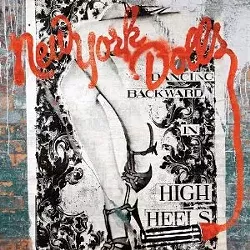 New York Dolls' Dancing Backwards in High Heels
*New York Dolls, Dancing Backwards In High Heels Louder Than War reviewed the Dolls' latestL "this is still defiantly the New York Dolls. Dancing Backwards In High Heels carries the Dolls' unquenchable rebellious spirit and determination to embrace all the possibilities offered by life, no matter how hard the environment and economic circumstances. In 'I'm So Fabulous', over a classic Dolls riff, Johansen loudly rails against the conformist, Disneyland-style playground for the rich and badly dressed that Manhattan has become in the past decade or so, while proclaiming in his wonderfully rasping bass voice his own enduring peacock splendour; 'I'm more fab than all the hipsters on Broadway.' Long may he continue to be such a glorious Doll."
Noah & The Whale's Last Night on Earth
*Noah And The Whale, Last Night On Earth Guardian reviewed Last Night on Earth: "Charlie Fink's refusal to rest on his laurels is admirable. Over the course of three albums, he has steered Noah and the Whale from winsome folk-pop through confessional misery and now to smooth and shiny drivetime rock. One might have feared the results of this latest iteration, but Last Night on Earth is a sparkling piece of work. There's a misstep in 'Give It All Back,' which hails 'the kids who believed in rock'n'roll' only to mawkishly locate them in a school assembly, but even that song is saved by a fabulous arrangement, which - like many of the songs here - blooms in its final bars. In fact, the arrangements are delicious throughout: 'Just Before We Met' opens with a pizzicato violin hook set against a synthesised bassline, before a harpsichord and electric guitar come in, the latter taking on the violin line. It's just one example of how Fink seems to have worked these songs until they are just so, without ever overdoing them."
*Oh Land, Oh Land Slant reviewed this debut record: "Oh Land's self-titled, major-label debut opens with a delicate orchestral flourish, an early indication that we might be in for something more than a bit precious. Given that Oh Land (nom de disc of Danish singer-songwriter Nanna Øland Fabricius) was a trained ballerina before she decided to embark on a music career following a back injury, this shouldn't come as a surprise. But then the song's 'We Will Rock You' stomp kicks in and it's clear that Oh Land likes to play with contrast. Dualities abound on Oh Land: soft vs. hard, life vs. death, nature vs. supernature. It's all a little Black Swan, if you ask me."
*The official video for "Sun of a Gun"
*Rise Against, Endgame Spin reviewed Endgame: "Rise Against's strident anti-ignorance messages have coursed through several albums of tightly wound, good-intentions punk. But as soon as frontman Tim McIlrath bridges the half-time breakdown of 'Architects' by earnestly imploring, 'Don't you remember when you were young / How you wanted to set the world on fire' (echoing Against Me!'s 'I Was a Teenage Anarchist' almost word for word), the singer-guitarist just sounds like he's trying to win back an ex-girlfriend. Which could be forgiven if Endgame's other songs -- sans the blistering 'Survivor Guilt' and 'Disparity by Design' -- weren't turgidly overlong and underfed."