A to Z took an impromptu trip to our sweaty sister in the dirty south for the Mardi Gras festivities, and we were saddened to find the New Orleans outpost of Euclid Records shuttered. "We closed that Sunday, Monday and Tuesday. There was nothing happening," says James Weber, the St. Louis transplant who mans the happy pink and yellow building in the charming, graffiti-splashed Marigny neighborhood. Indeed, all the action was down in the French Quarter, but we caught up with Weber last week to get an update on the the store, the vinyl scene in New Orleans, and his take on St. Louis from 677 miles down I-55.
Diana Benanti
Euclid Records New Orleans, 3400 Chartres Street.
Diana Benanti: Since you opened in September of last year, what has the reception been from the neighborhood? James Weber: We had been living in the neighborhood for months and months before that, and selling records out of an open air market. As we looked for locations we decided pretty early on that the Bywater was the only place for the store. Because of that we had lots of time to work with the neighborhood association and just meet the people on the block.
What was the impetus for opening the New Orleans store? The vinyl culture in this town is a smaller percentage. St. Louis is very blessed to have three huge independent record stores and a handful of small shops, and there just isn't that here. There's Louisiana Music Factory in the French Quarter that has their own niche, and a great store on Bayou Road called Domino Sound. There hasn't been a store in the style of a Euclid Records or a Vintage Vinyl that has bands several times a week and generally just makes themselves more of a destination, a cultural ground zero, I guess, for music and art.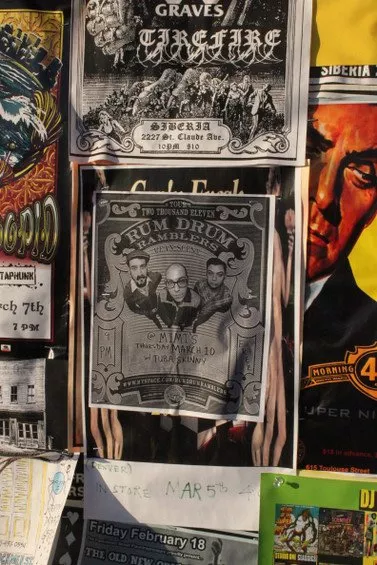 There was a poster for Rum Drum Ramblers on the flyerboard, How did that show go? The string-band scene down here is kind of a huge thing, we probably had fifty or sixty folks. Chris from Big Muddy Records was down here and he and the Rum Drum guys cooked up a bunch of food and we had kind of a block party.
Is the door open for St. Louis bands to play at Euclid? We're leaving it open for any bands. Magic City played here a month ago, they played at the store and then did a club show at the Saturn Bar. It's a unique opportunity to sort of try and get a steady stream of traffic down the river--the two cities have been sister cities forever whether either of them realize that or not. The trail of musicians over the last 65 years going from Chicago to St. Louis, Memphis, New Orleans; it's traditionally been a route to exchange music."
Is there a particular performance or show that's been especially memorable? Certainly our opening weekend was a big deal. We had two days of bands, food outside [and] free beer from Pabst, which was a big help. The whole neighborhood came out, and a large chunk of the bands are bands that are based in neighborhood -- the Bywater, the Marigny, the Ninth Ward bands -- so [there was] just a big strong sense of community. That was pretty great, it was a nice way to be welcomed down here.
Can you give us some recommendations for New Orleans bands we should check out? The rock band down here Felix is pretty great. They're a three piece [with] organ, drums, guitar. They'll be playing in St. Louis in June I believe, doing two shows there. They do a fair amount of touring, their stuff is available online to listen to, they just put out their first vinyl release.
Diana Benanti
The garbage cans in Marigny are Euclid Records fans.
Have you been pushing St. Louis bands at all at the shop? I find myself recommending everything about St. Louis to everyone down here, to the point where I say 'St. Louis' and they look like they want to slap me in the face. The way people talk about New Orleans, I talk about St. Louis. St. Louis is tucked away--people don't know. The music scene in St. Louis has been well above average for the 10 and 11 years that I was involved in it, certainly in ways I don't see in other cities. I'm pushing St. Louis really hard. I have one tattoo and I got it right before I moved, it's the compass rose with the elements of the St. Louis flag on my arm, so I've definitely brought St. Louis wherever I go.
What about St. Louis do you find yourself talking up? Certainly the bands, and just the built environment. I think St. Louis is an incredibly beautiful city, the architecture is on par with New Orleans. It isn't thought of as a place where things happen. The thing that always struck me about St. Louis is that it's incredibly cheap to live there, it's centrally located so it's easy to get around the country, and its very cheap, generally speaking, to get a space to do something. But it doesn't have the 100 plus years of support from the community for the things that are happening culture-wise. Its definitely there, the support is, but if you go see a show, there's more musicians than fans at the show. There just isn't that long-standing tradition of an understanding that the musicians and the artists are as important as the dentists and the professionals.
But that is what makes a city great, is the combination of all of those things. I definitely see that turning around, it's a long slow battle I'm sure. In a lot of ways I left St. Louis to learn how and why that happens, and then come back at some point eventually and apply those skills. The big outcry over the census numbers kind of bummed me out a little bit. It's misleading to think that because St. Louis city lost population that it necessarily means everything we've done in the last ten years has not done anything at all, I think there are huge leaps and bounds in the last ten years, and it doesn't negate any of the positive things that have happened.
So what do you recommend St. Louisans check out if they sojourn to our sister city? Oh my God. Certainly cocktails at Markey's which is about three blocks away, in many ways it's the living room for Brian and myself, who run the store. It was where we did all of our planning and decompression, it's run by incredibly sweet people, it's one of the greatest bars I've found in my life. The barbeque at the Joint is incredibly good. You should definitely go to Domino Sound, and see that record store. It's very well-curated, the folks there are super nice. If you're looking for traditional New Orleans jazz that is exciting in some way, I would say the Spotted Cat on Frenchmen is probably the place.
There's a new rock club on St. Claude called Siberia that's bringing all the rock band shows, sort of the new hub. There's Siberia, the Always Lounge, the Hi-Ho all on one corner. Lots of good things happening there too. You have to go to the corner of Rampart and Dumaine that's now a laundromat, but was the site of J and M Music, where Cosimo Matassa who recorded the Little Richard specialty sessions, Fats Domino, Ray Charles, it's where rock n' roll started in a lot of ways, or at least where American roots music turned into rock n' roll.
Also just go to Jackson Square in the French Quarter at night and see St. Louis Cathedral lit up, and then walk across Decatur and look at the Mississippi River. It's such a beautiful view of the city. The city is definitely connected to the river here, in a way St. Louis has not been since the '60s. It's great to see things like City to River happening, the energy for these river cities seems to come from that, and I think it's important that there be a strong connection there.