Todd Owyoung
Flogging Molly at the Pageant in 2010
When the world ends, I'd like to be dancing, stomping and singing in the pit at a Flogging Molly concert. One could do worse.
Last night at the sold-out Pageant, the Irish-punk band rallied the masses with a versatility that glimmered through the fusion genre formula.
The Drowning Men, a quintet from San Diego, got things rolling with a layered and propulsive wall of sound. Though members have done time in traditional Irish music outfits, last night the band channeled the dramatic sweep of Arcade Fire, down to the singer's high, strained Win-Butler-eque vocals.
The second act, Moneybrother, is described as the "solo project" of frontman Anders Wendin (formerly of punk band Monster), but features five additional members who do more than stand back. From the first notes, Wendin & Co., who hail from Sweden, channeled Bruce Springsteen circa "Hungry Heart" -- from the crescendoing pop-rock songs built on classic '60s riffs to Wendin's denim vest and grinning growl. With a slight Franz Ferdinand swagger, every band member - from the saxophonist to the female bassist - sang together on repetitive throwback choruses, and the foot-tapping set was as fun-loving as you would expect Swedish pop to be.
At 9:30 p.m., as fans in the balcony scooted back to their seats with handfuls of Jameson shots, the stage darkened. Irish-tinged voices began to ring out a cappella. Flogging Molly then took the stage in dapper black suits and launched into new song "Speed of Darkness" at the speed of light. The mosh pit transformed into a churning green sea, swirling around a central eddy of dudes in jerseys and newsboy caps shoving the shit out of each other.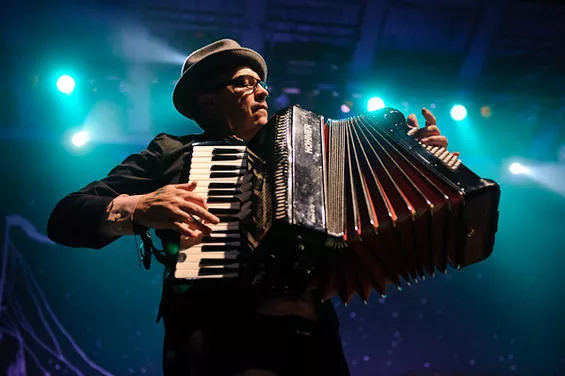 Todd Owyoung
Accordionist Matt Hensley, at 2010 at the Pageant
Seeming ever-eager to delight its die-hards, the septet leapt from this new song (the title track off its latest album, which is due in May 2011) all the way back to "The Likes of You Again," from 2000's Swagger. The transition between new and old proved to be emblematic of the entire 22-song set, during which Flogging Molly played 4 brand-new songs, as well as 11 from its first two albums, Swagger and Drunken Lullabies, old favorites King claimed they "haven't played in years." "Likes of You," too, is classic Flogging Molly: What begins as a lament of quivering mandolin bursts into a frenzy of fiddle and manic guitars with vocalist Dave King leading the fist-pumping chorus like a rabble-rousing leprechaun.
King served as ringleader, welcoming the crowd with, "What a bunch of beautiful-looking bastards we got here tonight!" He introduced each song, teased his bandmates, made self-deprecating jokes, and even stuck to Celtic-punk's up-the-working-class message by briefly playing the "meat and potatoes" pit crowd against those in the reserved balcony. Most powerful though are his vocals, which can imbue songs with screaming punk fervor or the wistful patience of a folk song, as on pastoral "The Wanderlust," which the band performed not totally "acoustic," as King claimed, but sans electric guitar, at least.
It could be these moments of sensitivity that set Flogging Molly apart from its compatriots the Dropkick Murphys. The whinnying fiddle and sea shanty tin whistle played by Bridget Regan (who's married to King), and Bob Schmidt's thick-plucked banjo - as on new track "Saints and Sinners" - balanced King's at-times cartoonish snarl.
King's high-step jigging onstage matched the uproar of the crowd, which reached euphoric levels during a furious "Drunken Lullabies" -- not even the midpoint of the set. By the end, you could see it in the faces: All the Pageant was your local Irish pub, neighbors pogoing and swaying, bound by human failings and perseverance. As King said, "When you're in a band like Flogging Molly, every fuckin' day is St. Patrick's Day."
Related Content: Dave King, the Metal Years
Set list: 1. Speed of Darkness 
(new) 2. The Likes Of You Again 
(Swagger) 3. Swagger 
(Drunken Lullabies) 4. Requiem For A Dying Song 
(Float) 5. Selfish Man 
(Swagger) 6. Worst Day Since Yesterday 
(Swagger) 7. Saints and Sinners 
(new) 8. (No More) Paddy's Lament 
(Float) 9. Drunken Lullabies (Drunken Lullabies) 10. The Wanderlust (Within a Mile of Home) 11. Factory Girls 
(Within a Mile of Home) 12. So Sail On 
(new) 13. Black Friday Rule 
(Swagger) 14. Don't Shut 'Em Down 
(new) 15. Rebels of the Sacred Heart (Drunken Lullabies) 16. Devil's Dance Floor 
(Swagger) 17. If I Ever Leave This World Alive 
(Drunken Lullabies) 18. Salty Dog 
(Swagger) 19. What's Left of the Flag 
(Drunken Lullabies) Encore: 1. Float 
(Float) 2. Tobacco Island (Within a Mile of Home) 
 3. Seven Deadly Sins (Within a Mile of Home)