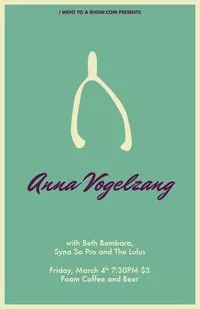 This weekend kicks off the drunkest time of the year in St. Louis -- yes, it's Mardi Gras, the precursor to the days-long St. Patrick's Day celebration. All of the Mardi Gras listings and action is here. Some of the shows coming to town are here. And below, ten more events at which you won't be asked to flash your boobs (we think).
Friday Amy Petty CD Release @ The Chapel Amy Petty, a smoky New Hampshire singer-songwriter who works with the local company Red Pill Entertainment, is holding a CD release show for her lovely album, House of Doors, tonight. 8 p.m. $10.
Anna Vogelzang @ Foam The music blog I Went to a Show is sponsoring this show, and describes the Madison, Wisconsin-based Vogelzang as a "singer-songwriter and guitar-banjo extraordinaire." 7:30 p.m. With Beth Bombara, Syna So Pro, the Lulus. $5.
So Many Dynamos, US English EP Release @ Firebird So Many Dynamos do a rare live show; I'm told to expect "five new jams" from the band. US English, which released the Used Future EP on Monday, is also playing. With Bo and the Locomotive. 8:30 p.m. $8 to $10.
Dan Deacon @ The Gargoyle The Baltimore beatwrecker returns. With Fake Brad and Ra Cailum. 9 p.m. $10 general public, Wash U students free with ID.
Monsters of Bass Tour @ Koken Art Factory Be sure to have your earplugs -- and your dancing shoes -- when MartyParty, Freq Nasty and Opiuo bring the bass. With Serious Lee. 9 p.m. $17 at the DOOR $3 surcharge for minors. Andy Berkhout CD Release @ The Gramophone The singer-songwriter celebrates the release of the Love Without Fear album. With John Donovan, Last to Show First to Go. 9 p.m. 18-plus. $5 plus $2 minor surcharge.
Saturday NGHTVSN @ Atomic Cowboy Dance til you drop at this somewhat-weekly. Matt Leach, The Loud Outfit are DJing, while Dead or Pregnant hosts. 10 p.m. $5.
The Who Band @ Blueberry Hill's Duck Room Doing Live at Leeds in its entirety. 9 p.m. $7.
Band of Heathens @ Off Broadway Heartfelt Americana. With the David Mayfield Parade. 9 p.m. 21-plus: $12, Under 21: $15
Sunday Netherfriends @ Firebird Clattering pop-synth scientists. With Sheep In Wolf (ex-Exercise), Thankful Tree. 8 p.m. $8.